Fall Arts Preview 2016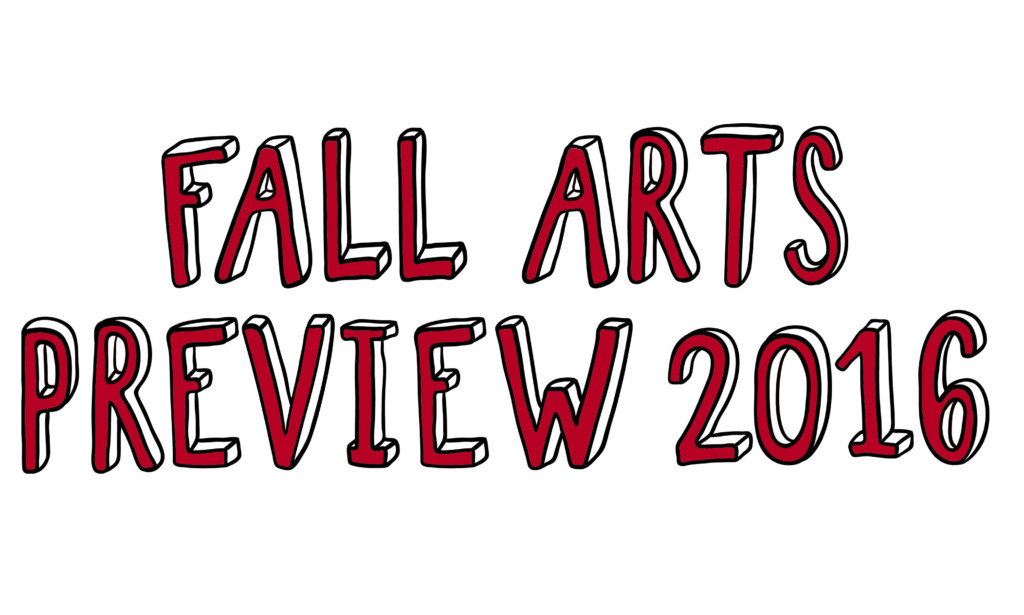 BY ANDY SMITH
The 23rd Annual Carolina Renaissance Festival & Artisan Marketplace
Saturdays and Sundays, Oct. 1-Nov. 20
Each year, the Carolina Renaissance Festival transforms a Huntersville property into a 16th century utopia for fantasy fans. Like any "ren fair" worth its weight in chainmail, this festival offers jousting as its most impressive spectacle.
Knights on horseback aren't the only ones drawing attention. Todd Hibbeler, also known as Tuggy the Joust Pennant Merchant, is a fair favorite, delivering hilarious pitches to sell keepsake flags. Hibbeler has performed here the past five years. We spoke with him recently about what it's like to be Tuggy:
Charlotte magazine: How did you start this journey?
Todd Hibbeler: I've been a comic for 10 years, and one night, I was performing at this club in Arizona. These two guys came up to me and said, "You're really funny. Would you want to work at our Renaissance festival?" And I said, "What the heck is a Renaissance festival?"
So I started touring. With the pennants, I just needed something to do and I ended up finding my niche in that. I try to come up with a new five-minute pitch each time, just to keep it fresh.
CM: Does the location of the festival determine the content of your jokes?
TH: Well, Charlotte is on this beautiful cusp of almost being in the Bible Belt. I can say certain things there that I can't say in say, Georgia, where some stuff is more taboo.
CM: I've noticed some characters who perform at the fair speak with an affected British accent. But others, like you, don't. Why's that?
TH: I want to be a liaison between the people in the stands, with some of them thinking it's all silly, and the performers. I like to find that middle ground and fill that gap in between. And it's just about making people laugh.
Here are a few more fall festivals to visit:
• Yiasou Greek Festival, Holy Trinity Greek Orthodox Cathedral, Sept. 8-11
• Festival of India, Belk Theater, Sept. 17-18
• Festival in the Park, Freedom Park area, Sept. 23-25
• Latin American Festival, Symphony Park, Oct. 8
---
Brian Wilson
Belk Theater, Sept. 19
The songwriting wizard behind the Beach Boys' greatest records marks the 50th anniversary of the classic album, Pet Sounds.
Other rock legends to see this fall:
• Gov't Mule, Charlotte Metro Credit Union Amphitheatre, Oct. 1
• Bonnie Raitt, Ovens Auditorium, Oct. 26
---
A Gentleman's Guide to Love & Murder
Belk Theater, Nov. 22-Dec. 4
This musical comedy, which took home the Tony for "Best Musical" in 2014, kicks off the 2016-2017 Broadway Lights Season. The narrative follows Monty Navarro, a man who aspires to reach the top of a list of heirs to a family fortune and encounters several obstacles in his way.
More options for national touring theater shows:
• Dirty Dancing at Ovens Auditorium, Sept. 23-25
• Cabaret at Belk Theater, Nov. 8-13
---
I Love the 90's Tour
Time Warner Cable Arena, Sept. 23
To celebrate the Charlotte stop of this nostalgia-filled tour, here's a mixtape with a track from each of the performers hitting the arena's stage. (Writer's note: Mom, I'm sorry for picking some of these.)
* Base will be performing solo. RIP DJ E-Z Rock, who passed away in 2014
---
Attend a meet-up
#InstaBeerUpCLT
It's the meet-up that kick-started Charlotte's casual networking trend. And you can bet that any new brewery in Charlotte will be a host. (Last Thursday of each month; venue varies)
CreativeMornings
Charlotte's chapter celebrates one year in December. At each meeting, hear a galvanizing talk around a theme, while others at CreativeMornings chapters around the world discuss the same theme. (First Friday morning of each month; venue varies)
Dine & Draw Charlotte
Sketch over some grub or a few drinks with casual artists and pros based in Charlotte. (Monthly meet-up; day and venue varies)
---
Kellogg's Tour of Gymnastics Champions
Time Warner Cable Arena, Oct. 28
If you couldn't make it to Rio this year, don't fret: You'll have a chance to experience a piece of past Olympics in person. Gold-winning gymnasts Gabby Douglas, Nastia Liukin, Jordyn Wieber, and Aly Raisman visit, with gymnasts from local clubs also hitting the mat.
---
Take in the symphony
Here's what's on the roster for the Charlotte Symphony's fall season, broken down by series
Classical: All Tchaikovsky presents a few of the Russian composer's greatest compositions, Sept. 30-Oct. 1 at Belk Theater. Beethoven Symphony No. 2 offers the masterwork along with two pieces by Franz Liszt and a composition by Gyorgy Ligeti, Oct. 14-15 at Belk Theater. Mendelssohn "Scottish," Nov. 4-5 at Belk Theater, and Wagner, Strauss & Bruckner, Nov. 18-19 at Belk Theater, round out the fall schedule.
Pops: Grammy-winning trumpeter Chris Botti performs with the symphony, Oct. 8 at Belk Theater. Patriotic Pops pairs America-themed selections with war reels and footage of national parks to honor vets on Veterans Day, Nov. 11-12 at Knight Theater.
Lollipops: Green Eggs and Ham, Nov. 12 at Knight Theater, is an orchestral adaptation of the Dr. Seuss book, with performances by Michael Boudewyns and Kimberly Schroeder.
On Oct. 28, the symphony creates a Halloween-themed program at Knight Theater, in which dramatic, ominous classical music is paired with horror-film scores. Attendees are encouraged to dress up in their most frightening costumes.
---
Charlotte Film Festival
Sept. 22-Oct. 2
Last year's nine-day festival divided 60 films between two theaters in Charlotte. The event is quickly becoming a hub for both emerging and trusted filmmakers across the U.S. to unite and screen their latest creations. The coolest part? Seeing Charlotte's own festival stamp on movie posters. The 2016 festival has expanded to 11 days and will be anchored at one venue this year (Ayrsley Grand).
For a different film experience:
Birdman: Film + Live Drum Score
McGlohon Theater, Oct. 30
Birdman, starring Michael Keaton, was the 2015 "Best Picture" winner at the Oscars. Jazz drummer Antonio Sanchez, who scored it, performs the music live to accompany the film on this tour.
---
Hit the museums
Mint Museum Uptown
Women of Abstract Expressionism through Jan. 22
The Mint touts this as "the first major museum exhibition to focus on the groundbreaking women artists affiliated with the Abstract Expressionist movement."
The Harvey B. Gantt Center for African-American Arts + Culture
Shaping the Vessel: Mascoll + Samuel through Jan. 16
Twenty wooden works from John Mascoll and Avelino Samuel challenge the possibilities of this material.
Levine Museum of the New South
¡NUEVOlution! Latinos and the New South through Oct. 30
Experience this groundbreaking exhibit one more time, before it leaves for Birmingham.
Bechtler Museum of Modern Art
The Bechtler Collection Relaunched and Rediscovered
Sept. 30-April 23
Curator Jen Edwards brings a fresh perspective to the museum's permanent collection, pulling pieces for an exhibition that presents each work in a new light.
---
Henry Rollins
McGlohon Theater, Oct. 18
The punk icon offers invaluable life lessons while also being the kind of intimidating presence that makes you fear for your life.
---
Goodyear Arts
516 N. College St., through Dec. 31
Goodyear Arts' last iteration, Skyline Artists in Residence, involved one-month residencies with a single showcase at the end of each month. This time, artists are given two months. Open gallery hours, Wednesday-Saturday (9 a.m.-6 p.m.), bring the public much closer to the project, with showcases scheduled for Aug. 26, Oct. 21, and Dec. 16. Hyde Brewing, a restaurant, brewery, and coffee shop concept headed to South End next year, maintains a popup coffee bar at the gallery.
---
Indie rockers unite
Three bands to experience:
• Melvins, Amos' Southend, Sept. 6
• Chris Robinson Brotherhood, Neighborhood Theatre, Oct. 21
• Band of Horses, Fillmore Charlotte, Oct. 27
---
Go see your local theater companies
Theatre Charlotte: Saturday Night Fever, Sept. 9-25, Sordid Lives, Oct. 13-15, and You Can't Take It With You, Oct. 28-Nov. 13
Children's Theatre of Charlotte: PlayPlay! Theatre: Uh-Oh!, Sept. 1-10, (for ages 0-3), A Year with Frog and Toad, Sept. 30-Oct. 16, and Grace for President, Oct. 21-Nov. 6.
---
Learn with SkillPop
The Charlotte-bred pop-up classes are expanding to Raleigh this fall. Learn blogging, interior design, handlettering, photography, marketing, meditation basics, and more. Check skillpop.com for current courses.
---
Go see live comedy
A few one-liners from comedians who will be on stage in October:
"I bowled for two years in college, because I was drunk and needed shoes." —Kathleen Madigan, McGlohon Theater, Oct. 6
"I believe that if life gives you lemons, you should make lemonade. … And try to find somebody whose life has given them vodka, and have a party." —Ron White, Ovens Auditorium, Oct. 7
"I'm not gonna lie, I love the holidays. But Christmas was a lot more fun when you weren't paying for it." —D.L. Hughley, Comedy Zone, Oct. 21-23
---
Dinosaur Jr.
Neighborhood Theatre, Sept. 10
The alt-rock mavericks hit NoDa with their explosive, loud-quiet dynamics. At the helm since the band reformed in 2005 is singer and guitarist J Mascis, with his trademark drawl and shredding skills.
---
Hear stories from The Crock
After performing with Charlotte Storytellers for months, Rebecca Henderson, architect of the accessories brand Weird Empire, started her own event series. She explains her new storytelling project, The Crock: "I like to joke that the South is not a melting pot. It's not a fondue pot. It's a crock. And the tagline is, 'Tales from a simmering New South.' A crock is not only iconic, it describes how we as a collective have arrived. So many things have been simmering for so long. Voices have been waiting to be heard. This is that moment when the crock opens and we get to feast on the great abundance that is our shared experience, whether happy or sad or painful." The Crock's next showcase is Sept. 1 at Not Just Coffee's new Packard Place location. "The Grind" features several pairings of a specific story with a specific coffee. Also: Learn more about the coffee industry itself from attending pros.
Have your own story? Share it with The Crock at crockout.org/submit.
---
The Barber of Seville
Belk Theater, Oct. 22-30
Opera Carolina's fall show is a comic narrative with a heavy dose of romance.
---
Grab your cowboy boots and see some live country
Brad Paisley
PNC Music Pavilion, Sept. 17
Paisley went on Jimmy Kimmel Live! In May to perform a little number about North Carolina's controversial HB2 law, set to the tune of Tammy Wynette's "Stand By Your Man." Sample lyrics: "Sit by your man/We're all just human beings/He's just a human peeing/In the stall right next to you."

Two more "new country" acts this fall:
• Luke Bryan, PNC Music Pavilion, Sept. 1
• Carrie Underwood, Time Warner Cable Arena, Oct. 23
---
Visit the Double Door Inn during its last full season.
THE BARTENDER GAZED at me over his glasses. "You want me to run this now?" he asked, holding my credit card.
"Yep," I said.
"This is the only drink you're going to have, the entire night?"
"Yep."
"Well, thanks for your support," he said with sarcasm.
He returned my card, slapped the receipt and pen on the counter, and moved on.
Not a great start to my July visit to the Double Door Inn. I was working that night, covering the 20th anniversary of Lou Ford, the Charlotte-bred, self-described "rural pop" outfit. Chad and Alan Edwards started writing songs under that moniker in the 1990s, but the group disbanded and the brothers started over as The Loudermilks in 2010. Both versions of the band released records that have been important to the Charlotte music scene.
After the encounter with the bartender, I slunk to the back of the room and waited for showtime, observing an already-intoxicated show-goer roll up a poster from the wall and shove it in his pocket. That incident roused me from bitterness. I wasn't going to let the encounter at the bar ruin the night. This story is about a special place, one that's offered intimate live music experiences for 43 years. A wall adorned with signed, framed portraits tells of wild nights with Buddy Guy on stage, or The Fabulous Thunderbirds, or The Nighthawks. These were evenings clouded in cigarette smoke, including one that brought a surprise sit-in with Eric Clapton.
This is a venue that—to this day— isn't full of glowing smartphone screens capturing stills and video for the instant gloat. The Double Door is a venue from another time. And in January, when it closes for good, that descriptor will take on a more unfortunate meaning.
Lou Ford is the type of band for which the Double Door was created. No show in Charlotte had a more captive audience that evening. Between songs, Alan Edwards shared his own emotions: "This is bittersweet. We've been playing here for 20 years, and tonight may be the last time."
Everything that goes away ends up idealized. When music venues close, we share our fondest memories. But the reality is more bittersweet. We tend to overlook disappointing sets from anticipated shows, crowds that grew too rowdy, or even those nights where we may have been the problem, our insides soaked with PBR.
Embrace everything you adore and resent about your favorite music venue. Share all the stories, even the ones of the cranky bartender. Just be present. And, maybe, on the nights you only need one drink, do what I did as a sign of solidarity: Buy a T-shirt on the way out, emblazoned with the logo of one of Charlotte's greatest venues.
---
This article appears in the September 2016 issue of Charlotte Magazine
Did you like what you read here? Subscribe to Charlotte Magazine »
---