Fall Arts Preview 2018
Bill Murray, Soul Junction, Hamilton, and 42 more reasons to be excited about this season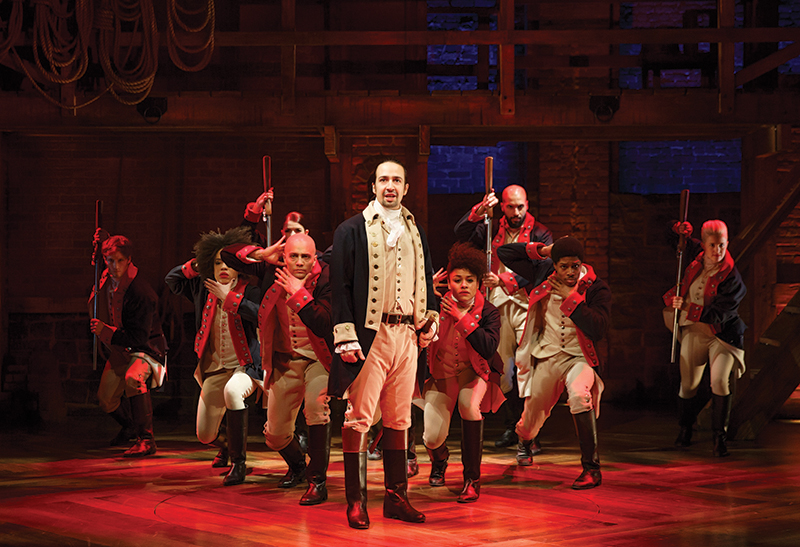 THEATER
Hamilton Finally Arrives in Charlotte
October 10-November 4
Belk Theater
This fall, it's here. Although Hamilton diehards may have missed out on that coveted original cast, there are several notables in this version of the two national tours (with this one dubbed the "Philip Tour" and the other, the "Angelica Tour").
Kyle Scatliffe, who portrays Marquis de Lafayette and Thomas Jefferson, is an Olivier nominee known for Broadway roles in The Color Purple and Les Misérables. Shoba Narayan (Eliza Hamilton) is a Broadway alum who has appeared on TV shows like Gossip Girl and Quantico, while Nik Walker, in the prized role of Aaron Burr, is a veteran of Hamilton's Broadway run and Motown the Musical.
Also headed to Belk Theater: Love Never Dies (September 11-16)
---
Actor's Theatre's First Full Season as Queens' Resident Company
Actor's Theatre of Charlotte signed a five-year contract with Queens University earlier this year, after a space on Freedom Drive didn't work out for the company. Our fall pick for ATC is its production of The Curious Incident of the Dog in the Night-Time (October 4-27) at Queens' Hadley Theater. When a teenager comes under suspicion in the murder of a neighbor's canine, he begins a journey toward the truth. The original Broadway production of this tale nabbed five Tonys in 2015, including the award for "Best Play."
Also in local theater:
The Legend of Georgia McBride
August 30-September 22
Actor's Theatre of Charlotte
Peter and the Starcatcher
September 7-23
Theatre Charlotte
The Philadelphia Story
October 26-November 11
Theatre Charlotte
---
A Stand-Up Town
The Queen City Comedy Experience in September presents comics in a festival format (and you can read more on that below), but there are several other comedians and performers coming this fall:
Bill Maher
September 22
Ovens Auditorium
Kathleen Madigan
October 19
McGlohon Theater
Neal Brennan
October 27
Booth Playhouse
Jeff Dunham
November 9
Spectrum Center
John Cleese
November 19
Ovens Auditorium
---
MUSEUMS & GALLERIES
Mint Museum Uptown Re-Opens
In July, Mint Museum announced it had found a new president and CEO in Dr. Todd Herman, most recently director and CEO of the Arkansas Arts Center in Little Rock. Following the news, Charlotte magazine spoke with the former curator about taking the helm at the museum. Read our Q&A with Herman here.
After a summer closure for upgrades, Mint Museum Uptown will have a grand re-opening celebration on September 14-15, when the kick off of the Young Affiliates of the Mint juried show Mainframe—plus, more festivities. The event is free and open to the public.
---
Gallery Shows to See
An art opening is the best possible date night idea: no admission and, often, free wine. Here are the kickoff events we recommend this fall:
Susan Brenner and Chase Langford
September 7
Elder Gallery of Contemporary Art
Damian Stamer​
September 19
SOCO Gallery
Andrew Leventis​
September 27
Sozo Gallery
Charles Basham​
November 9
Jerald Melberg Gallery
Santiago Quesnel
November 15
LaCa Projects
---
Coming to Camp North End
Goodyear Arts will have its first round of showcases from residencies at Camp North End this fall. The September 7 showcase brings work from HNin Nie, Stacy Utley, and Liliya Zalevskaya, while the November 30 event includes performances, paintings, and drawings from Justin Evans, Barbara Schreiber, and Jason Watson, respectively.
Time Camp 002 (October 6-7) is a two-day event and art installation that explores "time, alternative temporalities, time travel, and temporal shifts from various frameworks, disciplines, and cultural traditions," GYA says. Expect workshops, screenings, and performances from artists, scientists, writers, and more.
---
#HomeCLT at Levine Museum of the New South
With the recent arrival of historian Dr. Willie Griffin, Levine Museum is building a multifaceted project titled #HomeCLT, an "urban autobiography" that will explore the history and modern existence of neighborhoods in the city. This multimedia project will include an exhibit, pop-ups, and neighborhood walking tours, along with interactive mobile elements. Researchers are also gathering 250 oral histories from Charlotteans to mark the city's 250th anniversary.
---
Soul's Roots in the West Side
Music has always flowed through the historic west side. From jazz to funk, music has gathered neighbors and introduced strangers, building a strong community that spans generations. Now in its third year, Soul Junction is a weekend festival (September 14-15, Johnson C. Smith University) celebrating that community through the arts. The lineup wasn't finalized in time for print, but look for big names in soul and hip-hop like last year's acts: Mad Satta's Joanna Teters, Shelby J., and Derrick Hodge.
---
Three Days of Laughs
Former president Barack Obama performs in Charlotte this September—OK, not the real Obama. Jay Pharoah, known for his impressions of Obama, Denzel Washington, Jay-Z, and more as a former cast member on Saturday Night Live, is headlining the Queen City Comedy Experience.
Brian Regan and Randy Rainbow are among the other notable comedians at this year's festival, which runs from September 27-29, but there are more laughs to be had outside the main acts. Improv shows, late night sketch comedy, one-act plays, and live podcast recordings are also on the packed schedule. The festival will be held primarily at four venues in uptown's Spirit Square: McGlohon Theater, Duke Energy Theater, Knight Gallery, Middleton/McMillan Gallery.
---
For Film Buffs
While the city lost the 100 Words Film Festival to Toronto this year, the Charlotte Film Festival remains, celebrating its 10th year of showcasing both established and emerging filmmakers' works (September 26-30, Ayrsley Grand Cinemas 14).
The No Man's Land Film Festival is also this fall (September 8, McGlohon Theater), with adventure films that aim to inspire women.
---
New Mural Festival
The Talking Walls Festival (October 10-13) was organized by the Southern Tiger Collective, a NoDa-based artist collective. Expect murals and public art to pop up across the city during these four days in October. Organizers say: "With community support, we will eliminate the 'beige' from Charlotte's vernacular."
---
ROAD TRIP: Carolina BalloonFest
Head north to Statesville and witness the rainbow of hot air balloons that dot the country sky (October 19-21). The festival, in its 45th year, will have two parade ascensions a day.
---
LIVE MUSIC & FESTIVALS
3 Things to Know: Bill Murray, Jan Vogler, and Friends: New Worlds
Oct. 2, Belk Theater
"New Worlds" brings together two artistic universes: comedic acting and classical music. Renowned cellist Jan Vogler plays while actor and comedian Bill Murray performs literary and musical classics from Mark Twain to Porgy and Bess. See their eclectic show at Belk Theater.
* Murray feels pretty—at least those are the words he sings during his rendition of "I Feel Pretty" from West Side Story. The comedian and actor takes this work seriously, though: "This is hard work—it really is for me. But as soon as the music begins, I have so much power. The power, it just sort of comes through me and here we go."
* Murray and Vogler met while traveling and became friends and, later, musical partners in New York. It was initially Vogler's idea to collaborate.
* The show also features Mira Wang on violin and Vanessa Perez on piano. All four performers in "New Worlds" were born in different countries: Murray in the U.S., Vogler in Germany, Wang in China, and Perez in Venezuela.
---
By The Numbers: Tosco Music Party
September 15
John Tosco's first music party was just a few friends jamming and singing in his living room. Now, Tosco hosts four music celebrations every year at Knight Theater. September's show marks 30 years of Tosco Music Parties. Here are some key numbers about the series:
1984: Year of the first living room jam session
15: Acts in each program
6: Sing-alongs
1,200: Seats in Knight Theater
12: Members in the house band and sing-along choir
---
THE PLAYLIST: Listen Local
Keep an eye on these bands from North Carolina, and start with these tracks:
➊ Swim in the Wild, "Sway" (August 30, Evening Muse)
➋ Arsena Schroeder, "So Many Plans" (September 6, Sugar Creek Recreation Center)
➌ Sparkman, "We All Wake Up" (September 8, Evening Muse)
➍ David Britt, "Country Flow" (September 22, Visulite Theatre)
➎ The Business People, "From NC With Love" (September 30, Skylark Social Club)
➏ Amanda Anne Platt & The Honeycutters, "Long Ride" (November 9, Neighborhood Theatre)
---
A Hunger for Florence and The Machine
October 3
Ethereal and catchy, Florence and the Machine's music captures both indie listeners and pop fans with hits like "Dog Days Are Over," and, more recently, "Hunger." The group's latest album, High As Hope, is more stripped down than previous records, but Florence Welch's powerful vocals are ever present. Billie Eilish opens.
Other shows at Spectrum Center: Alan Jackson (September 15), Maroon 5 (October 4), Nicki Minaj (October 16), and Metallica (October 22).
---
Miguel's Sweet Sounds
September 6
From his pop version of the Academy Award-winning song "Remember Me" (from the Pixar film Coco) to his R&B album War & Leisure (released last December), Miguel's works in the past year have further displayed what a versatile performer he is.
Other shows at Charlotte Metro Credit Union Amphitheatre: 5 Seconds of Summer (September 16), Portugal. The Man (September 18), Jason Isbell and the 400 Unit (September 23), Troye Sivan (October 2).