Fall Arts Preview: 2019
Our Can't-Miss List for the Season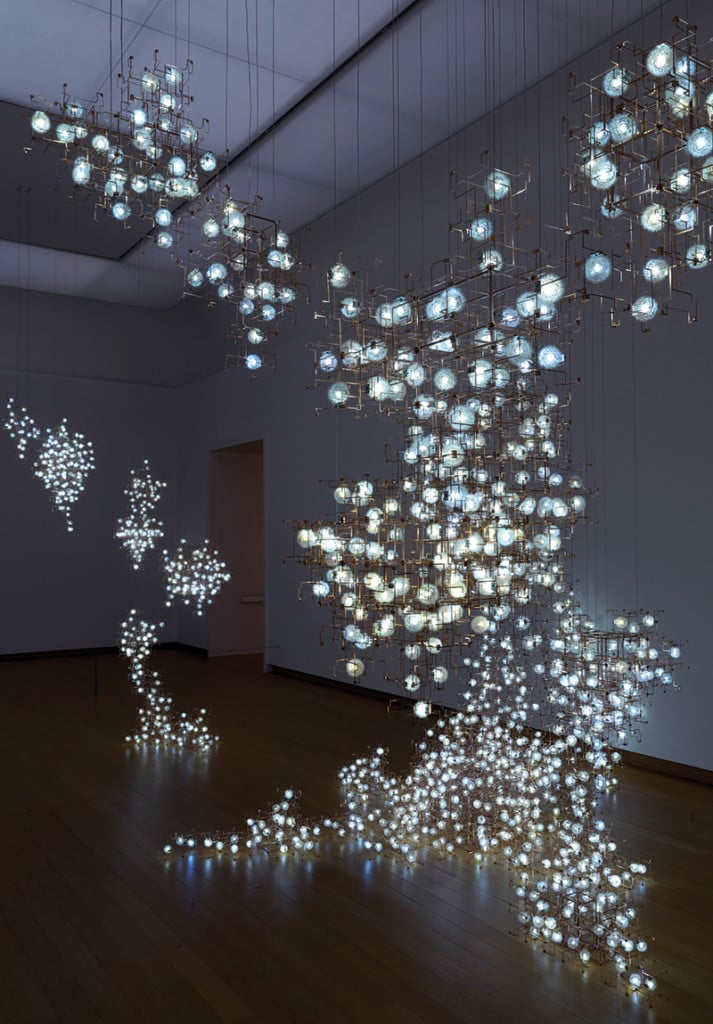 No. 1: Newly Minted Change
The Mint Museum has seen major changes in the past year. In 2018, Todd Herman was named the museum's president and CEO. Then, in June, Jennifer Sudul Edwards stepped into the role of chief curator and curator of contemporary art. Edwards is highly involved in the city's arts community; she's the chairman of the board for Goodyear Arts and previously served as the Bechtler Museum of Modern Art's curator. This year, the Mint has also expanded its hours at both its uptown and Randolph Road locations: The uptown location is open until 9 p.m. on Fridays, and both locations are now open on Tuesdays. "Through these changes, we're building a better Mint," Herman says. "We want to give the community more opportunities to take advantage of all the Mint has to offer, and we're excited for
more people to join our family."
Visit: Never Abandon Imagination is on display at Mint Museum Randolph THROUGH NOV. 3; it includes illustrations from Tony DiTerlizzi's work on Dungeons and Dragons and The Spiderwick Chronicles, plus mementos from the artist's life. Immersed In Light OPENS SEPT. 21 at Mint Museum Uptown, with stunning light sculptures that examine the links between humanity, technology, and nature. Also at the uptown location, Coined in the South will run from OCT. 11-FEB. 16. The name of this juried art show and exhibition refers to the Mint Museum Randolph's location in an original branch of the U.S. Mint and is also a nod to participating artists (each one must have ties to the South to enter). Out of 375 entries, jurors must choose 50 to 60 works of art, which will be on display for the duration of the exhibition. Expect modern and contemporary art of all aesthetics, themes, and mediums.
---
No. 2: Explore Five New Exhibits
McCOLL CENTER
New Works / Alumni Four, SEPT. 12-NOV. 16, is the fourth in a series of exhibitions from McColl Center alumni artists. Zoë Charlton, Lori Larusso, and Izel Vargas (seen above) will explore the complex relationships between domestic space, personal memory, cultural identity, and the American Dream. Come to the exhibit's opening on Sept. 12 from 6-9 p.m. as the gallery continues to celebrate its 20th anniversary.
LARK & KEY GALLERY AND BOUTIQUE
Plumage, THROUGH SEPT. 27, displays new works from a group of gallery artists that includes Katrina Berg, Kim Ferreira, Duy Huynh, Eleanor Miller, Vicki Sawyer, and Mary Alayne Thomas, as well as ceramics by Asta Bubliene and Rebekah Strickland.
THE LIGHT FACTORY
newflesh, THROUGH OCT. 11, explores gender, identity, and idealized sexuality in an exhibition curated by Efrem Zelony-Mindell. The exhibit will focus on the person "behind the flesh," where there is "more than a man or a woman."
LACA PROJECTS
Convergence and Crash, SEPT. 6-NOV. 9, is the gallery's inaugural women's collective and features works by regional, national, and international contemporary artists, including Cristina Toro, Luciana Rondolini, Holly Keogh, and Inés Raiteri. An opening reception with the artists is Sept. 6 at 6 p.m.
JERALD MELBERG GALLERY
Esteban Vicente, THROUGH NOV. 2, presents paintings and collages by the Spanish-born American painter. Vicente was a lesser-known member of the first generation of abstract expressionists that included Jackson Pollock and Willem de Kooning. His paintings of jagged geometric shapes explore color, light, and tonal harmonies.
---
No. 3: Sit By The Campfire With Maggie Rogers
OCT. 9
The singer-songwriter rose to fame when Pharrell Williams heard her song "Alaska" during a master class at New York University. Rogers' EP, Now That the Light Is Fading, earned critical acclaim for her smooth, folksy vocals and lyrics that echo camp songs and the nostalgia of summers past. In 2019, she released her first major-label album, Heard It in a Past Life, which debuted at number two on the US Billboard 200. She's performed singles like "Light On" and "Falling Water" on The Ellen DeGeneres Show and Saturday Night Live. Now, her national tour makes a stop at Charlotte Metro Credit Union Amphitheatre. Check out Rogers and these other headliners below coming to Charlotte this fall.
» Kasey Musgraves / Sept. 19 /
Charlotte Metro Credit Union Amphitheatre
» Guns N' Roses / Sept. 25 / Spectrum Center
» Erykah Badu with Goodie Mob / Oct. 4 / Bojangles' Coliseum
» Andy Grammer / Oct. 6 / The Fillmore Charlotte
» Ray LAMontagne / Oct. 18 / Ovens Auditorium
» Elton John / Nov. 6 / Spectrum Center
---
No. 4: Listen to New Local Albums
Closer Than Together
The Avett Brothers
The hometown stars are back with a new album on OCT. 4. Ahead of Closer Than Together's release, the band explained the album's themes: "As our records tend to be, the newest … is certainly led by the personal narrative of our own lives. In this way, there is no massive departure from our continued artistic language. This chapter, however … wanders inevitably into hallways both social and political. … The Avett Brothers will probably never make a sociopolitical record. But if we did, it might sound something like this." Listen: "High Steppin'" See: While Charlotte isn't on The Avett Brothers' tour just yet, you can drive two hours south to catch them in Greenville, South Carolina, on OCT. 31.
I'm Staying Home
Cyanca
The local R&B artist's latest EP is a continuation of the smooth vocals that earned her the title of "Best Musician" on our Best of the Best list. Keep an eye out for Cyanca's tour schedule to hear bright tracks like "Patti Mayonnaise" and "Katina Brother" live.
Live in Plaza Midwood
Tyler Baum
Recorded under the old Penguin sign in Plaza Midwood, Tyler Baum improvised most of the album, singing to (and about) those walking by. With Live in Plaza Midwood, Baum (also a member of local band Don Telling's Island Mysteries) presents a silly portrait of one of Charlotte's most eccentric neighborhoods.
---
No. 5: Let Aladdin Show You The World
SEPT. 10-29
Albemarle native Cassidy Stoner joins the cast of Aladdin, coming to Belk Theater
Cassidy Stoner dreamed of being a prima ballerina as a little girl training at Albemarle Academy of Dance. With the encouragement of her instructors, she attended musical theatre camps and eventually went on to study at Pace University. Today, the 24-year-old is touring with the Broadway musical Aladdin, where she sings, dances, and acts as a swing. Charlotte magazine caught up with Stoner ahead of her hometown stop to discuss her magic carpet ride.
How did the opportunity to join the cast of Aladdin come to you?
I'd just done a show with Eric Woodall, who is now the artistic director for North Carolina Theatre. At the time he was casting for Aladdin and encouraged me to audition, so I showed up the next day. I started as a "vacation swing," which means I'd come in to cover someone for an extended period. Now I'm a full-time swing, so I'm responsible for the whole women's ensemble. Sometimes two hours before a show an actress will feel sick, and I fill in. I have to keep track of all eight people's numbers, costume changes … everything. But after a year, it feels like second nature.
How familiar were you with the story of Aladdin?
I loved the animated feature growing up. I can't tell you how many Halloween costumes I have of me as Jasmine (laughs).
Any places you have to visit while you're in Charlotte?
Cabo Fish Taco! I loved that place in high school. My mom and I love Village Tavern. My dad and I always go to SouthPark and eat at Cowfish and go shopping. I've been all over America and seen so many malls, and SouthPark is still the best. I also love Manor Theatre because it gets the artsy films that don't always come out to Albemarle.
What are you most looking forward to about coming home?
This is the first time I'll play the theater (where) I grew up loving and admiring musical theater. I can't wait to show everyone in my company how special Charlotte is.
---
No. 6: Howl with The Wolves
OCT. 3-26
Dictators, hangovers, and ski trips—oh, my! These are just a few hot topics that a girls' soccer team battles on and off the field in the play The Wolves at Actor's Theatre of Charlotte.
---
No. 7: Break Into Your Festival Flow
OCT. 4-5
Enjoy the sounds of hip-hop and electronic dance music (EDM) during the Breakaway Music Festival at AvidXchange Music Factory. Breakaway, founded in Ohio by Prime Social Group, brings together the two music communities that are especially popular with 20-somethings. But the festival vibe offers something for music lovers of all ages. Headliners include Future, Lil Baby, Illenium, and Kaskade.
---
No. 8: Celebrate the Folk Rock Duo
Since its sellout in London's West End, The Simon & Garfunkel Story has been seen by a quarter of a million people. This concert-style theater show revolves around two young boys from Queens, New York, who went on to become the most successful music duo of all time. Here are three more things to know about the production, coming to Knight Theater on NOV. 2.
It's a tribute rather than an imitation. Taylor Bloom, who plays Simon, says neither he nor Ben Cooley, who portrays Garfunkel, is doing an impression: "Instead, what we've done … is to fill our vocals with a certain styling and flavor that helps to capture the same sound as Simon and Garfunkel."
The show is filled with nostalgia. Along with the catalog of Simon & Garfunkel hits, a large screen displays newsreels and original film footage from the 1960s and after.
It comes with perfect timing. Simon finished his final tour a year ago, but fans across the country can continue to experience his music through this touring production.
---
No. 9: Have a Jonathan Moment
The revamped Queer Eye series has visited Atlanta and Kansas City. Now, grooming expert Jonathan Van Ness is coming to Ovens Auditorium on NOV. 20 for his comedy tour. Don't miss it, hunny.
Want some laughs sooner? Try these:
» Patton Oswalt / Sept. 7 / Knight Theater
» Plastic Cup Boyz / Sept. 26-28 / The Comedy Zone
» Hari Kondabolu / Sept. 26 / McGlohon Theater
» Charna Halpern / Sept. 27 / Duke Energy Theater
» Lewis Black / Nov. 14 / Knight Theater