Fall Ball, Candy Fest, Disco For Diabetes, Veterans Day Celebrations, and More – Nov. 6-10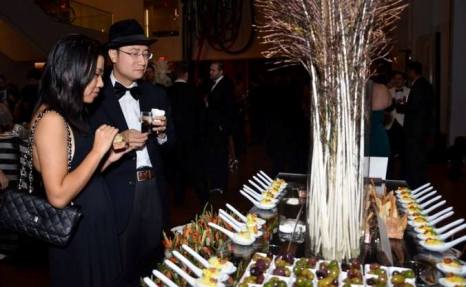 Okay, so, it gets dark at 6 p.m. now. That just means more time for nightlife! Enjoy this list of social events and parties.
Thursday, November 6
#instabeerupclt
Social darlings Amy Herman and Corri Smith host the fourth round of this beer-inspired evening of networking and socializing. 6 p.m. Free admission. Draught, 601 S. Cedar St., draughtcharlotte.com, facebook.com/events/552758481524409.
Strike and the City Presents Ladies Night
It's the year end-finale for this monthly event, inviting ladies out to enjoy makeovers, prize giveaways, vendors, drink specials, and bowling. 7 p.m. Free admission. StrikeCity, at EpiCentre, 210 E. Trade St., strikecitycharlotte.com.
Throwback Thursday with Bubba Sparxxx
The country-bred, Southern rapper will perform live. 10 p.m. Admission varies. Suite, at EpiCentre, 210 E. Trade St., suitecharlotte.com.
Friday, November 7
First Friday Fort Mill
Taking place the first Friday of each month just south of the border, this family-friendly event features food trucks, live music, local beers, kids activities, and more. 4-11 p.m. Free admission. Walter Elisha Park, 345 N. White St., Fort Mill, firstfridayfortmill.com.
Push-Up Challenge and Charity Party for Veterans
It's a fundraising event for the Veterans Life Center, featuring live music, billiards, ping pong, cigars, drink and food specials, and the Hornets game will be shown on the TVs. 6-9 p.m. Slate Billiards (next to Oak Room), 200 E. Bland St., facebook.com/slateclt, facebook.com/events/1502722999984757.
Second Annual Fall Ball
The Young Affiliates of the Mint present this 1960s- and pop art-inspired extravaganza, where you're encouraged to come dress in your finest and glamorous attire and enjoy heavy hors d'oeuvres, an open bar, live music by The 919 Band, and access to the museum's galleries. 7-11 p.m. Members, $85; nonmembers, $100 (ticket sales will end November 7 at 4 p.m.). Mint Museum Uptown, 500 S. Tryon St., youngaffiliates.org/events/fall-ball.
Cocktails and Cool Jazz
This hip lounge gets even cooler on the first Friday of each month, featuring cocktails inspired by mixologist Justin Smith, Italian cuisine, and live music by David Hamilton and Classy Jazz. 8 p.m.-midnight. Free admission. Osso Restaurant and Lounge, 1000 NC Music Factory Blvd., ossocharlotte.com.
Candy Fest
The popular nightclub is being transformed into a candy land, featuring gourmet desserts, specialty candy buffets, and Three Olives candy- and dessert-flavored cocktails. 9-11 p.m. $20. Whisky River, at EpiCentre, 210 E. Trade St., whiskyrivercharlotte.com, candyfest.eventbrite.com.
Jazz N Soul Music
Singer-songwriter Kyle Jason will perform a blend of jazz, soul, and funk during this edition of the monthly music series. There will also be drink specials. 9 p.m. $10. Petra's Piano Bar, 1919 Commonwealth Ave., petraspianobar.com, jazzandsoulmusic.com.
Latin Fridays (new weekly event)
DJ Will DC will play a mix of Latin hits, while you enjoy the tequila drink specials. 9 p.m. Free admission. Texicali Taco & Tequila Bar, 900 NC Music Factory Blvd., texicalicharlotte.com.
Saturday, November 8
Fall Brunch Palooza
Spend your midday mixing and mingling over a special brunch buffet (included in admission), and music by DJ Expensivelife. Hosted by @cltkreamteam and The Nupes of Charlotte. 11:30 a.m.-5:30 p.m. $15. FireWater Restaurant & Lounge, 8708 JW Clay Blvd., fallbrunchpalooza.eventbrite.com.
The Craft Cocktail Series: Hands On Cocktail Pop-Up
Good Eats & Meets presents the next event in their cocktail series, where guests will learn how to make three different cocktails from expert mixologist Chase Woodall. All ingredients will be provided, and you get to enjoy your creations along with appetizers. 1-4:30 p.m. $50; $90 for couples. Heirloom, 8470 Bellhaven Blvd., heirloomrestaurantnc.com, meetup.com/geamclt.
Third Annual Sausagefest
Sample house-made sausages and local craft beer, and be entertained by live music, raffles, and more. 3-7 p.m. $10-$25; kids, $5. JJ's Red Hots, 1514 East Blvd., jjsredhots.com, sausagefest14.eventbrite.com.
YBM Leadership Alliance Evening of Excellence Gala
YBM is a college preparation and leadership development program for young black males, and this event is a fundraiser and opportunity to celebrate their achievements. The evening will feature dinner, dancing, a silent auction, and live performance by legendary singer Jennifer Holliday. 6:30 p.m. $125. Felix Sabates' Mercedes-Benz of South Charlotte, 950 N. Polk St., Pineville, ybmleadership.com.
Salsa Night
Learn how to dance the salsa from a professional, and enjoy complimentary wine and cheese. 7-10 p.m. Free admission. Cafeccinos, 2706 W. Mallard Creek Church Rd., facebook.com/cafeccinos.
Eighth Annual Beards BeCAUSE Finale
The guys who've been growing their beards to raise money and awareness for domestic violence prevention are ready to party. There'll be music by That Guy Smitty, beer from NoDa Brewing Company, food by The Tin Kitchen, and a silent auction. 7-10:30 p.m. NoDa Brewing Company, 2229 N. Davidson St., nodabrewing.com, beardsbecause.com/events.
Disco For Diabetes
Come dressed in disco attire and party to hit dance music from the 1970s and '80s while raising money for a great cause, the Charlotte Chapter of the American Diabetes Association. Presented by Lux Event Consulting. 9 p.m.-2 a.m. General admission $20; VIP, $35. Roxbury Nightclub, 116 W. Fifth St., roxburynightclub.com, eventbrite.com/e/2014-disco-for-diabetes-tickets-12469445447.
Signature Saturdays
Taking place the second and last Saturday of every month, this edition features live jazz by The Harvey Cummings Project, followed by music from DJ Flemingo. Drink specials include $6 martinis and $99 Moët bottles, and the food menu is available until midnight. Presented by Eddietainment. 9 p.m.-2 a.m. Free admission before midnight; for VIP tables, eddiet456@gmail.com. Vapiano, 201 S. Tryon St., facebook.com/vapianoclt, eddietainment.com.
Sunday, November 9
The Unknown Brewing Chili Cookoff
Twenty amateur teams will compete to determine who has the best chili in Charlotte, and you get to be the judge. Plus, there'll be live music by Broken Napoleons, Outlaw 21, and Wiggle Wagons; games, and, of course, beer. Proceeds will benefit Purple Heart Homes. 2-7 p.m. $10. The Unknown Brewing Company, 1327 S. Mint St., unknownbrewing.com.
Tone-X's Birthday Celebration
It's the return of the Tone-X & Friends comedy show, and birthday party for its namesake, featuring comedians Tone-X, Chris Funnyman Robinson, Rodney Perry, and guests. 7 p.m. $15 in advance; $20 at the door. The Comedy Zone, 900 NC Music Factory Blvd., cltcomedyzone.com.
Monday, November 10
Monday Night Football: Panthers vs. Eagles
The Carolina Panthers visit the Philadelphia Eagles for their second consecutive nationally televised game. Let's hope this one ends with a victory. Game time is 8:30 p.m.

Where to Watch the Game
@ All American Pub, 200 E. Bland St., facebook.com/allamericanpub.
@ Angry Ale's, 1518 Montford Dr., facebook.com/angryalesmofo.
@ Buffalo Wild Wings (Uptown), at NASCAR Hall of Fame, 400 E. Martin Luther King Blvd., buffalowildwings.com, eddietainment.com.
@ Dilworth Grille, 911 E. Morehead St., dilworthgrille.com.
@ Hickory Tavern, at Metropolitan, 1100 Metropolitan Ave., facebook.com/ht.metropolitan.
@ Sports One Bar & Lounge, 521 N. College St., sportsoneclt.com.
@ StrikeCity, at EpiCentre, 210 E. Trade St., strikecitycharlotte.com.
Salute: Veterans Day Celebration
Party promoter The Sol Kitchen says if you're off work Tuesday for Veterans Day, you should party tonight. Music by DJ Skillz. 10 p.m. Free admission before 11:30 p.m. with RSVP; general admission, $10. Suite, at EpiCentre, 210 E. Trade St., suitecharlotte.com, saluteatsuite.eventbrite.com.
Verify dates, times, prices, and other info at the web addresses listed for each event.
Be sure to bookmark www.charlottemagazine.com/Blogs/Dusk-Till-Dawn to stay plugged into Charlotte's nightlife and social scene. Click here to sign up to receive the weekly Dusk Till Dawn e-newsletter. Follow me on Twitter @HollidayInk; email me at jarvish@grownpeopletalking.com.