Fall Fashion Preview from Neiman Marcus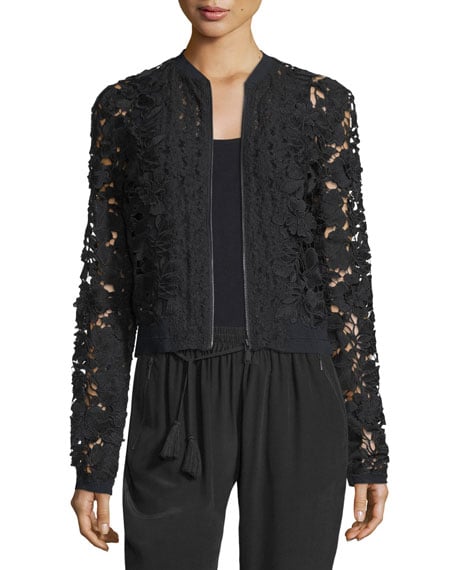 Although we are still in the thick of summer heat and humidity, the calendar does say September, and, like it or not, it's time to prep our wardrobes for fall. Autumn brings crisp weather, vibrant foliage, and the opportunity to shop for a few key pieces as the season changes. We checked in with Neiman Marcus, celebrating its tenth year in Charlotte, to discover the season's trends as showcased at New York Fashion Week and were not disappointed.
For women's fashions, the 70's are alive and well with rich velvet and rock star glam, including metallics and bold eye makeup. Some of my favorite trends presented at the fashion show were florals (think rich fall colors as seen in options from Alice + Olivia) and embellished shoes and booties. But my favorite trend, and it's making a comeback in a big way, is the bomber jacket. Although leather is the perfect fabric for this style, look for fabrics such as lace, or an intricate embroidery pattern to add a feminine element to the structured jacket. I can't wait to toughen up a dress up by pairing it with a bomber jacket and suede booties with embellishments for a night out.
As with all trends, the most important thing is to stay true to your personal fashion aesthetic. You don't need to incorporate every trend into your fall wardrobe, but you can punch up your wardrobe for the season with one or two statement pieces. A bold necklace, a delicate choker, or a structured handbag
Need more fall style inspiration? Check out our fashion preview from the September issue.