Fall Favors: Pumpkin Cake Pops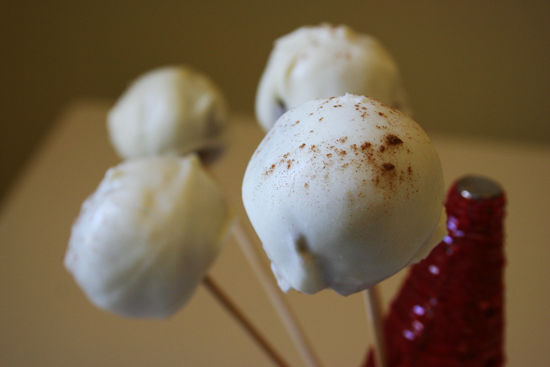 My idea of the perfect wedding favor isn't something I can wash my hands with or sit on my bookshelf and never look at again… I want something I can eat! (In addition to the wedding cake, of course) Cake pops are the perfect miniature dessert to send home with your guests or to tide them over until you cut and serve the actual cake.
While researching cake pop flavors, I stumbled over a Pumpkin Cake Pop recipe from YumSugar that would perfectly adorn your fall wedding reception. Anna Monette Roberts provides the cake and cream cheese recipes here. If time is pressing, use a pumpkin cake mix and ready-made cream cheese frosting. Then, follow these directions and enjoy!
Cake Pop Ingredients
Pumpkin Cake
Cream Cheese Frosting
2 (8-ounce) containers of candy shell (like Dolci Frutta creamy white shell)
Wooden skewers
Cinnamon
Directions
1. Crumble cooled cake into a large bowl. Add 1/4 cup of cream cheese frosting; mix.
2. Roll into 1-1/2 inch balls. If mixture is too dry, add more icing until proper consistency is reached.
3. Place on a parchment-lined cookie sheet. Freeze for 15 minutes until cake is firm.
4. Melt candy shell according to manufacturer's instructions. Dip wooden skewer into melted candy, then stick halfway into cake ball.
5. Carefully roll the cake ball in melted candy until fully covered. Use a styrofoam block to stick the cake pops in. Allow candy shell to harden, then dust with cinnamon.