Family Feud
Planning a wedding can put tension on even the best parent-child relationship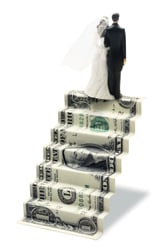 In keeping with the Jewish tradition, both of my parents walked me down the aisle. When the bridal ballad cued, and the wedding planner gave the nod, I stepped my gilded shoe to the edge of the runner and looked to my left. There was Mom, nervously smoothing her ocean-blue dress and trying to conceal the emotion that was written on her face. To my right was Dad, who took a deep breath and gave me his most encouraging let's-do-this smile. I'm embarrassed to admit that until this moment, I hadn't really contemplated what this day meant to them. I had spent the year leading up to my wedding frustrated and mystified at how my proud parents would turn into my archenemies the minute a wedding-related decision had to be made. In retrospect, I was the one being difficult: a little more empathy on my part could have helped ease those disputes and possibly even—wait for it—made the planning process enjoyable.
Of course, I'm not going to take all the blame. What we lacked was an initial laundry-airing conversation. Charlotte resident Cindy Sartain, whose daughter Lizzie will marry at the end of July, credits a confab with their smooth-sailing planning. "We sat down with the kids, and both sets of parents, and decided on the tone and size of the wedding. We did that right away, the weekend after they got engaged," says Sartain. Creating a wedding-day mission statement helps make things transparent, but it's the underlying meaning of the talk that is critical. "Constant communication keeps that open, emotional bond between the parents and the children," says Ronald C. Wolfe, a licensed marriage and family counselor. "That bond often gets overlooked and jeopardized through the process, which is really sad."
The reality is that a wedding isn't just a milestone in your life; it's a milestone in theirs, too. It puts them face-to-face with their position in life, with the idea of grandkids, with having to parent a married child, and having to accept a new family member. This can be especially hard on the groom's parents. "Because of traditions in our culture, there is a sense that there is a gain by the family of the bride," says Wolfe.
For even the most sensitive couples, conflicts will arise. Instead of gnashing your teeth, try to understand why your parents have the opinions they do. Most of the time, you'll find the crux of the conflict is generational. "The details [of a wedding] can bring the breaking of old traditions to the surface. Oftentimes that doesn't get named and so there's no understanding of the reasoning behind it," says Wolfe.
For even the most sensitive couples, conflicts will arise. Instead of gnashing your teeth, try to understand why your parents have the opinions they do.
"I wanted to get my invitations online," says Lizzie. "That was hard for my mom, the idea that we weren't going to go to a paper place." Your mother may have been daydreaming about your big day as long as you have. Scrolling through invites on a MacBook was most likely not part of that vision.
Making concessions, of course, is a two-way street. "I have to step back and say, they've been to a lot more weddings than I have, and they know the right etiquette," says Lizzie. It's critical to identify where your parents' expertise lies, what's really important to them and why. Then match that list against yours. "There have been a lot of compromises," says Lizzie. "I'm wearing my grandma's dress, which was really important to my mom. In my eyes, it was very special, but ugly. So we changed a few things on the dress, and I'm changing into something different for the reception. I get it, I know why it's special, but I have to be able to change stuff, or else I wouldn't have worn it." Not making the effort can have long-term effects. "Parents then have two options. One is to withdraw and go silent, but still harbor feelings, or become intrusive and take over in a controlling way," explains Wolfe.
Parker Wilson, who married Charlotte native Thomas Wilson last year, made sure to ease tensions by mixing in some fun with her mom along the way. "We planned lunches, even got a hotel room one night and watched girly bride movies. It was important that we were creating memories, that planning just wasn't a to-do list," says Wilson. That way, parents and kids can continue to feel connected and remember what life was like before the wedding planning.
Finances often create the stickiest wedding situations. It's becoming more common for engaged couples to pay for their own nuptials, which hands them the decision-making reins. Make sure, though, that you are still considering your parents' feelings. "I see young couples now that are planning to get married and doing it all on their own. Some parents feel very excluded," says Wolfe.
"Sometimes you need to step back and recognize the sacrifice that your parents are making," says Wilson.
Many parents are still paying for, or heavily contributing to, their offsprings' weddings. This might just be the most important place to take a moment to reflect. "Sometimes you need to step back and recognize the sacrifice that your parents are making," says Wilson. Consider where your parents are in life. Are they on a fixed income? Have they been hit hard by the economy? Have they decided to save for a lake house?
Money issues are often the hardest and, at times, most embarrassing things for parents to discuss with their children. And they do have a right to know how that hard-earned cash is being spent. "In some ways, brides want it both ways. They want to be supported financially, but make decisions on their own. That creates a lot of conflict," says Wolfe. Don't forget that your parents also probably want to be involved, but they also don't want to step on your toes. "There's a sense of responsibility with giving money, and often parents feel like they've been used and discarded in the process," says Wolfe. Which means when you are writing out those wedding thank-you notes, the longest, best, most heartfelt one should go to Mom and Dad.