Family Ties
A family's dream house mixes colorful, modern inspiration with treasured family heirlooms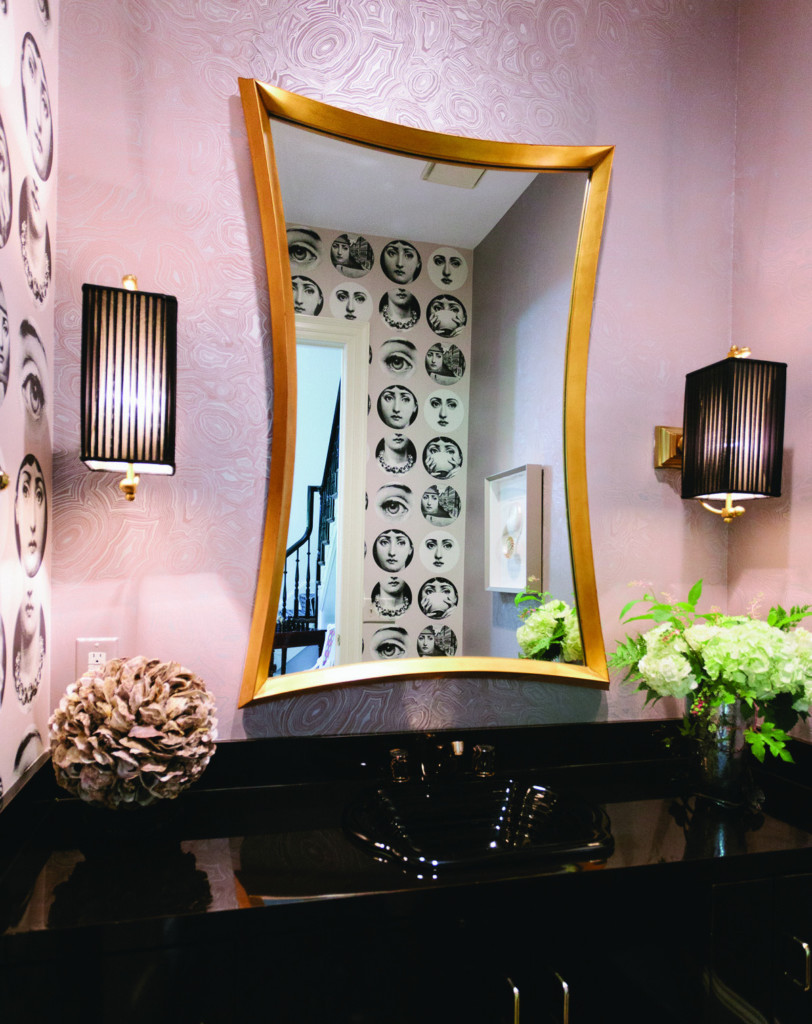 When it comes to designing her dream house, Carolyn Culicerto mixes colorful, modern inspiration with treasured family heirlooms.
Carolyn Culicerto took it as a sign—every time she and her daughter were stuck in traffic driving to and from school, they would stop right in front of a pink stucco home. Culicerto felt drawn to it. And it happened to be for sale.
"Every time we passed it, I just thought, 'That's the neatest pink house!'" Culicerto says. Eventually, she decided to call for an appointment, and then bought the house in 2008.
Culicerto's warmth and fun-loving energy come across in each room of her home, whether it's through her treasured family heirlooms, her way of pairing vintage furniture with modern paint and patterns, or how she enlists her children, Halee, Christian, and Anne, in the design process.
In the foyer, a game table—a gift to Christian from his grandparents—is sandwiched between two antique chairs. Finished in a white lacquer and reupholstered in a red-and-green Jane Churchill fabric, the chairs are a nod to Culicerto's "great auntie" Calus Anderson, who gained attention in the 1940s for painting the rooms in her home red and green.
But not all of the pieces in the Culicerto home are reworked family heirlooms. Her first major purchase was a new cocoa, alligator-leather couch for the living room from Brock Moran Home in Ballantyne. "I don't care for reptiles, but as long as it's not moving, I'm OK with it," she says with a laugh. It's a statement piece and the focal point of the bright and airy space. The room's color scheme—beige, yellow, and blue—was inspired by a bowl by Jeff Diehl, a potter in Culicerto's home state of West Virginia. Above the fireplace hangs a colorful piece of art painted by Culicerto's best friend's mother, and, at right, two citron Natural Curiosities paintings subtly draw out the colors in the rug.
In the formal dining room, a gorgeous Laura Kirar by Baker mirror, sculpted into the shape of a dogwood flower, stands out against the vibrant teal walls. And a perfectly complementary piece of art—a gift from a friend who hadn't known the color Culicerto had chosen for the walls—looks as if it had been made specifically for the room.
"What's great about Carolyn is that she isn't afraid of color," says Erin McKenzie Biggerstaff, the Brock Moran designer who was integral in transforming the "pink house" into the Culicerto home. Although most of the design decisions are products of family collaboration, possibly the most debated choice was the decision to put up the Cole & Son face-print wallpaper in the powder room. But sometimes mother still knows best. "My daughter thinks this wallpaper is so creepy!" Culicerto says. "When I saw it, I knew I just had to have it."