Famous Adjacent: Inside the Hidden World of Joke Theft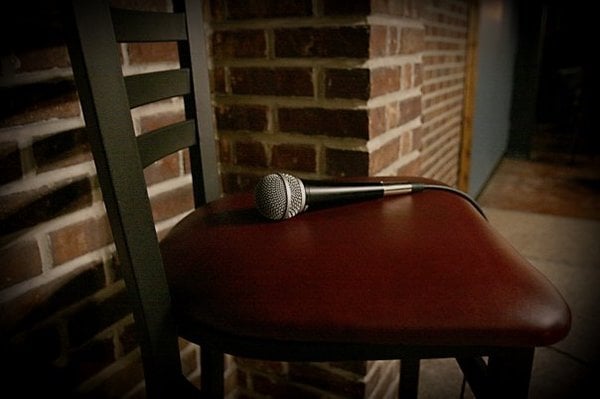 A few years ago my friend moved to New York with dreams of becoming a world famous stand-up comic. The jury is still out on whether or not he'll be famous, but he has turned into one hell of a comedian.
Back when he was not so great, he would call me often and in the middle of the night to say, "Your act is killing in New York!"
Here's what would happen: He would perform his new jokes, the audience wouldn't laugh, and he'd instantly get the Clammy Johnnies. (A term I'm desperately hoping catches on) Looking for any way out, he would go through his mental Rolodex and use jokes he knew would work. Those jokes just so happened to be mine.
Since I've never performed stand-up in New York, he knew the other comics wouldn't know they were stolen, and he'd get the audience back on his side. When he was comfortable enough to try his act again, he'd go back to his own material and close out the show. Let me be clear about something: I consider this guy a close friend. I had a small part in his becoming a stand-up comic in the first place, so I was okay with the whole thing. Sort of — it's actually pretty complicated.
Days would go by, another call in the middle of the night. "Your act is killing in New York!" I would tell him it was nice to hear, wish him well, and then I'd go back to bed. A few more days would pass: "Your act is killing in New York!" Same routine. This went on for about a year.
It wasn't awesome. But eventually the calls would get more infrequent until they stopped altogether when my friend found his comedic footing.
I bring all of this up to show I know what it feels like to have a joke stolen. It's a fairly common — albeit highly reviled — practice in the stand-up comedy.
The topic of joke stealing recently came up in the Charlotte comedy community. A comic who from this point forward will be called Bert has accused another comic Ernie of stealing jokes. The two men took the fight to Twitter and a private Facebook page for Charlotte comedians. It's gotten pretty ugly as scores of local comedians have taken sides.
My plan was to interview Bert and Ernie about what happened, and show you what happens when one comic accuses another of theft.
I was going to take a bird's eye view of the situation, and show you dear readers how soul crushing and hard it is to be a stand-up comedian in this town. I asked both comics for interviews. Bert was immediately ready to speak. After asking Ernie multiple times over the course of several days, he hasn't responded although to say he wanted to take part. I present this fact solely as exposition and not to pique your suspicion.
So, instead of having a thought-provoking discussion between the three of us, we will run Bert's answers unedited. Bert wanted us to print the names of all involved, but after long discussions with my editor — seriously you have no idea — we decided to use pseudonyms as such a claim could irrevocably damage a person's career. And barring undeniable evidence of the theft, we felt that was unfair. To protect this anonymity, we are unable to tell you the joke in question.
FAMOUS ADJACENT: You were in the audience when Ernie told a joke you believe was yours. What was your first reaction to seeing this?
BERT: I was shocked. It was a joke he had commented on to me both in person, and going so far as to post about it on my Facebook wall. So he was clearly aware of my joke and appreciated it. The more upsetting thing was his version of my joke was worse. If you're going to steal a joke, make it better.
FA: Did you confront Ernie? And if so, how?
BERT: I immediately confronted him. His reaction was a combination of confusion and frustration. He threatened to hit me. I said, "Well then do it!" He just stared blankly and walked into the green room. He was clearly upset that I'd called him out for stealing jokes.
FA: How often do you work on your set?
BERT: An idea comes to mind, I work it out. The minute the joke seems like it's not working out, it's dead. I don't have a lot of jokes for my stage act. Therefore, I'm very possessive over them. I throw away a lot of jokes, take those and ruin them. Don't mess with the few I keep.
FA: Anything else you'd like to add?
BERT: He tried to confront me a couple of weeks later and I not being a fighter had the luxury of pointing out that he had a chance to hit me once and didn't take it. I, on the other hand, would only be satisfied knowing I'd destroyed his hopes and dreams of being a comedian. And I have. Two of the biggest booking agencies in the country won't touch him now. For. The. Win.
---
Joke theft is a serious accusation and it has been lobbed at some of America's largest comics with some seriously detrimental effects. Dane Cook, Carlos Mencia, Robin Williams and countless others have all been accused of lifting a line or two.
My goal in writing about this was not to destroy Ernie's comedy career. I've changed both comics' names because even though I do believe Ernie has stolen material before, it isn't my intention to ruin this man's hopes and dreams. I have also been accused of stealing jokes in the past, and it feels terrible. But comedy has very easy rules to play by. Write your own jokes (Or pay someone to write them for you) and be funny. That's it.
The Fresh Prince of Plaza Midwood,
Sean Keenan