Famous Amos Creator Lives Near Charlotte as He Plans Next Venture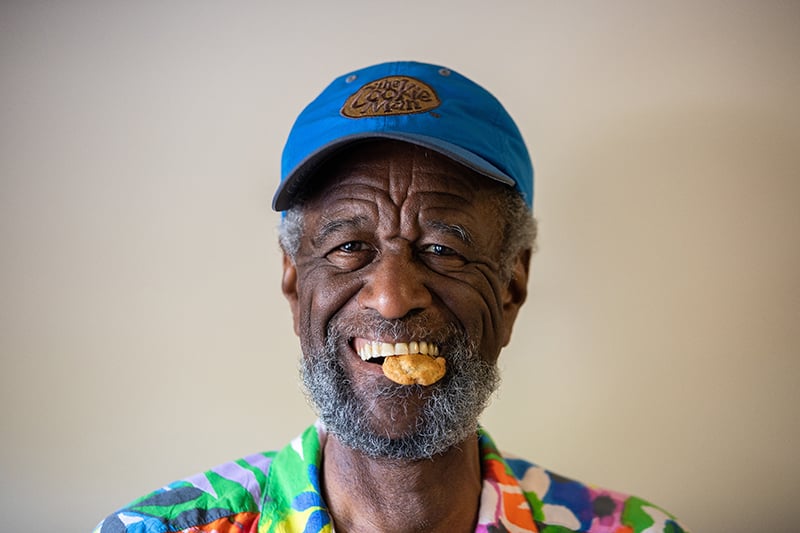 IT SEEMS FITTING to be meeting one of the cookie industry's titans, Wally Amos, at the Famous Toastery in Fort Mill, South Carolina. Dressed in a Hawaiian shirt with rainbow, lei-like necklaces, Amos smiles and greets me with a hug.
Amos orders his usual—a bowl of oatmeal, no sugar, and a fruit cup—and I order two scrambled eggs. When our food arrives, Amos picks up his fork and places it in the middle of my eggs and asks for a bite.
The 82-year-old first learned how to bake from his Aunt Della seven decades ago, when he was 12. After his parents divorced, he moved from Tallahassee, Florida, to New York City to live with his aunt. "It wasn't until then that I first tasted chocolate chip cookies," he says.
Now he's known as the creator of Famous Amos Cookies, Uncle Wally's Muffins, the Cookie Kahuna, and most recently, Aunt Della's Cookies. He first began selling cookies in 1975, after receiving some start-up money from several close friends, including the late singer Marvin Gaye, to open a store on Sunset Boulevard in Los Angeles. By the early 1980s, demand was rising, so Amos decided to mass-produce the cookies. A few years later, however, he was forced to give up his stake in the company due to what he calls mismanagement.
The cookie didn't completely crumble, though, because Amos continued baking. He moved to Hawaii for several decades and created Uncle Wally's Muffins and the Cookie Kahuna. But these deals went south, too. "I had a not-so-good business arrangement," Amos admits. "I put the whole business together, my business partner put up the money, and it didn't go so well." So, he decided to move east to the Charlotte area to team up with a new potential partner. In January 2018, he started quietly working on his next baking adventure: a new cookie company called Aunt Della's.
"This is my last company, I can tell you that for sure. Put that on my tombstone: 'He died starting one last cookie company,'" Amos says, erupting into laughter.
Amos has struggled to get the new business running, but he's still sharing his cookies. At Greater Works Center, a church in Fort Mill, he's baked and served cookies on Sunday. Pastor Jermaine Nichols recalls being invited to Amos' modest, one-bedroom apartment. "He just launched into this magical process where he would hum and talk to the cookies. He would say, 'OK, yes, that's good. That's beautiful. The texture is just about right.' He had a big mixer and he would seem like he was coaching the dough, saying things like, 'Yes, almost there, that's good.'"
While Amos may not have found footing for his new cookie business yet, the folks of Fort Mill seem to know who he is. Waitresses and restaurant patrons at the Famous Toastery continue interrupting our conversation to ask "Famous Amos" where he's been. He tells them he moved to Columbia, South Carolina, to work with a new business partner and pursue another cookie venture.
Maybe this will be his last company, or maybe not. One thing will remain, though—his secret ingredient. "The same thing that's in every chocolate chip cookie: chocolate," he says. "The difference is I put more chocolate in mine."