Farm Fresh at Harvest Moon Grille
The city's newest locally sourced restaurant may have started as a humble food cart, but today it's serving elegant dishes n a historic hotel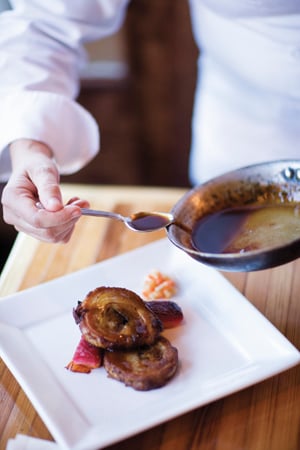 At uptown's new Harvest Moon Grille, Chef Cassie Parsons uses, wherever possible, ingredients from within 100 miles of the restaurant. It's a real study in sustainability—and one that is noble as hell. The restaurant evolved from a small cart that Parsons set up at Trade and Tryon to help subsidize her Lincoln County farm, Grateful Growers. Craig Spitzer, the general manager of the Dunhill Hotel, had noticed quite a line forming outside the humble, bright orange cart. And so, needing a tenant for the hotel's recently vacated Monticello restaurant, he approached Parsons to see if she was interested in taking over the space.
On paper, the marriage looks like a horrific mismatch, but it works. At more than eighty years old, the Dunhill is a bona fide landmark. It was built in the gilded Gatsby era, and it seems to yearn for a more conservative and formal partner. The Harvest Moon space, however, is simple and understated, with a few orblike chandeliers, gleaming original terrazzo floors, and cream-colored walls covered with vivid prints of produce and livestock. There is a communal bank of tables in the middle and a large table by the front window. A small lobby bar also serves the restaurant and is a good spot for a martini or a glass of wine before dinner. Cocktails are available, but something from the wine list would be more suitable to the fare at Harvest Moon, and there are many humbly priced selections (mostly domestic) by the glass and bottle.
Harvest Moon is open for breakfast, lunch, and dinner, and because the food is locally sourced, much of the menu is seasonal. Breakfast is a necessity for the hotel's guests, but it is also a way to take advantage of dairy and vegetables delivered at 5 a.m., when they're at their absolute zenith of flavor, as well as Grateful Growers–produced bacon and sausage. Pork is a predictable dish at Harvest, and is featured in both salads and sandwiches at lunch, such as the tempting Bahn Moon sandwich ($12). This crispy pressed prosciutto and house-made ricotta sandwich with pickled turnips is an equitable—and delicious—take on the Vietnamese street food.
At dinner, you'll find plates designed for sharing featuring samples of artisanal cheeses, salami, and excellent sausages, all made in house. A dozen or so small-plate starters ($5-$11) vary from salads to noodles to brisket, and include a creamy roasted sweet potato and butternut squash soup ($5). Parsons treats this silky soup simply, allowing the considerable flavors of the vegetables to shine. Local farms are noted in the entrée sections ($16-$23); Ashley Farm rabbit is featured in the cacciatore ($21), and Baucom's Best beef is in the shepherd's pie ($18). There are again plenty of pork options, including the signature Tomahawk bone-in pork chop ($21), brined in stout and served with quinoa.
Still, the slow-food movement is hardly new, and beyond the feel-good marketing, I find myself wanting the promise of all this hoopla to be fully realized at Harvest Moon Grille. That is, I want to taste it. And most of the time, the new restaurant delivers. At first this comes in subtle ways, such as a tangle of local greens, lightly dressed with citrus vinaigrette and a house-made, peppery goat cheese. Then it is more overt, such as the way the vegetal punch from a cooked tuber is noticeable on my palate. Soon, I am bombarded by these stimuli as I dig in. Chewy and zippy andouille sausage, cheddar grits, plump shrimp, and mahimahi combine in one dish in a stunning display of kitchen talent. As I slice the fish, it sinks into the bowl and continues to cook, evolving the dish ever so slightly, so that my first bite is simple and clean and my last bite is just cooked through and has absorbed the flavors of the grits and gravy. It's a huge success and a dish that has me more engaged with each bite. And it's the kind of dish that allows Parsons to stretch out a little with superb results, dashing any concerns that she is merely a humble hog farmer.
The good news for locavores is that Charlotte is fortunate to have several remarkable restaurants that fly the local flag. Let's hope this continues. But while others are doing it, you're unlikely to find a restaurant more locally focused than one whose co-owner and chef is the same farmer who is growing the food. Maybe it's her knowledge of the food from literal start to finish, or it could be her simple devotion to flavorful dishes. Regardless, Parsons—and Harvest Moon Grille—are off to a promising start.