Farmers Market Finds, Part 1
Chef Clark Barlowe is making use of the cache of fresh produce to create entrees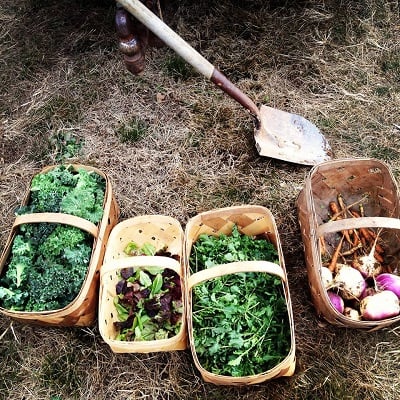 Charlotte chefs of both the home and restaurant variety are making use of the season's bounty by stopping and shopping at Charlotte's farmers markets. Over the next few weeks, we'll explore the mind of a chef while he or she peruses the stalls of fresh vegetables, fruits, meats, and breads at the Charlotte farmers markets – creating a dish with only what's at hand.
This week, we chatted with Chef Clark Barlowe of Heirloom. Barlowe's menus use exclusively North Carolina ingredients, making his formation of dishes even more challenging than someone using bounty from surrounding states like South Carolina and Tennessee.
Q: Which farmers markets do you tend to frequent; or are you more of a farm and you-pick guy?
A: I always go to the regional farmers market but I also stop over in Atherton a lot. I also go to the Davidson Farmers Market about once a week.
Q: What's the oddest ingredient you found at the market this time of year that you just HAD to make an entree out of?
A:I once found hemlock cones which are kind of like little baby pine cones that you can harvest like berries. They have a really bright, citrusy, lemony, orangy flavor to them. I served some up pickled at the restaurant and also sauteed them in a pasta.
Q: Favorite summer veggie or fruit to work with?
A:Chanterelles, hands down. By and far, they are my favorite. We're about a week out from the season now and I'm really excited. We're going to do a dish with the chanterelles, clams, and sweet corn. It'll be delicious.
Barlowe shares his recipe for the CCC: Corn, Clams, and Chanterelles dish below.
Ingredients:
8 each NC Littleneck Clams
1 cob corn, kernels shaved off
3 each chanterelle mushrooms
1 cups clam stock
1 1/2 tbsps butter
3 sprigs thyme, chopped
1 clove garlic, sliced
Salt and pepper, to taste
Wash clams thoroughly under running water in a large bowl. Once the clams are completely submerged in the water, run the water from the faucet over a stainless steel spoon into the clams; this will create an electromagnetic charge that will cause the clams to spit out any sand they may contain. Set aside.
Brush the chanterelles with a damp cloth to remove any excess dirt. Begin pulling strips – sort of like pulling string cheese – from the mushrooms. Set aside.
In a medium sauté pan, melt 1/2 tbsp of the butter and begin to sweat the garlic. Once the garlic is golden, raise the heat and add the mushrooms and corn kernals. Sauté and season with salt. Add the clams and clam stock to the pan and cover with another inverted pan to steam open the clams. Once they've opened, finish with the thyme, salt, and pepper to taste.
Taking the pan off the heat, add in the remaining 1 tbsp of butter and swirl around the pan to combine the flavors and finish the sauce. To serve, place the clams in a large bowl and pour the vegetables and broth over them. Serve with a 3C IPA from Triple C for a CCC with a CCC.