Farmers Market Finds, Part 2
Paul Verica of Heritage shares some of his favorite farmers market finds, plus a recipe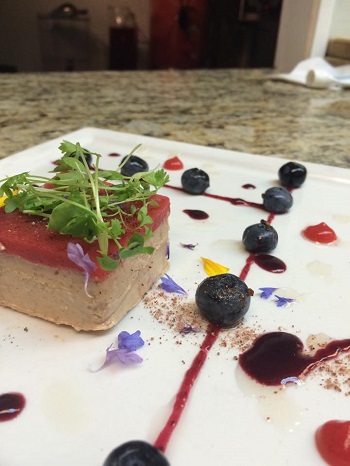 This is the second installment of our farmers market series, exploring how Charlotte's chefs use the abundance of produce to create their dishes. We talked to Paul Verica of Heritage in Waxhaw to get his take on the farmers' bounty:
Q: Which farmers markets do you tend to frequent, or are you more of a pick-it-yourself guy?
A: My Saturdays usually start around 7:45 a.m. — I get to Matthews farmers market around 8. Then I go to Yorkmount around 8:45-9, then on to Atherton around 9:30. Finally, I head to Waxhaw, unload, and head to the Waxhaw Market. We actually purchase products from a bunch of different growers but our main suppliers are Small City Farm, New Town Farms, The Specialty Farmer, and Boy and Girl Farm. … I do go out to Sammy's at least once a week to grab stuff …
Q: What's the oddest ingredient you found at the market this time of year that you just HAD to make an entree out of?
A: Oddest? Hmmm. Joe and Amy of Boy and Girl literally just dropped off a big bag of freshly picked elderberries. I have no idea what the heck we are going to do with them — I've never worked with them before. In the spring, Robin Ross of Bell's Best had all sorts of cool foraged edibles (like) chickweed, wild arugula, violas and other stuff.
Q: Favorite summer veggie or fruit to work with?
A: Fruit has to be peaches for sure. Veggie would be corn. I just have so many cool childhood memories …
Q: What do you love about the farmers markets, especially in the summer?
A: (There's) so much fun stuff to play with — this time of year is an overload for me and my ADD. I always tend to overbuy this time of year and that ends up killing us on prep. … But we have to work with these items when we can get them because they're only here for such a short time.
Below, Chef Verica shares his recipe for panzanella salad using focaccia from Carolina Artisan Bread and jelly bean tomatoes, red onion, and cucumbers from Small City Farms:
Ingredients:
1 loaf of CAB rosemary and olive oil focaccia
2 fluid oz extra virgin olive oil
salt and pepper to taste
2 cups of jelly bean tomatoes
Ice water bath
2 fluid oz extra virgin olive oil
2 large cucumbers, seeds removed, cut into 1-inch cubes
1 small red onion, diced
1 fluid oz balsamic vinegar
2 fluid oz of the herb puree (recipe below)
For the bread – preheat your oven to 350 degrees F. Dice the focaccia into 1-inch cubes, then toss in the olive oil and season with salt and pepper. Spread the pieces evenly on a sheet pan and toast in the oven until golden brown. Cool to room temperature and set aside.
Bring a pot of salted water to a boil. Score the bottom of each tomato with an X using a paring knife. Once the water is boiling, plunge the tomatoes into the water for about 15 seconds, then plunge them into the ice water bath to stop cooking. Once the tomatoes have cooled, remove the skins and lightly toss in the olive oil. Set aside in the refrigerator.
In a large mixing bowl, add the bread, vinegar, and herb puree – allowing the bread to soak in the mixture for a few minutes. Cut the cooked tomatoes in half, then combine tomatoes, cucumber, and red onion with the bread mixture – tossing everything evenly to coat. Season with salt and pepper.
Herb Puree
1 cup basil leaves
1/2 cup parsley leaves
1/4 cup nasturtium leaves
1/4 cup bronze fennel
2 cloves of garlic
1 to 1 1/2 cups extra virgin olive oil
Salt and pepper, to taste
In a food processor, combine the herbs and garlic with 1/2 cup of the olive oil and puree. Add the remaining oil as needed to achieve a smooth pesto-like consistency. Season with salt and pepper.