Farmers Market Finds, Part 4
Our final installment shines a spotlight on Kindred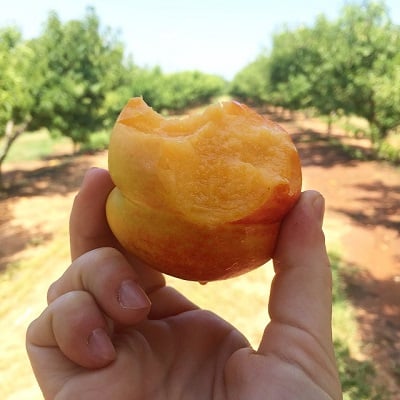 As we close out our focus on Charlotte's amazing farmers markets and some of the area chefs making use of their bounty, we zero in on Chef Joe Kindred of Kindred Restaurant in Davidson.
Q: Which farmers markets do you tend to frequent; or are you more of a farm and you-pick guy?
Since Kindred is in Davidson, I am biased to the Davidson Market. …My Saturday routine is get the kiddos up and roll to the markets. Usually, we hit Matthews first … then (we go to) Atherton market at 9ish. … When we first opened I was going to pick up my veggies from Sammy (Newtown Farms) and occasionally harvest them with him if I placed my order too late.
I generally like to go to visit Barbee Farms about once a month. We will hop in golf cart with our kids – he's got a little boy named Cody that is Luka's age – my youngest son – and we pick veggies and catch up. It also helps me with menu development; it's created a special bond between Brent and I because he sees that I want to see his products in their natural habitat and it inspires me.
Q: What's the oddest ingredient you found at the market this time of year that you just HAD to make an entree out of?
I don't know if its necessarily odd, but there are these two farmers at Matthews market that had purslane and chrysanthemum. I could just be totally blind but that's one that I don't remember seeing here in NC before. We used both of those at a restaurant in San Francisco that I worked at, so naturally I had to put them on the menu. We ran into some killer eggplants that we got from Correll Farms that we treated as if they were like a protein; we made a delicious sugo out of them.
Q: Favorite summer veggie or fruit to work with?
Squash. It can be grilled, seared, sliced thin and served raw, pickled – anyway you do it, it's delicious. When you get bored with one squash there's like, 40 other squash varieties like zephyr and patty pan to play with. Chef Dan Barber talks about asparagus being on every dish at Blue Hill in one of the chef shows I watch and he's like, "if it's there, use it." I kind of adapted that approach … Be redundant but do it creatively.
Q: What's so special about the farmers markets, especially in the summer?
I think its community and diversification — just the whole experience of getting to know the town and the people at the different markets. Over the years I've gotten to know Pauline Woods at Matthews Market — her market is waaaay early; the people in Mathews will line up at 7 am to get the veggies from Mindy Robinson (Tega Hills Farm) or Sammy Koenigsberg (Newtown Farms), so I know the Mathews community is (full of) early risers who are crazy passionate about their produce. … Then you got Atherton that is just busting with energy – like crazy energy; Jay from Bells Best usually gets me my flower fix. It's a young hip southern crowd that's a bit newer to the market scene. I'll get asked a lot by market goers "what do you do with that?" It's cool to educate them … usually they know I'm with Kindred cause I have both kids strapped to me with lots of boxes of veggies and usually a sidekick or two – a sous chef or Katy. Then you have Davidson that's like the perfect harmony between Matthews and Atherton – Millstone Bakery's stand is a must for a sausage biscuit. … As far as the summer, there's just more people out there and crazy-evolving produce.
Below, Chef Joe shared his recipe for summer corn soup:
Ingredients:
8 ears of corn
6 cups of mire poix (a equal combination of carrot, onion, and fennel)
Salt
2 sprigs thyme
1 bay leaves
1 sprig of rosemary
2 tbsps butter
1 tbsp black peppercorns
Season the corn with salt, pepper, chili flakes, and olive oil, then plancha sear until the kernels are cooked. Once cool enough to handle, cut the kernels off the cobs (should be close to 6 cups), reserving the cobs.
In a large pot, place the empty cobs and cover with water. Simmer for one hour, then strain the liquid into a large pot and set aside. In a separate pot, sweat the mire poix over low heat with the butter. Add the salt. Once the veggies are soft, add the corn and a cheesecloth containing the thyme, rosemary, bay leaf, and black peppercorns. Sweat for 30 minutes.
Add the corn stock and bring the mixture to a simmer; cook for additional 30 minutes. Remove the bouquet and puree the soup in a blender until very, very smooth. Taste for seasoning and adjust thickness as needed.