Farro with sautéed mushrooms, garlic, and thyme
Fall in love with farro--and this recipe from Fran's Filling Station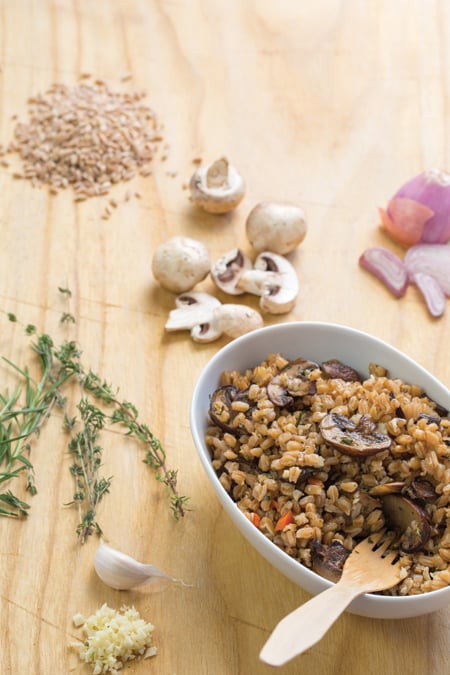 An ancient grain, farro, favored in Italian cooking, is experiencing a bit of a renaissance. In this dish, Fran Scibelli of Fran's Filling Station pairs the dense, chewy grain with fresh herbs—thyme and rosemary—that are at their peak this season. Fresh shallots and garlic brighten up the dish, while mushrooms add an earthy note. This savory dish travels well—take it on a picnic, or serve it at a backyard gathering.
Farro with sautéed mushrooms, garlic, and thyme
Serves four to six
3 tablespoons canola/olive oil blend
1 cup white button mushrooms, sliced
1 tablespoon minced fresh garlic
1⁄2 tablespoon minced fresh shallots
3 cups cooked farro
1⁄2 cup dry white wine
1⁄2 cup chicken stock
1 1⁄2 tablespoons best quality cold unsalted butter, cut in small cubes
1 teaspoon chopped fresh thyme
1⁄2 teaspoon chopped fresh rosemary Kosher salt and black pepper to taste
Heat 12-inch sauté pan over medium high heat for 1-2 minutes, then add 2 tablespoons oil. When oil is hot and shimmering, add mushrooms, spreading out over surface of pan. Toss mushrooms at intervals over 5 minutes or so, allowing mushrooms to develop a deep golden-brown color. This will add to the depth of flavor of the finished dish. When mushrooms are golden, sprinkle with salt and pepper. (The salt will allow the water in the mushrooms to release.) Continue cooking until most of this liquid has evaporated. Remove mushrooms to a small plate.
In the same pan, back over medium heat, add remaining oil. When oil is warm, add garlic and shallots and cook 2-3 minutes until light golden. Add farro and mushrooms and stir or toss all four ingredients together. When nicely combined, add wine and reduce by half, then do the same with the chicken stock. When chicken stock is reduced and consistency becomes risotto-like, taste and re-season with salt and pepper. Add butter and herbs and remove from heat, stirring to allow the butter to enrich the farro and lend it a slight creaminess. Taste and adjust for final seasoning.
Tip: Don't rush the mushrooms—it's important to cook most of the water out so the dish doesn't end up with too much liquid. "They should be a nice, golden color," says Scibelli.
Tip: To make this recipe completely veggie-friendly, omit butter and substitute a mushroom stock for chicken stock. For the stock: soak dried mushrooms in water, and mix one part leftover mushroom liquid with two parts plain water. (You can also add the soaked mushrooms to the dish.)
Tip: It's worth tracking down a canola oil/olive oil blend—Scibelli prefers half canola, half olive—because the smoke point of extra-virgin olive oil on its own is too low, and the oil will burn.
Tip: Scibelli recommends using a low-sodium chicken stock when cooking this dish at home.
Tip: When the dish is ready, the texture should resemble a creamy risotto. "I'm looking for it to get that nice, cohesive look," says Scibelli.