Fashion Forward
Stylist Catherine Horgan calls in an interior designer to create an eclectic French look in her Elizabeth cottage. When it came to redesigning stylist Catherine Horgan's Elizabeth home, designer Lisa Sherry was challenged to create a glamorous space- where a family of four could live.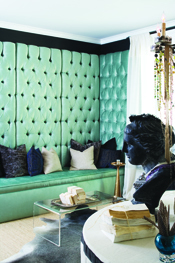 Charlotte stylist Catherine Horgan isn't your ordinary home design client. She's a fashion blogger and personal shopper with a strong understanding of her style and the looks she loves. With one glance at her chic attire you can see that Horgan, who has been reworking clients' wardrobes for thirteen years, understand patterns, textures, and colors in a way only an experienced professional can. So when she asked interior designer Lisa Sherry to help rework her home, Sherry saw it as a new challenge from a client who seriously knows style.
"Catherine is so savvy when it comes to fashion that we felt challenged to really take this project to the next level," says Sherry, who splits her time between High Point and Charlotte. "She's familiar with mixing and matching patterns. She wasn't looking for a house that all matched. She knew that some patterns cannot match but still work together, which makes a home look collected."
Making a home look as if it's a collection of the owner's possessions is Sherry's goal—and what she's known for—with all of her home designs. While she's still in the process of designing much of Horgan's home, the end result in her living and dining area is a glamorous French eclectic style with items like vintage jewelry tossed casually between candles on a table and books wrapped in twine and piled in a bowl. While they are small touches, together they make Horgan's home feel both sophisticated and relaxed—fitting for a mother of two with a penchant for designer high heels.
"When we began the process, the most important thing for me was having my style expressed in my home," says Horgan, who calls her connection with Sherry, whose style is similar to her own, "serendipitous." "I like things on the French side and my husband likes things on the practical side, so we needed this to fit us both."
Sherry, who works locally with Charlotte designer Michel Van Devender on projects like Horgan's home, starts the design process by determining what a client enjoys. "We show clients rooms and colors. We ask them where they find their inspiration and what they love," says Sherry. In Horgan's case, this was simple. She had a notebook filled with images she loved, which she turned over to Sherry and Van Devender to come up with a plan. She'd clipped fashion photos, colors, and home décor pictures for inspiration. However, ensuring that the look was something her husband would enjoy as well was a little more of a challenge. "It took me a year to convince him to have black walls in the living and dining room," says Horgan. "But now he loves it."
The dramatic black walls and white trim work well in the brightly lit room, accenting hues of taupe and teal in furnishings throughout the space. The room, which is split in the middle by a circular table beneath a chandelier, contains both a living area and dining area. The living area used to be focused on the fireplace in a traditional manner. However, Sherry saw this as an opportunity to buck tradition in favor of style and switched the two areas. This switch allowed her to install a pale blue velvet banquette in the corner of the living area, which turned out to be her favorite part of the space. "It gives the area a salon feel, which adds to the eclectic French look Catherine loves," says Sherry. "Plus, the color is just so beautiful."
Horgan agrees that the banquette is her favorite, but she's also enjoyed the way Sherry fit the room's original pieces into the redesigned space. A traditional hutch is now filled with stacks of coverless books, two older chairs were reupholstered, and the original dining room table received a gray paint job on its legs, lending it a more modern feel.
The best part for Horgan was the day the room was completed. Sherry's design process is unique in that while she shows photos of items to clients and has rooms painted, she installs a room's final design all at once. This way, she says, clients don't have to deal with what she calls the "down and dirty." Horgan and her family left for a day, and when they returned the room was transformed. "It was like Christmas," says Sherry.
Horgan says she's still noticing new things she loves about the space. "Initially, it was just the shock and awe of how fantastic it all looked," she says. "It took me two weeks just to feel like I'd seen many of the things she'd done." Now, room by room, Sherry, Van Devender, and Horgan are working on the rest of the house. "I've always wanted a glamorous chandelier in my kitchen," says Horgan, whose kitchen is the next room to be revamped. "I'm more excited about that than anything."