Fashion Over 40 on Charlotte Today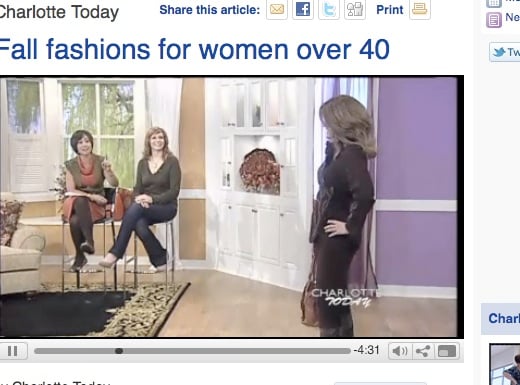 Tune in to WCNC at 11 a.m. today to watch Charlotte Today and see me, your faithful style blogger, talking about how you don't have to be afraid to wear some of fall's biggest trends – even if you're over 45!
This segment came about because of YOU the Shop Talk readers who gave me feedback about my style segments on Charlotte Today and let me know I wasn't doing enough to show off looks for more mature women. I had to admit – you had a point! I'd been taking advantage of the adorable interns in our Charlotte Magazine offices to use as my models, which meant I was definitely skewing young in the looks I was featuring on the show. Today, I have a Charlotte Shop Talk blog reader, Marie, and her sister and a friend serving as my models! I don't think Marie knew what she was getting herself into when she spoke up and told me to feature clothes she could wear, because the next thing she knew I had signed her up to walk the runway on Charlotte Today!
A huge thanks to Mack & Mack, Monkee's of Lake Norman and Kristin Morris Jewelry for providing the right pieces for today's looks!

Here's the LINK so you can watch it over at WCNC.com!
Like what you see? Mack & Mack is having a trunk show event Thursday October 21 through Saturday October 23 from 10am-6pm when you can try on all the looks we featured today and order them for yourself! Mack & Mack is located next to Paco's Tacos and Tequila at The Specialty Shops on The Park (6401 Morrison Blvd. suite 7A).
Want the shoes to go with the looks? Monkee's of Lake Norman has a bunch of trunk shows happening in the next few weeks, including a Frye trunk show 11 a.m. to 6 p.m. on Wednesday Oct. 27. Proceeds from sales made during the show will benefit the Leukemia & Lymphoma Society.