Fashionable Halloween?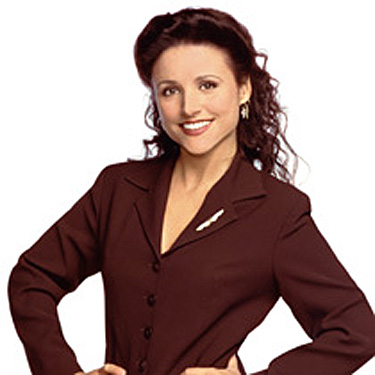 Our nightlife blogger, Jarvis Holliday, has you set for the Halloween parties about town, but now, what are you going to wear? I have good news, style mavens, your Halloween costume can be fashionable! This year, tons of fall trends can transition easily to a perfect Halloween costume (though, they may not be too spooky). To get you started–since, like this blogger, you might be getting your costume together only hours before you're hitting a party and hope to be the best dressed–here are two great ideas that pounce on some of the autumn trends Shop Talk has praised in past weeks.
Do the Elaine
Elaine Benes' (do I really need to specificy that she's from "Seinfeld"?) 90s-rific scrunchy and and dowdy floral dresses may have made her a laughing stock in past years, but one thing she got right was the menswear for women trend I talked about just two weeks ago on the Charlotte Today Show. Her structured blazers in neutral colors and with elbow pads, her trousers, menswear shirts, and oxfords are right on point. Plus, she loved long hemlines, which are seemingly everywhere right now.
To become Elaine (master her "little kicks" dance move), and scare up the following from your closet:
-Blazer
-Menswear-inspired blouse
-Long skirt
-Oxfords (with white ankle socks)
-Black reading glasses
-Skinny leather bookbag
-Pencil thin curls (styled wtih bangs pulled back in a barrett and hair bound in a low ponytail with a scrunchy)
Go 70s
Need we remind you that fur vests, high-waisted flared leg trousers, and loose blouses have taken the fall fashion spotlight? With a few retro accessories, you can work up a 70s look that puts Sonny and Cher to shame.
To acheive the look, you'll need (pointer and middle fingers throwing perpetual peace signs) and:
-Bright, loose blouse in either a bold color or floral print, preferably with dolman sleeves (tuck into your trousers)
-High-waisted flared trousers (the bigger the bell, the better)
-Chunky belt
-Fur vest or fringed vest
-Large hoop earrings (if you can find a pair that sport peace signs, do it)
-Stretchy (hippie) headband that wraps all the way around your forehead
-Chunky platforms