Fashion's Night Out: Neiman Marcus
Runway Recap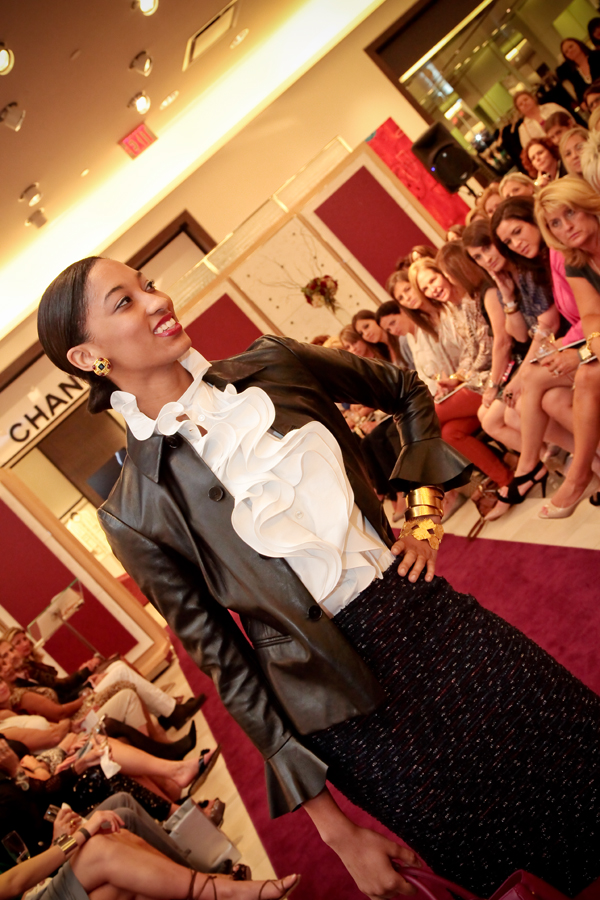 Bordeaux. Lady chic. Colorblocking. Fur. Leather. Shimmer. Bold Gold. Pumps. Handheld bags. The fall face. They're some of the trends that define fall fashion, and I had the pleasure of viewing them up close, on the Neiman Marcus of South Park Mall catwalk last Thursday night.
If you merely watched the runway from your couch, to the tune of Heidi Klum, Michael Kors and Nina Garcia on "Project Runway," you missed out. Charlotte, along with the rest of the country and cities far beyond, hosted fashionable festivities across the limits, all in honor of Fashion's Night Out.
(With my DVR set to record "P.R."), I chose to spend my second FNO experience at Neiman Marcus. And let me tell you, these people know how to put on a show. I snacked on sushi from Cowfish Sushi Burger Bar, sipped chardonnay and watched the dazzling runway production, which featured stunning looks on striking models, paced to girly party tunes. One of the highlights of the night was an appearance by designer Craig Taylor, where we got to hear about his inspiration and view a variety of his looks. They all fell under the theme "Effortless Parisian Chic" and paid homage to classic style mavens, like Audrey Hepburn and Grace Kelly. Most of Taylor's work and materials come to life in the Lake Como region of Italy, and the fine Italian craftsmanship is evident. His collection includes casual daywear, blouses, tunics, dresses and bold prints—all with a spunky, yet simply sophisticated 60s and 70s feel.
All this to say, I'd suggest hightailing it to Neiman Marcus when you get a minute.