Father's Day Gifts That Say 'Charlotte' (Literally)
For all those rad dads in the 704.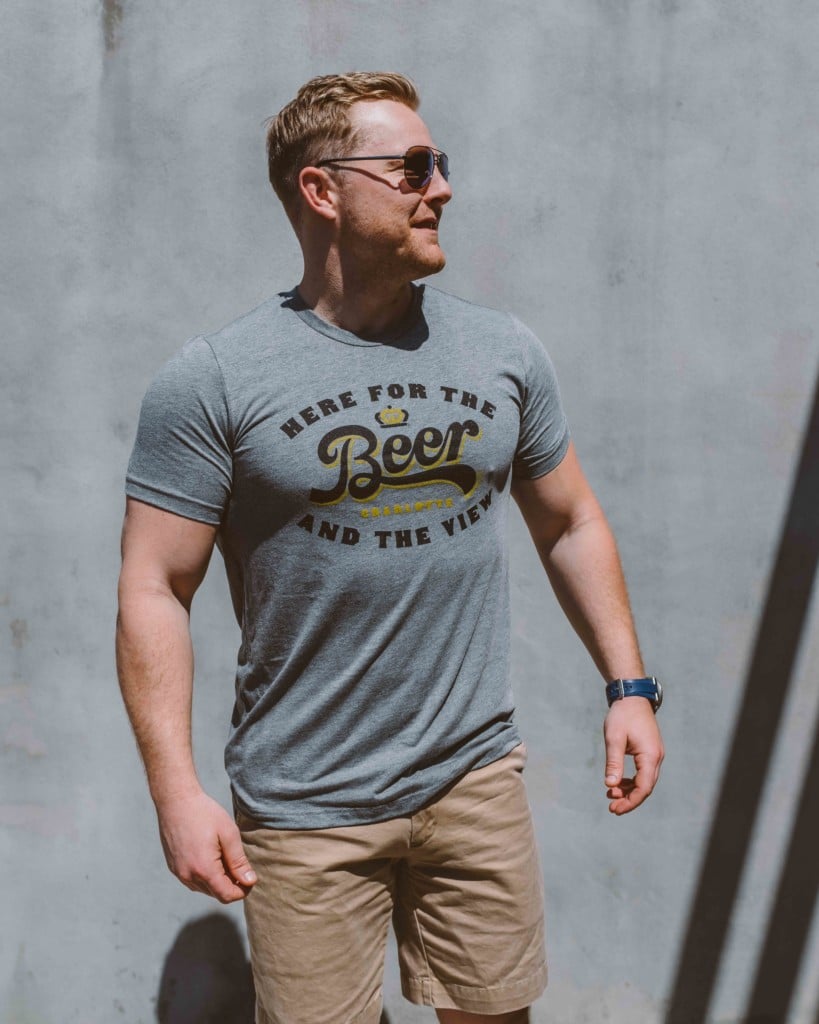 His Saturday drink of choice is a Wooden Robot brew. He brings you to Knights games and lets you Instagram your view every time. He knows the Carolina Raptor Center is a hot spot for nature-loving kids and has even made an appearance at Discovery Place Kids a time or two. There's no secret, the man in your life is a Charlotte dad through-and-through, and he deserves a very "Charlotte" gift. Not only do the below Father's Day gifts remind your rad dad of his favorite place to call home, but these gifts are also created by local makers—so he'll know you're supporting the city's economy with your purchase.
Dad's day is quickly approaching on June 17, so swing by the below Charlotte-area stores to pick up the perfect present for the father who loves living in Charlotte almost as much as he loves his amazing kid(s).
Father's Day Gifts for the Charlotte Dad
Custom Beer Map Growler
Maybe he's tried brewing his own beer or he's consistently purchasing his favorite local cans for the fridge—either way, the craft beer-loving dad will cherish his own custom growler. Not only is a growler useful for this beer discovery hobby, but this particular growler is pretty special. The design is a beer map of North Carolina created by Montford Misfits, then it's placed on a handmade ceramic growler by Queen City Growlers. The result? A gift that's as unique as your pop's opinion on hops. If you want one of these special growlers created, email info@montfordmisfits.com. For non-custom growlers that bear the Queen City's name, QC Growlers has an online shop, or you can stop in at 3432 The Plaza.
CLT Tumbler & BBQ Map
Inside 7th Street Public Market at 224 E. 7th Street, you'll stumble across CLT Find, which offers a variety of Charlotte-made items. Some of our favorites for fathers are the N.C. BBQ map ($9.99) by E.DI.A. Map Makers and the CLT tumbler ($18) designed by CLT Find. With over 450 spots to hit, the BBQ map shows grill-master dads where to bite into the best barbecue in the state, and the insulated tumbler is ideal for morning coffee on-the-go and keeping post-work drinks cold. Buy the two gifts together and you've got a custom present that'll be put to use. Throw the N.C. beer map in the mix and you've really outdone yourself. CLT Find's hours are as follows: Monday to Thursday 10 a.m.-6 p.m., Friday and Saturday 10 a.m.-7 p.m., and Sunday 10 a.m.-5 p.m.
Great Wagon Road Single Malt Whiskey & Distillery Tour
Great Wagon Road in LoSo (227 Southside Drive) is the oldest distillery in Mecklenburg County, and it's the first one in North Carolina to have its own bar. Ever heard of the Broken Spoke? Treat dad to a cheers-worthy tour of the Great Wagon Road distillery, plus his own bottle of preferred alcohol, then retire to the Broken Spoke lounge on-site. On the tour, he'll get to taste all three of the distillery's products, then you can buy him either a bottle of vodka, Carolina whiskey, or award-winning single malt whiskey ($39.95; it recently won the gold medal at the 2018 Los Angeles International Spirits Competition). Following the tour, you can only buy one bottle per person per year, according to state law. You can also buy the spirits at your local ABC store, but we think getting the full experience is much better. The free, 30-minute tours are available Saturdays from 1 to 4 p.m., so book ahead here. For large parties or more information about the tours, email tours@gwrdistilling.com.
Funny Charlotte T-Shirts from Glory Days Apparel
For the dad who likes to wear his heart on his sleeve, Charlotte-based Glory Days Apparel has a plethora of quirky t-shirts that explain living in Charlotte to a T. If he's always down for Pint Night at the BB&T Ballpark, the "here for the beer and the view" shirt ($30) should suit him well. Or, for the dad who's not a native (so, pretty much all of them), the "I moved to CLT before it was cool" shirt ($30), will get the message across to all the other transplant dads. The "moved to CLT" shirt is almost sold out, but a new color is dropping next week (week of June 4), and it's a cool shirt for a cool dad. There you go—the card is already written for you, too. What more could you want from us? Either shop Glory Days online or find them at any of these pop-up events in the next few weeks.
Quintessential Dad Hats from 704 Shop
Could 704 Shop's New Era "Dad Hats" be any more perfect for the occasion? Dad bods and dad hats are both in style, which is great news for the fathers who never tried to feign "cool." The best dads are the ones who embrace their "dadness," corny dad jokes and all. Great for golfers and dads never seen not sporting a cap, these simple and easy hats with the city's logo ($35) are no-fail gifts. The shop is also getting a new shipment of dad hats late next week (week of June 4) with the 704 logo on the front ($32), if that's more your pop's style. Visit the shop at 1616 Camden Road or shop online if you're lazy.