Father's Day Weekend 2017: Brunches, Free Food & Beer, and Events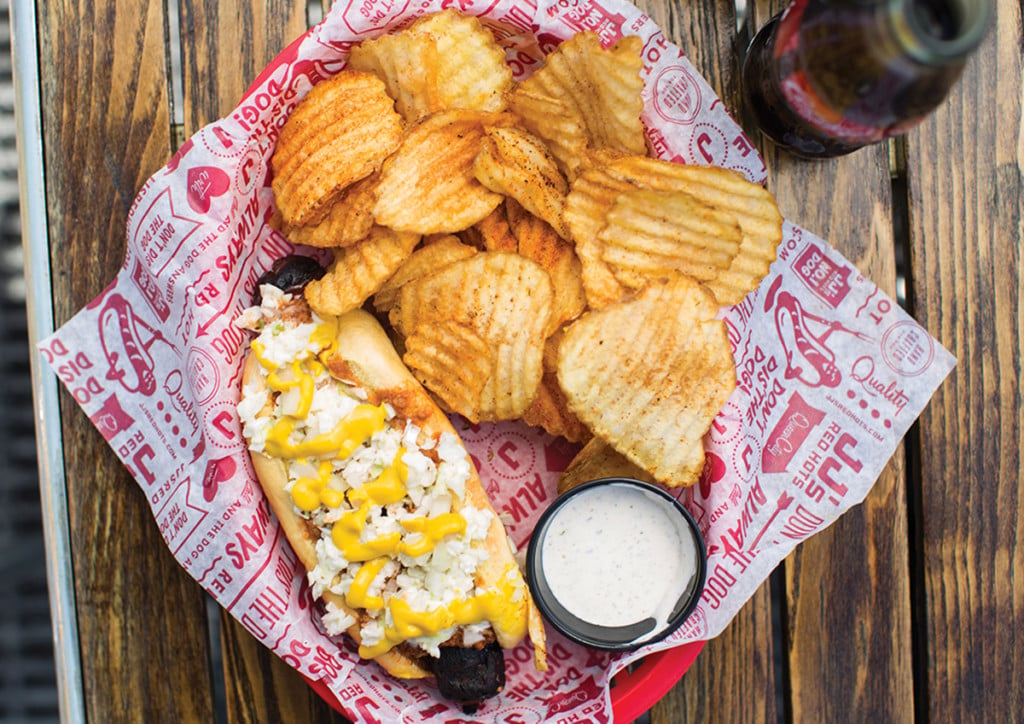 SATURDAY
Walk in the Gardens
Dads get in free to the Daniel Stowe Botanical Gardens on Saturday, June 17, and Sunday, June 18, in honor of Father's Day. From 11 a.m. to 3 p.m. each day, the garden will host lawn games and crafts for kids while parents can enjoy live music from noon to 2 p.m. The gift shop – along with offering plenty of beer and wine – will host a bourbon tasting for $10 per person. Additionally, Ranucci's Big Butt BBQ will be onsite from 11 a.m. to 3 p.m. on Sunday, June 18, with a selection of barbecue available for purchase.
Bacon Bash
Dads love bacon, so head to Blackfinn Ameripub to celebrate on Saturday, June 17, from 2 to 6 p.m. Guests will have the opportunity to sample bacon-inspired appetizers, desserts, and cocktails while enjoying bacon giveaways, specialty drinks, music, and more. Tickets are $15 in advance and $20 at the door and include your first Patron cocktails, bacon appetizer and dessert samples, and giveaways. This is a 21+ event and ticket sales benefit A Child's Place.
Doughnuts with Dad
The Billy Graham Library is hosting Doughnuts with Dad on Saturday, June 17 starting at 9:30 a.m. Dads and families can enjoy complimentary doughnuts and beverages. Plus, visiting fathers will receive a free gift.
---
SUNDAY
Jazz Brunch
Head to the 7th Street Public Market with Dad for a jazz-filled brunch. From 11 a.m. to 2 p.m., the market will play host to an encore performance by Jeff Bradshaw to close out uptown's weekend of jazz. While the music is playing, Dad can enjoy special deals from several vendors including Gateau Baking Company's buy one get one free donuts; CLT Find offering 10% off; Local Loaf offering 25% off; Viva Raw offering 10% off; and Assorted Table Wine Shoppe selling all beer for just $2.
Free Breakfast
If Dad is into furniture, get him to IKEA where Dads are treated to free breakfast (value $0.99) and a free cup of coffee (value $0.75) on Father's Day.
BBQ Brunch
Uptown's Stoke is hosting the ultimate Father's Day brunch on Sunday, June 18, from 9 a.m. to 2 p.m. Dads and their families can enjoy a barbecue buffet with smoked brisket, barbecue Palmetto chicken over Jimmy Red grits, Georgia hot sausage dogs on pretzel rolls, eggs benedict, fried chicken and waffles, and much, much more. There are also plenty of libations for Dad, including a build-your-own brunch mimosa bar. Cost is $25 for adults and $12 for children; brunch with bottomless mimosas is $40 per person.
Free Beer
Bring Dad to Flying Saucer on North Tryon Street on Sunday, June 18, for a free pint in honor of Father's Day.
NASCAR Brunch
Celebrate Dad with brunch at the NASCAR Hall of Fame on Sunday, June 18, with seatings at 10 a.m. and 11:30 a.m. Brunch includes a buffet with carving station and sundae bar; behind-the-scenes tour featuring artifacts of famous NASCAR fathers and sons; and an admission ticket to the Hall of Fame. Cost is $45 for adults and $35 for children.
Free Hot Dogs
If you're a Dad, you're in luck. Head to JJ's Red Hots on Sunday, June 18, and grab one free signature hot dog with any purchase. Dads can make use of this deal at either location.
Free Froyo
Dads looking for a sweet treat should head to TCBY on Sunday, June 18. Participating locations will be dishing out free 6-oz. frozen yogurts for Dads.
Dinner at Hickory Tavern
Hickory Tavern is dishing up a deal for Father's Day on Sunday, June 18. Every Dad who visits on Sunday will receive a $10 coupon good for a visit during the month of July.
A Brazilian Father's Day
Chima Brazilian Steakhouse is hosting a Father's Day special on Sunday, June 18. All dining Dads will receive a complimentary dinner card (to be used at the next visit) and a picture of the dining party (picture will be sent via email).
Pure Pizza
Dads who dine at either Pure Pizza location on Sunday, June 18, for brunch will receive a free $20 gift card for future use, plus a free drink.
Wild West Barbecue Dinner Show
Narroway Productions in Fort Mill will host a mystery dinner show featuring music, fun, and a delicious meal themed with the Wild West show in honor of Father's Day. Cost is $31.95 for adults; $16.95 for students; and $11.95 for children and includes the hilarious show plus barbecue dinner including banana pudding, corn on the cob, Texas toast, fried potatoes, and more. If Dad is feeling funky, let him know Western dress is encouraged.
Head to the Vineyard
If Dad loves a glass of wine, head out to Raffaldini Vineyards on Sunday, June 18, for brunch at the vineyard between noon and 2 p.m. Guests can enjoy an open buffet and, afterward, head to the tasting room or walk the grounds. To reserve your spot, call 336-526-1078. Information regarding cancellations here.
Brunch at Sea Level
For those eating Father's Day brunch at the seafood restaurant: The spot is doing a giveaway with prizes including a night's stay for two at the uptown Hilton, two Charlotte Knights tickets, a family Segway tour, and a $150 certificate for dinner at Flemming's and brunch at Sea Level NC. Just enter for the giveaway at the end of your meal.