Fathers, Sons, and Basketball: The Mark Price Story
After a childhood spent idolizing Mark Price, one man flew to Charlotte this fall to meet the 49ers' basketball coach. He learned more about his hero than he could've imagined.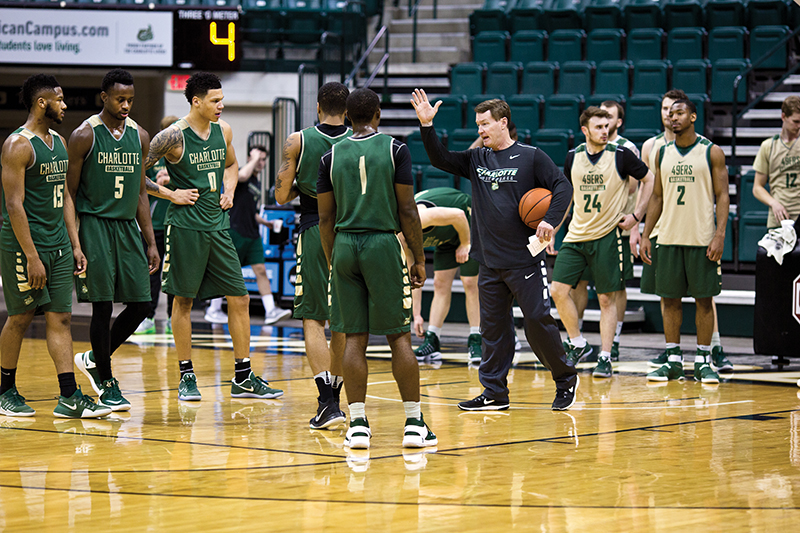 I WAS IN FOURTH GRADE when I hung the poster of Mark Price above my bed. The poster was a totem, and I stuck it to the wall with multicolored tacks.
In the photo, you see Mark from behind. He's just released a free throw, the ball barely beyond his fingertips. His all-white Cleveland Cavaliers uniform is luminous, while everything around him, other than the ball and the goal, fades to black. You can scarcely make out any fans behind the backboard, but you can sense their anticipation. Rarely has such drama been bestowed upon the most mundane part of the game.
My dad, the athletic director at a little college in central Texas at the time, gave me that poster. One of my best friends had a poster of Dallas Cowboys running back Emmitt Smith on the ceiling above his bed so he could fall asleep gazing at him. I tried that with my poster, but it fomented restlessness—the uniform too bright, the tension too high. So instead, I put it on the wall above my pillows and slept at the feet of Mark Price.
I was a boy with thick glasses, short shorts, tall tube socks, and outsized dreams. I would lie on my bedroom floor at night and practice form shots that grazed the ceiling—careful not to drop the ball for fear my mom would hear—glancing over at the poster to see if my follow through matched Mark's. Before slipping into bed, I would turn my back to my desk lamp, raise up on my tiptoes, and turtle my head around to see if I had developed any of the muscles that were etched into Mark's calves.
I never told anybody that Mark Price was my cousin, but my youngest brother did. Whenever we'd move and change schools, his whole class knew by the end of the first day. His main talking points, which added up to Mark being the best player in the universe times infinity, went like this: Mark was an underweight 5-foot-11 kid from Enid, Oklahoma, who set high school state records and was ignored by elite college programs so he went to Georgia Tech, the worst team in the ACC, and beat Michael Jordan for the conference scoring title as a freshman. Two years later, Tech entered the season as the top-ranked team in the country, and Mark was on the cover of Sports Illustrated. Still, NBA scouts were wary of his size, so he fell to the second round of the draft. Then he became a four-time NBA All Star with the Cavs and a member of the U.S. national team.
I guess what my brother was trying to explain was, he's just like us.
People would ask me if the family connection was true, and I'd correct them: second cousins. Our mother and Mark's mother are first cousins. Mom was actually the flower girl at Mark's parents' wedding, a day she vividly remembers because she hated having to fuss with the puffy shoulders on her dress.
I was 13 when my three brothers and I stayed with Mark's parents, Denny and Ann, at their house in Enid for the Price family basketball camp. This was 1997. The front door constantly swung open at their house—the camp drew more than 100 kids from across northern Oklahoma. Ann never knew who Denny was going to invite in, so she always made sure to have plenty of food for dinner. We put in long days at the gym, but Denny, who played professionally himself, still stayed with me to get some shots up afterward. He did this for hundreds of kids over the years.
One evening, we all sprawled on the cream-colored carpet in their living room, surrounded by a museum's worth of tributes to the Price boys' accomplishments, and watched a VHS recording of Mark winning the 1994 NBA three-point shooting contest. His first six shots of the final round were so pure the net barely blinked, and commentator Doug Collins raved about "the angelic face of Mark Price with the eyes of the assassin." Denny had probably watched that tape north of 100 times, but he grew more animated as the round progressed. Mark won the contest easily, but the ending still ate at Denny. He rewound the tape to show us that consecutive misses clanked the rim in the exact same spot, costing Mark the single-round record at the time.
Brent, the youngest of the three Price brothers, flew in for the camp that year. He was a point guard for the Houston Rockets at the time, and we played touch football with him in the backyard. The middle brother, Matt, drove up from Tulsa. But Mark didn't make it. On the last day of camp, the Price family gathered to sing a few hymns for the kids—Denny had formed a quartet with his three boys when they were young, and Ann played piano—and they invited a friend to fill Mark's place.
Ann sent us home with bags of memorabilia: autographed pictures, a Mark Price candy bar, and an Athletes in Action trading card that unfolded to reveal a story Mark had written about discovering his faith. "Growing up in a small town of Enid, Oklahoma, basketball was my whole life," it read. "It was all that I cared about. For example, sometimes when my friends were out on Friday nights, I was still shooting baskets down at the gym."
He goes on to describe several career milestones, then this: "Above all the honors and opportunities in basketball, there is something far more important in my life!"
I read that card over and over when I got home—just like I tried to replicate Mark's shot thousands of times—hoping to decipher its meaning. I was a Bible Belt kid, so I was acquainted with proclamations of faith, but this reflection on his ruthless commitment to the game confounded me. Was he regretful? Did he wish he'd spent more time with family and friends? What's the cost of greatness? I never got the chance to ask.
When I started playing high school ball, I borrowed my coach's rusted gym key and passed long summer afternoons taking shot after shot in a sweltering fog, fueled by the legends I'd heard about Mark's work ethic. Mark took 1,000 shots a day in the offseason. Mark skipped his senior prom and stayed up all night running drills at the gym. (The latter claim was my own invention, it turns out, but high school friends do remember him leaving in the middle of a movie on a Friday night so he could be in bed by 10, to rest for a routine shooting workout the next day.) Other than the mural of a crowd painted on the gym wall, which for some reason included all four members of Van Halen, I was alone, chasing a ghost.
I picked up some accolades in high school and played at a small college, but my career never amounted to anything that would fill a living room. Those dreams gradually fizzled, and with them, my captivation with Mark. Or so I thought.
Late one night last summer, I stumbled upon a story describing how Mark had surpassed expectations in his first year as the head men's basketball coach at UNC Charlotte. Another story said that when the head coaching job came open at Georgia Tech—his dream job—he declined to even consider it. The story speculated that it might have to do with his son, who had transferred to Charlotte to play for him. Suddenly, those lingering questions were brought to a boil once again. I tore through my desk and, under a pile of paper, found my Athletes in Action trading card. I had moved six times in the 19 years since Ann gave it to me. Its corners were mangled and the color had faded, but the print was clear as ever. I went back to my computer and looked up flights from my home in Dallas to Charlotte.
It's early November when I exit Interstate 85, turn onto University City Boulevard, and park outside UNC Charlotte's Halton Arena. My nerves quake as I wait outside his office with that crinkled trading card stowed in my pocket. Then he strolls in. "Nice to meet you," he says casually, as if I hadn't been anticipating this moment my whole life. "I'm Mark Price."
***
MARK WAS FOUR YEARS OLD when his dad hung a miniature basketball goal on his bedroom door. The boy begged for the goal for weeks before Denny surrendered. There was one condition: Mark had to stay in his room until he made a shot.
"I was so mad at Denny," Ann tells me last fall. "I could hear Mark in there shooting and crying, crying and shooting, and shooting and crying. And finally the crying stopped. He was hooked."
Denny liked to claim, only half-jokingly, that he was the best shooter in the family. In high school, he scored 42 points in the 1955 Oklahoma state finals, a tournament record that still stands, though it was tied once, in 1982. By Mark.
Denny played pro ball for the Phillips 66ers, part of an industrial league that flourished when the NBA was still a fledgling outfit. Companies employed players to both work and compete. Denny eventually retired to a company cubicle full time, but that only lasted a few years. He took a pay cut and rode a bike to work as a coach at Shawnee High School. He then became an assistant at the University of Oklahoma, and, when Mark was 9, the Phoenix Suns. The family moved to Texas in 1975 when Denny got the head coach job at Sam Houston State.
All Denny ever wanted to do was coach basketball. "There was no place that he'd rather be than on the court with a bunch of kids," Ann says. "It was his ministry." But he grew frustrated by the poor youth basketball infrastructure at the time in Texas, where football is religion, and feared that Mark would get left behind. One day he came home and said to Ann, "I just resigned."
"Well, that's nice," she said. "How are we going to eat?"
"Don't worry about it. I'll find a job."
He did, working for an oil company, in the same industry he'd fled before. But he did it for Mark.
Ann says that few people truly understood Mark—in addition to his unrelenting devotion to the game, he was always exceptionally quiet—but Denny and Mark shared a connection. "He was the boys' best friend," she says.
Mark blossomed—as a senior, he was Oklahoma's high school player of the year—and soon Georgia Tech's Bobby Cremins was making recruiting trips to Enid. Cremins was raised in the Bronx, but here he saw people walking the streets in cowboy boots. The Price family gathered around the piano and performed a hymn for him after he arrived. "I was like, 'Unbelievable, this is different,'" Cremins says now. Mark says that Cremins talked for two hours and no one recognized a word because of his accent.
Within three years of Mark's arrival, Georgia Tech went from last in the ACC to winning the conference championship. Boxer Evander Holyfield and other celebrities showed up for games. Mark became such a celebrity that Atlantans powered up their TVs on Sunday mornings to watch him sing solos at Roswell Street Baptist Church.
"He put me and Georgia Tech on the map," Cremins says now.
Denny visited campus as often as he could, about three or four trips a year. "He and Mark would go to another gym and they would practice shooting for an hour," Cremins says. "I'd leave them alone. They were very, very close."
That continued when Mark played for the Cavs. "After the game, Mr. Price was right there, saying hello and giving encouragement," Terrell Brandon, Mark's backup point guard for several years in Cleveland, remembers. "Mark was one of the best players in the league, one of the best free-throw shooters of all time, and of course his dad taught him the game."
Lenny Wilkens, Mark's coach, said he had to shorten the length of practice after drafting Mark because of the intensity he brought to his workaday routine. In many ways, Mark pioneered the point-guard centric brand of basketball currently cresting in the NBA—the hot-shooting style epitomized by Charlotte native Steph Curry. To thrive as a small guard in an era dominated by the Detroit Pistons' "Bad Boys," Mark played recklessly and with the zeal he first witnessed in his dad.
"He was probably the most competitive person I ever knew," Mark says of his father. "It didn't matter if it was basketball or dominoes or cards or whatever. One of my best memories of him is going back to Enid, and we'd be in separate cars. His favorite thing was to go some back way and be in his chair when you walked in the door. He'd say, 'What took you so long?' Even driving home, he wanted to beat you."
Mark retired from playing in 1998 and took time off to be with family. He was in Enid in July 2000 for the Price family basketball camp. I was heading into my sophomore year of high school and too busy with summer leagues to make it to camp, but I remember my dad and I had just talked about calling Denny to ask him to give me a shooting lesson when my mom got the news about what happened.
At the end of that week, Mark went with Brent to play at the local YMCA. Denny, 62 by then, tagged along so he could watch his boys play, but he couldn't help himself. He checked in for the last game. "He went down once and passed the ball to Mark, and Mark shot a three. He came back down and passed the ball to Brent, and Brent got a layup," Ann remembers.
Then, after those back-to-back assists to his sons, Denny took a shot of his own, missed, lunged for the rebound, grabbed a friend's shoulder, and said, "Hold on a minute, boys."
They were his last words. By the time the friend could lay Denny on the parquet floor a few seconds later, he was gone.
***
BASKETBALL, PERHAPS more than any other game, is emblematic of the family unit. It is the quintessential team sport, yet intimately personal. Football tends toward dehumanization. Baseball isolates a few players for most of the action. Soccer is so fluid that its coaches are often rendered obsolete. Basketball is five players, like five sons or daughters, huddled around one coach, like a father or mother.
Standing at center court of the practice gym next to Halton Arena on a Thursday afternoon in November, Mark is flanked by two assistants who dwarf him in stature and have to lean in to hear when he speaks. He doesn't say much. It seems like everyone in the gym is chattering except for the head coach.
He paces with his arms crossed, and the whistle in his pocket sways to the rhythm of his steps. His gait involves a whole lot of what kids these days call swag. It's not flamboyant, just confident. Tomorrow is the 49ers' first game. For this program, it's the first time in a while that there's hope for a good year. Mark brought in a nice bunch of recruits in the offseason to build on what the team did last year, and people around here are excited.
The players break up into position drills—big guys lumber to one end, shooters trot to the other. One of the shooters is a 6-foot-7 transfer from Texas Christian University named Hudson Price. He towers over his coach, but there are a few giveaways that he's Mark's son. For one, it's hard to tell if Hudson is the least talkative person on the court or the second-least talkative. Also, when he raises up from the 3-point line, he looks a lot like Mark—which is another way of saying that he shoots the ball just like Denny taught Mark.
When Mark stopped playing, he was 34 years old and reticent about coaching. The game had dominated his life, and he wanted to watch his kids grow up. The year after Denny died, he took a job at a tiny high school in the Atlanta suburbs. He drove the bus, swept the gym floor, and carried equipment bags himself.
NBA teams started calling about player development jobs because of the success of a "shooting lab" he'd opened in Atlanta, helping NBA players through personal instruction. Gradually he warmed to the idea of going full time. He bounced around the league for a while and thought he'd landed a promising role with the Orlando Magic in 2011—but the following year, the head coach who'd hired him was fired. Mark stuck around Orlando for a year so Hudson could finish high school. After graduation, he and his wife packed everything in a moving van. They were headed back to Atlanta, to the home they'd kept there over the years, when Hornets (then Bobcats) head coach Steve Clifford called and offered a job. They rerouted the truck to Charlotte and found a house to lease in south Charlotte.
Two years later, he got the call from UNC Charlotte athletic director Judy Rose to be the 49ers' head coach. Because of his quiet disposition, some questioned whether he was cut out to be a successful head coach. But Mark has made it work his own way. "He's a lot different than other coaches because he's all about teaching," says Jon Davis, the 49ers' point guard. "If you mess up, he's not gonna scream at you. He's gonna stop and tell you what you did wrong."
"Kids just wanna know that you care, and I think that's particularly true with young players." Mark tells me. "You want them leaving this program feeling like they're part of a family."
The players wrap up position drills and begin scrimmaging. Mark suddenly becomes the most vocal person in the gym. He squats into a defensive stance and shuffles maniacally through every possession:
Slide! Slide! Yes! Recover! Yes! Block out! Rebound! Good!
His energy reminds me of those taxing days at the Price family basketball camp—of Denny charging around the gym making sure every coach was giving everything he had to every camper.
I watch Mark squat and shuffle and holler over and over, until I finally reckon with a realization that sends me to a memory I hadn't expected to awaken. The man I've come to see, the man from the poster—he coaches defense just like my dad.
***
LIKE THIS! Then step here! Hesitate! And boom!
My favorite part of playing basketball as a kid was talking to my dad after games. I'd ride shotgun on the way home and he'd break down the game possession by possession, starting from the tipoff—every shot, every pass, every rebound, every screen I fought through on defense. The better I played, the more vivid his descriptions, and the more detailed his critiques. This would inevitably spill over into the kitchen after we got home. He would crouch into a defensive stance and show me how I could've beaten my defender a few more times.
Dad worked long hours as athletic director at that small college in central Texas—college sports events tend to fall on weekends and evenings—but my three brothers and I followed him everywhere we could. On football Saturdays, we'd arrive several hours early to help him with setup, sneaking off to talk trash to the other team's band and hiding in the press box after the pizzas arrived.
Dad had a fondness for football because his dad was a football coach, but he was always a basketball guy, so I was drawn to basketball, too. He coached our little league teams and shot with us in the backyard, always reminding us to practice extra with our weak hand. I practiced with my weak hand so much that it became my strong hand.
Dad loved his job—we all did—but the local school system was deteriorating, and his salary wasn't sufficient for our family of seven. I was in sixth grade when he took a job near Dallas because he thought it was best for all of us.
During the move, I lost the poster of Mark that Dad had bought me, the one that hung above my bed all those years. But I was still infatuated with Mark, for all the obvious reasons: because he looked a little like me, because of a distant family connection, because he made my far-fetched dreams seem more tangible. But more than that, I realize now, my dad pointed to Mark as a role model, and I wanted to make my dad proud.
One night when I was in eighth grade, I was feeling cocksure after a strong game. Dad started to analyze it afterward, but my mom cut him off. "Larry, will you stop criticizing him? He played great. He's going to think that nothing is good enough."
"Yeah, Dad," I said condescendingly, "I scored 20 points."
My dad, a sensitive man, stared blankly for a moment, struggling to understand how his excitement could be construed as damaging. "Oh, well, you played great, buddy," he said.
He didn't offer much criticism after that—just a hug and a few of the good-game clichés I'd heard from other parents who didn't know any better. He never stopped telling me how proud he was, but something changed. Two years later, when I was old enough to drive myself home from games, I pulled into our driveway one night and saw the light off in his bedroom. I stayed inside my red pickup and cried, wishing for one of those post-game conversations, knowing I'd caused them to stop.
After leaving the 49ers practice that Thursday in Charlotte, I instinctively reach for my phone to call my dad. As I pull back onto University City Boulevard and Interstate 85, we chat about the defensive principles Mark was teaching and the set plays he's installed for the zone defense they'll face in the opener. An hour passes, and the sunset sprays flashes of pink and orange across the horizon, but I don't want to hang up. It occurs to me that my dad is almost the same age Denny was when he died of a heart attack, and that I'm nearing the age Mark was when he watched it happen. I've spent a lifetime chasing Mark Price, and I've traveled across the country and finally caught up with him, but now all I want is to be back home with my dad in the kitchen.
***
BOBBY CREMINS tells me that coaching your son is hard. Ann says the same.
But Mark won't have it. "It's just great to be able to spend time with your son and be with him every day. Most kids at this age, parents don't get to see them too much.
They'll be memories we'll have for a long time, getting to do this thing together."
Sitting in his office, I can't stop glancing at the poster hanging above his desk. It's the same poster. It's the poster. I ask if Hudson was the reason he refused to consider the Georgia Tech job. "I think everything in life is about timing," he says. "I really like it here, and I want to build something."
My hands are shaking when I tell him there's something I've wanted to ask for years. His green eyes study me as I fish around in my pocket for that trading card. For the 267th-ish time in my life, I open it up and read from the top. Only this time, I read it aloud. And I read it to Mark Price. "Growing up in a small town of Enid, Oklahoma, basketball was my whole life," I begin. "It was all that I cared about."
What did you mean by this?
"I felt that basketball was gonna give me what I needed deep down," he says. "That being successful or getting accolades was going to make me happy in life. But that wasn't the case."
So, do you regret some of the sacrifices you made?
"I wouldn't say I have any regrets. It's more of a perspective change. There's nothing wrong with working hard and spending a lot of time in the gym and being good at your craft, but why are you doing it? What's your motivation?"
Ann had warned me that Mark was reserved—"I hope he'll talk to you," was the way she put it—but his motivation becomes more clear as I talk to the people who know him. Cremins tells me that after Mark graduated from Georgia Tech, he started hearing stories of how Mark privately helped teammates. "He's not perfect—nobody is—but he's pretty close," Cremins says.
"He learned so much about people," Terrell Brandon says, "so he could tell if there was something going on in a person's life."
Braxton Ogbueze, a 49ers senior guard, says the team has spent a lot of time at the Price house this year. "If we need advice or someone to talk to, his wife always opens the door to us."
Until recently, Mark had planned to return to his old house in Atlanta. But he sold it in the offseason and bought a place here in south Charlotte for the first time. That's where you'll find his players: the house with the front door constantly swinging open, where there's always plenty of food for dinner and kids sprawled on the living room floor.
Midway through the first half of the season opener that Friday night in November, I watch Mark mime an entire 30-second, momentum-shifting defensive possession.
Hudson ends it by recording a block. To Mark's right, sitting at the scorer's table, is his daughter, Caroline. She's now the assistant tennis coach at the university, and she tweets for the basketball team during games. Mark's wife, Laura, is cheering from the stands, and all around him are young men who look at him the same way I used to gaze at the poster on my bedroom wall.
I don't find specific answers for my decades-old questions about that timeworn trading card, but maybe that's the point. Mark is a man who finds meaning in his faith. He's also a man who finds meaning in the life of his father. The undersized kid who played his way out of Enid, Oklahoma, has essentially become the man who raised him.
And in that way, here's to hoping that I've grown up to be a little like Mark Price after all.
JK Nickell is the associate creative director of Southwest: The Magazine. Tell him about someone you looked up to at jknickell@yahoo.com.