Featured Practice: Crown Clinic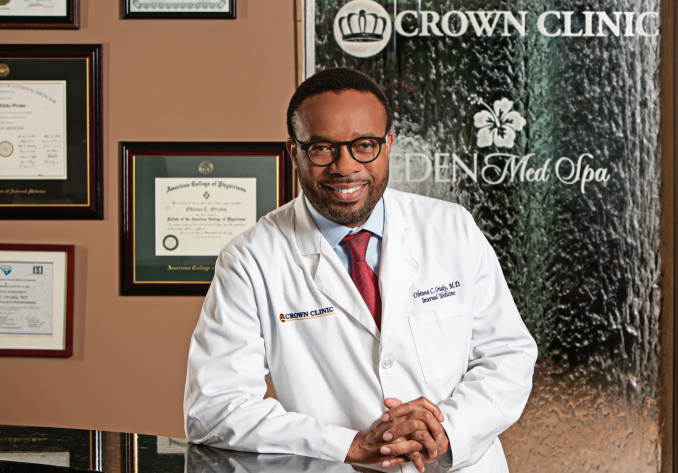 4500 South Tryon Street
Charlotte, NC 28217
704-527-5522
crownclinicpa.com
For the past 17 years, Dr. Obinna Oriaku and his staff at Crown Clinic have provided primary care to Charlotteans in the South End neighborhood and beyond. Affectionately referred to by his patients as "Dr. O.," he has prided himself on making care available to his patients with flexible scheduling and weekend hours.
During this time, he has seen big changes in healthcare, especially starting with the Great Recession of 2008. He watched as many people lost their jobs and therefore their health insurance and could no longer afford their care. Even for those who managed to hold on to jobs, keeping their health insurance became cost prohibitive—and many began skipping routine care that would otherwise prevent complications down the road. Dr. Oriaku readily points out statistics that confirm the rising cost of healthcare for the consumer and, particularly, the worsening problem that minorities have accessing quality healthcare.
He has witnessed firsthand how disparities in healthcare have taken a great toll on outcomes for his minority clientele, who, according to national statistics, have a lower life expectancy and prevalence of more medical complications. He has pondered for a long time how to bring about better access to care that is convenient and effective by harnessing digital technology. The coronavirus pandemic has unwittingly validated his conclusion that telemedicine is a viable alternative to the traditional care model.
Dr. Oriaku continues to advocate for a sensible alternative to the current way of paying for healthcare. The rise of the gig economy means that many do not have employer-based health insurance and cannot afford a plan on their own. Not providing for them means leaving a large chunk of our population to fend for themselves, only to show up in the emergency room when complications arise. Dr. Oriaku believes he can come up with a compelling new way of doing healthcare and cannot wait to share what he has found.