Featured Practice: Oncology Specialists of Charlotte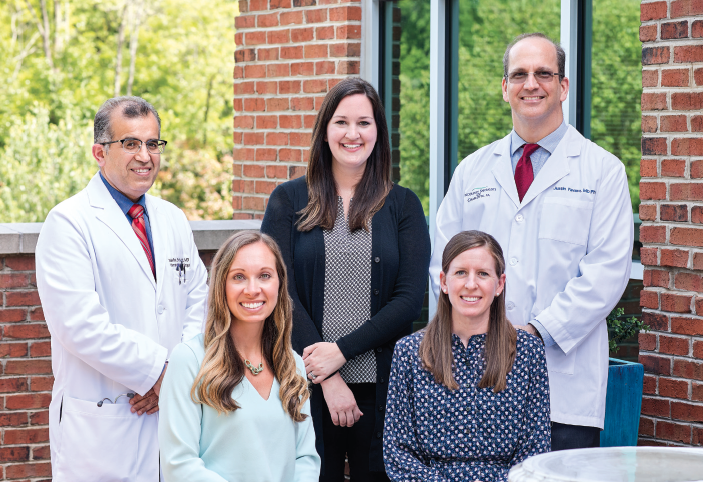 Justin Favaro, MD
Nasfat Shehadeh, MD
Hadley Spencer, FNP-C
Natalie O'Kelly, FNP-C
Brooke Davis, FNP-C, OCN
Charlotte
2630 E. 7th St., Ste. 210
Charlotte, NC 28204

South Charlotte
7108 Pineville-Matthews Rd., Ste. 102
Charlotte, NC 28226
704-342-1900
oncologycharlotte.com
Oncology Specialists of Charlotte, a tight-knit team of dedicated clinicians, nurses, and administrative staff, is your home for cancer care in uptown and South Charlotte. Led by two board-certified medical oncologists and three experienced oncology nurse practitioners, OSC offers the most advanced cancer treatment options while treating every patient and loved one with compassion. The treatment provided exceeds the standard of care, that is family-oriented. We will often coordinate care with other specialists from Duke, UNC, Wake Forest, and other academic centers around the country.
Last year, OSC was pleased to welcome Dr. Nasfat J. Shehadeh to the practice. Both Dr. Justin Favaro and Dr. Shehadeh have been voted a TOP DOCTOR in Charlotte magazine multiple times—and each was named a TOP DOCTOR 2021 for their expertise in "medical oncology."
OSC is an independent, physician owned practice and our services are not tied to hospital billing. We do not charge facility fees and quite often our out of pocket expenses are lower than those seen with hospital-based practices. The practice can also choose to customize a course of treatment and collaborate with specialists across different health care systems.
OSC offers many of the elements of comprehensive cancer care at both of its convenient offices—infusion and injection therapy, laboratory testing, genomic testing such as Foundation Medicine, genetic testing, clinical trials, DigniCap for hair preservation, and immunotherapy for cancer treatments. Additionally, the practice's care coordinators work with referring physicians to make appointments for patients within 24-48 hours on cancer cases.
We take pride in offering the latest treatments and have many active clinical trials. We perform genetic tesing in the office, we also analyze each case for specific mutations in the DNA, so we can give the best tailored therapy possible. WE ARE YOUR HOME FOR ONCOLOGY CARE. We treat every patient and loved one with the same compassion and concern. We are like family to them, and they to us.
"I transferred to Oncology Specialists of Charlotte approximately a year ago because I had randomly met patients who had expressed that the entire staff 'saved their life,'" an OSC patient said. "There is truly no comparison to the level of care that I am currently receiving versus previously. All patients are treated like family! I highly recommend this practice."