Featured Practice: Reproductive Endocrinology Associates of Charlotte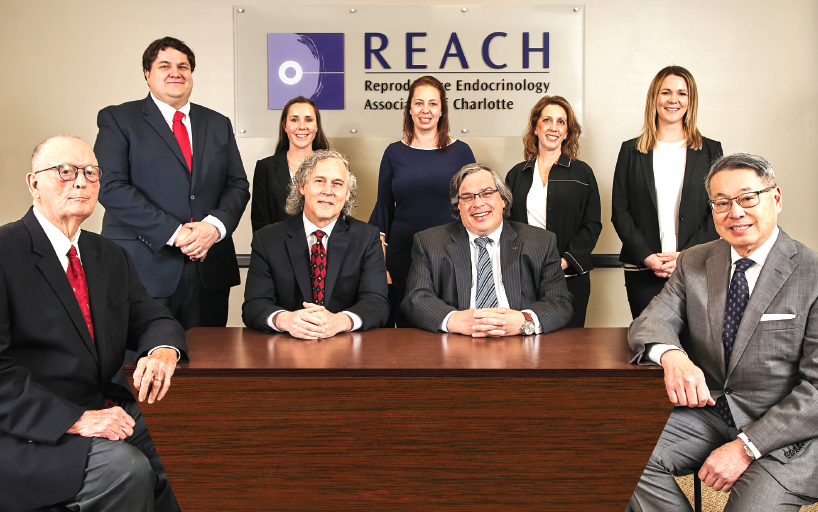 REACH
Reproductive Endocrinology Associates of Charlotte
Medical team
Dr. Seth E. Katz – Medical Director Dr. Joseph G. Whelan, III
Dr. Richard L. Wing
Dr. Jack L. Crain – Research Director
Dr. Tyl H. Taylor – IVF Lab Director
Dr. Jennifer L. Patrick – Satellite IVF Lab Director
Mid-level Providers
Taylor Holt, PA
Nicole Chappell, NP
Ann Morris Merline, PA
Psychology
Dr. Eugenia Gullick
Charlotte Fertility Clinic
1524 East Morehead St.
Charlotte, NC 28207
704-343-3400
Lake Norman Fertility Clinic
105 Landings Dr., Ste. 202 Mooresville, NC 28117
704-343-3400
NorthCarolinaFertility.com
Since 1988, REACH (Reproductive Endocrinology Associates of Charlotte) has been the region's leader in the treatment of fertility issues, providing patients with the highest quality of care and convenience. No other infertility group in the area offers REACH's wealth of knowledge, expertise, state-of-the-art in vitro fertilization (IVF) lab, and embryology team under one roof.
The practice's infertility specialists—Dr. Seth E. Katz, Dr. Joseph G. Whelan, III, Dr. Richard L. Wing, Dr. Jack L. Crain, Dr. Tyl Taylor, Dr. Jennifer Patrick, Taylor Holt, PA, Nicole Chappell, NP, and Ann Morris Merline, PA—have more than 130 years of combined experience, are nationally recognized as leaders in the field of reproductive medicine, and provide the most compassionate and technologically advanced patient care.
One of the largest reproductive endocrinology groups in the Southeast, REACH specializes in assisted reproductive technologies, including ovulation induction, intrauterine insemination, reproductive surgery, IVF, intracytoplasmic sperm injection (ICSI), cryopreservation of sperm, eggs and embryos, as well as preimplantation genetic testing of embryos. The clinic also specializes in third party reproductive technologies, including egg donors, sperm donors, gestational surrogacy, and embryo adoption.
Dedicated to the highest level of care and convenience, REACH physicians provide important schedule flexibility, always remaining sensitive to each patient's sense of urgency when it comes to starting a family. They are available to accommodate each patient's schedule and timing, plus they maintain a routine of meeting once a week to review cases and share their deep pool of knowledge.
Not only do the physicians draw on decades of experience and expertise from each other, but the embryology team is a technological leader in the field. REACH was the first fertility center in North Carolina to offer vitrification (or freezing) of embryos and eggs—and that breakthrough has meant that cancer and fertility perseveration patients have options that weren't previously available.
Combining vast experience with cutting-edge technology, the clinic has achieved some of the highest pregnancy rates in the Southeast. With its compassionate care, individualized treatment plans, and the most cost-efficient options, REACH gives patients every conceivable chance for success.