Featured Practice: Southern Oncology Specialists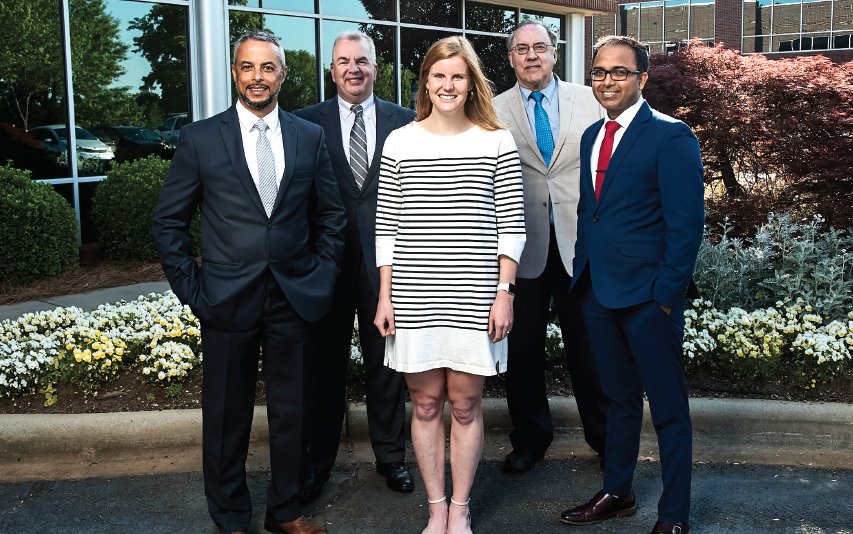 William R. Mitchell, MD
Jack D. Burton, MD
Poras K. Patel, MD
Caroline Heys, PA-C
Xavier Harrison, PA-C
Charlotte
10320 Mallard Creek Rd., Ste. 100 Charlotte, NC 28262
704-945-6843
Huntersville
10030 Gilead Rd., Ste. 290 Huntersville, NC 28078
704-947-5005
Denver
268 Gillman Rd., Ste. A
Denver, NC 28037
704-659-7830
Mooresville
146 Medical Park Rd., Ste 212 Mooresville, NC 28117
704-659-7850
Pharmacy
704-659-7848
southernoncology.com
"Your Care Is Our Calling"
Founded in 2010 by Dr. William Mitchell, Southern Oncology Specialists is a private oncology practice that provides advanced and personalized care for individuals and their families affected by cancer. As an independent practice, providers and staff have the ability to devote 100 percent of their time to patients, who they treat like family members with the utmost compassion and care.
The physicians are all board certified, have exceptional diagnostic skills, and are expert at working with the most recent and effective technological advancements. They thoroughly explain the treatment plan to patients so they know exactly what to expect during every step of treatment. All members of the highly qualified staff genuinely care about patients.
SOS provides patients with convenient access to multiple services at each of the practice's four state-of-the-art offices in the Charlotte region, saving important time and expense. With a pharmacy and registered pharmacist on-site, SOS is the only independent oncology practice in North Carolina with a pharmacy certified by the Utilization Review Accreditation Commission (URAC). The practice also has scanners certified by the American College of Radiology (ACR), allowing patients to receive immediate results, and a full in-house laboratory that gives patients lab results the same or next day. Additionally, infusion suites are on-site, and the practice offers financial counselors to help patients navigate the insurance process.
The practice's personalized treatment plans address the whole individual, including the psychological and social aspects of the disease. In review after review, patients cite the professionalism, support and friendliness of the physicians and staff, who are devoted to helping them through this time in their life.
"It is a difficult journey, but with Dr. Mitchell by my side, I always knew I would be taken care of," one patient said. "He has become like family to me. I know it is because of his help that I was able to beat such an ugly disease. Dr. Mitchell and staff are wonderful and absolutely amazing!"