Feeding a Passion: Chef Nikki Moore's Style
She brings a personal touch to recipes and private dinners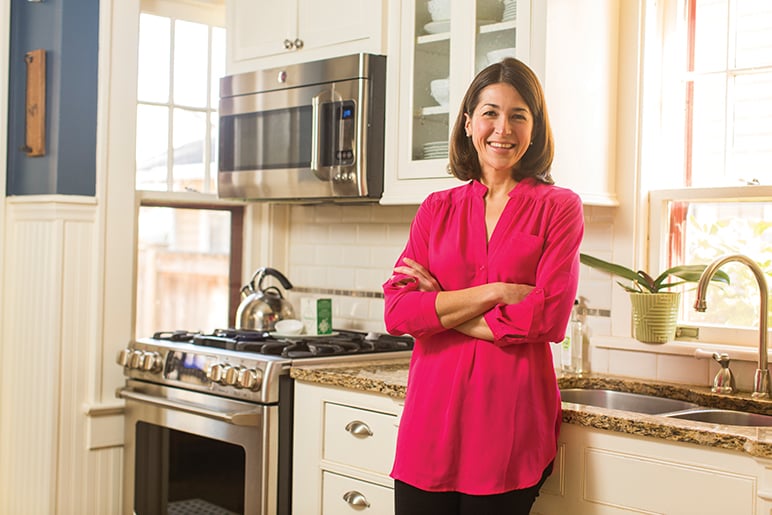 NIKKI MOORE WEARS a shimmering pink top, skinny jeans, and black patent pumps. Looking fresh and relaxed in the kitchen of her Elizabeth home—the hub of her company, Food Love—the personal chef explains her secret for staying stylish in the midst of a schedule jammed with parties, mothering, teaching, television appearances, and community service. Stitch Fix, a San Francisco-based company, sends her a five-item box of clothes and accessories each month; unwanted pieces are returned in a prepaid envelope. "There hasn't been a single box [from which] I haven't kept something," Moore says.
The 34-year-old embarked on her second career in 2009, after earning a culinary arts degree from Johnson & Wales University. Private dinners and parties keep her busy nights and weekends, and during the day she's teaching, testing new recipes, and developing menus for clients. She's also a regular on WCNC's "Charlotte Today" show.
Her blog, Minced, is packed with well-written recipes—Moore also holds an English degree from Davidson College and apprenticed as a recipe tester for Nathalie Dupree, a well-known Southern cookbook author and founding chairperson of the Charleston Wine + Food Festival. Moore's recipes range from such classic Southern favorites as sweet potato casserole and pot roast to international fare. For a while, she tried everything Moroccan.
Moore leans over the dining table and starts unwrapping a cheese from a dairy in Galax, Virginia. It reeks, filling the room with the smell of a vegetable bin gone bad. The flavors, she says almost apologetically, are delicious when paired with red wine. She loves trying new cheeses. "My husband does not bring me chocolate; he brings me cheese."
---
Y-PEELER // Functionality is Moore's top priority in the kitchen. She keeps a stash of the Swiss-made Kuhn Rikon straight peelers on hand. Just $4 from Williams-Sonoma, the peeler is handy not just for peeling veggies, but also for shaving Parmesan and even chocolate.
---
CANNING // When friends from Charleston gave her pears from a backyard tree, Moore pickled them using canning skills she learned in a class at the Mecklenburg County Cooperative Extension.
---
KNITTING // Moore is knitting this ecru sweater for her 1-year-old daughter, Isabel. It's made of Cashmerino, a blend of cashmere and merino wool, and she's using double-pointed wooden needles.
---
7TH STREET PUBLIC MARKET // Moore and her husband, North, ordered a case of this South African wine from Josh Villapando at Assorted Table Wine Shoppe at the market. Another favorite vendor is Rachel Klebaur, owner of Orrman's Cheese Shop.
---
WRAP // The Bobeau asymmetrical fleece wrap from Nordstrom is a winter mainstay for Moore. The single button makes it easy to wear, and the flared hem adds shape. "It's perfect with blue jeans and boots—it looks put together—but it's kind of like wearing a fleece blanket," she says.