Fenwick's: A Myers Park Mainstay
Restaurant balances nostalgia and relevance—and has for more than three decades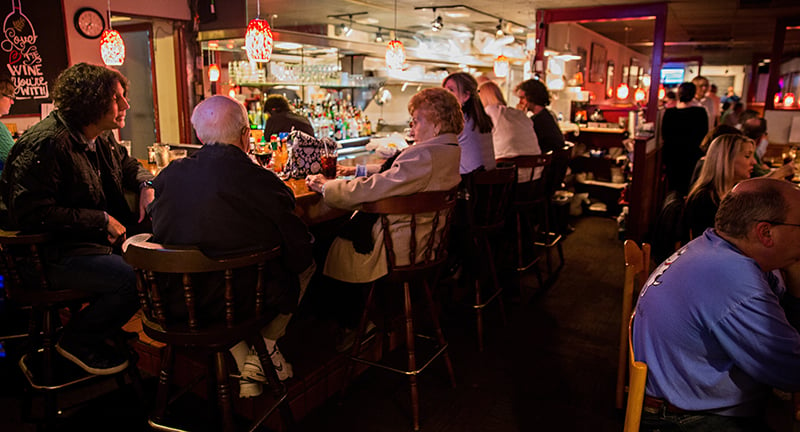 PURPLE NEON LIGHTS run along the roofline at Fenwick's, a noticeable departure in this well-manicured neighborhood. Without the lights, the restaurant might otherwise look more like one of the houses off this busy stretch of Providence Road.
Before it was Fenwick's, the restaurant was a breakfast joint. It started out as a Dobb's House in the 1960s and later became part of the Steak and Eggs franchise. Independent restaurateurs purchased and renovated the restaurant in the early 1980s, giving it its current name. They put it up for sale just a few months later.
Don and Catherine Rabb, meanwhile, were working at a popular spot across town called Shenanigan's. Don, a professional musician, had left New Orleans to help his friend open and run the restaurant. Says Catherine about her role: "I was a very green sometimes-line cook, sometimes-server."
The young couple was trying to figure out what to do next when the two visited Fenwick's for lunch one day. A week or two later, they learned it was for sale.
It felt like a manageable size. They could do this, they thought. So they did.
Unable to afford a new sign or other updates, they kept the name and much of the décor, but overhauled the menu. They opened the doors in August 1984, just 10 months after their wedding.
"We were, of course, too young to think it through," Catherine says.
Perhaps, but they've managed to keep this neighborhood restaurant going now for 33 years. Jennifer Moersch and Sharon Steinhauer, energetic servers with matching blond bobs, take orders every day from guests who are second- and third-generation customers of Fenwick's. These customers sometimes bring friends who've never been, and they become regulars. At the bar, you'll find more regulars chatting with the staff and each other as they enjoy their third dinner here this week.
The L-shaped bar reminds you of a bar across town: Alexander Michael's, which opened a year before Fenwick's, in 1983. They share a lack of pretense and a casual confidence. Many restaurants today are freshly bathed in alabaster tile or intentionally aged with sun-washed planks of barn wood; the inside of Fenwick's is refreshingly neither. Wooden booths and honey-colored beadboard speak to the diner days, but you'll find modern pendant lights hanging above the booths.
The Rabbs aren't trying to keep up with the times. They're trying to keep their customers happy. Sometimes this means not changing things. "People kind of like what they have, and a lot of what's in that building has history to us, too," Catherine says.
Also not going anywhere soon are mainstays of the menu, such as the hand-pattied Fenwick's burger or the tender steak sandwich or the pecan cream pie, which Catherine perfected after many failed attempts to turn pecan tassies into pie. "I must have made 70,000 pies trying to get it right," she says.
Rabb believes the focus on quality is a big reason diners return. She won't take all the credit for their loyalty, however. "I do think that some of it has to do with our customers who have been genuinely supportive of local restaurants—and long before it was cool," she says. "If they aren't eating here, they are eating at a place like Art's, Letty's, or Al Mike's."
The Rabbs also have earned the loyalty of their employees, some of whom are family, all of whom are treated like it. Catherine runs the kitchen with her brother, Andy Brown, and her son, Dustin. For 28 years, Big Dave Williams worked alongside her, even as he battled cancer. He died two years ago, but guests still mention him by name.
The restaurant's website lists the name of every staff member, including Ellen Taylor, who has tended the bar for two decades, and Larry Withers, the dishwasher, who they call the "Heart of Fenwick's." No one, including Withers, can remember exactly when he started; the best guess is that he's entering year 17.
Despite the physical demands of being a dishwasher—a job most kitchens struggle to keep staffed for even one year—Withers brings levity to the kitchen.
"He has the best laugh ever," Catherine says. "It's pretty hard not to laugh when you hear Larry laugh."
Fenwick's comfortable, throwback feel can disguise its progressive tendencies. When the Rabbs opened the restaurant, it was highly unusual for a woman to be running the kitchen and a man managing the "front of house," a role that involves operations, wait staff, and guests. Even now, the reverse is more common. Catherine, who jokes that she's not five-foot-two on a good day, remembers a purveyor early on who told her he'd wait until he could "talk to the man boss."
She also remembers a regular who sat at the bar, offering unsolicited critiques to her as she cooked. "He used to say horrid things about the wine list," she says. "To be fair, that was probably a valid criticism for most restaurants in Charlotte at that time."
Rabb went to the bookstore and purchased a book on wine, then went to the Harris Teeter in Cotswold, where she bought the most expensive wine in the store at the time, a Côte du Rhône.
This self-assigned homework turned into a passion—and a second vocation. Rabb is now a certified sommelier by the Court of Master Sommeliers and a Certified Wine Educator through the Society of Wine Educators. She's also a teacher at Johnson & Wales University.
Fenwick's benefits from this expertise. A smart wine list presents diners with good value and caters to a Charlotte palate with an affinity for California grapes. Familiar choices, such as Sonoma Cutrer and Cline, are mixed with more adventurous ones.
This comfortable consistency keeps the tables and bar at Fenwick's full, even as Charlotte's restaurant count increases virtually every week. Diners constantly on the wait-list for the newest thing should remember that the veterans have something to offer, as well. "It's far from glossy, it's far from modern, it's far from perfect, but that's OK," Catherine says. "There's space in the fabric of society for us, too."
Cat Carter is a freelance writer based in Charlotte. She is a regular contributor to this magazine. She can be reached at catyicarter@gmail.com.