Fertility on Ice
A new procedure allows women to preserve their fertility for years, and two Charlotte doctors are leading the way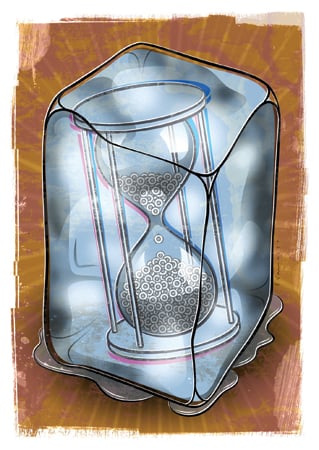 Alicia Huff is an unmarried twenty-seven-year-old working to become a doctor. Two years ago, she was diagnosed with breast cancer. "When I was first diagnosed," Huff says, "the doctor was concerned with saving my life, and did not consider fertility issues. I was researching the treatment plan and realized it could make me completely infertile." So she asked her physicians if there was anything she could do to allow her the chance to have a baby.
Before starting her treatment, Huff underwent a new procedure called vitrification, in which her eggs are stored in liquid nitrogen, preserving for years her chance to be a mom. "The opportunity for a young person with ample egg supply to have a successful pregnancy is about as good as when using their frozen eggs," says Jack Crain, a reproductive endocrinologist at Reproductive Endocrinology Associates of Charlotte (REACH). As part of a two-year-old study at REACH, Crain says they've helped twenty to twenty-five women freeze their eggs using vitrification. Most are cancer patients trying to preserve fertility like Huff. Crain says that's common. Most people are unaware of the freezing options and many oncologists and OB-GYNs rarely raise the subject. "In defense of OB-GYNs," Crain says, "most of them are not aware of the progress we've made in the last few years." The American Society for Reproductive Medicine still considers egg freezing to be investigational.
Brad Hurst is a reproductive endocrinologist at Carolinas Medical Center's Women's Institute. He says that in addition to cancer patients, they're starting to see more women who want to freeze their eggs because they're not ready for motherhood. "As society emphasizes career and meeting the right person, a lot of women are waiting longer to have children. Also there are a lot of news stories of women, especially Hollywood actresses, who have healthy babies later. … What doesn't come out is that in many cases these women have frozen their eggs."
Entertainment reporter Maria Menounos, thirty-three, recently caused a stir when she went public with her own plans to put her eggs on ice because she wants to focus on her career. But it's expenive. All told, vitrification can cost between $7,500 and $10,000, and insurance rarely covers any part of that.
Larissa Huber, a thirty-four-year-old professor at UNC Charlotte and mom to a two-year-old, was diagnosed this summer with breast cancer. She delayed treatment so that she could have some eggs harvested. "Honestly, I hope it's money down the drain and we're able to have another child the old-fashioned way. But at least I feel like I did everything I could to try to have another baby."