Festival Guide: BOOM in Plaza Midwood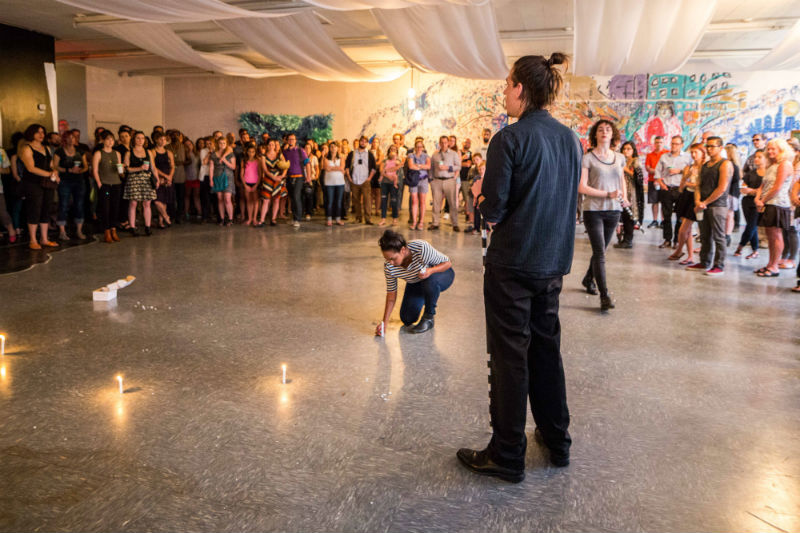 THIS WEEKEND, BOOM arrives in Plaza Midwood. The festival, presented by Que-OS, bills itself as "three days of art, performance, and the unexpected." Manoj Kesavan, director of BOOM and founder/executive director of Que-OS, says the event's been in the making since 2014. He says that despite their varying backgrounds, the core group of organizers share a common thread.
"People like [organizers/performers] Matt Cosper and Quentin Talley, they can't live without art," Kesavan says. "This isn't an option for them; it's not a hobby. It's who they are. Q and I have absolutely nothing in common, as far as our background. I grew up in southern India: He grew up in a small town in South Carolina. But we connect so well because our primary identity is being an artist. We wanted a gathering place for people who can not live without art. And we wanted to grow this community here."
(For a complete list of artists, producers, advisors, and "orchestrators" of BOOM, go here.) Expect performances from the Cosper-led XOXO, a Charlotte-based experimental theater ensemble, Talley's On Q Performing Arts, TAPROOT Ensemble, Sarah Emery, and others. Out-of-town acts include the Berlin-founded, Wilmington-based Alban Elved Dance Company, Durham theater/spoken word artist Dasan Ahanu, New York-based theater-puppetry company Questionable Acts, and choreographer Cynthia Ling Lee.
As for the setting: "With Plaza Midwood, it's such an obvious choice," Kesavan says. "There's that grittiness to it and the small businesses. It's not as self-consciously cleaned up or prettied up like the rest of the city is. That's the kind of thing we want to celebrate. It's in these little cracks that reality happens. And all of it is walkable; all of it is contained."
VENUES
As shown below, the stroll between each venue takes just a couple of minutes. Kesavan says the process of reaching out to the participating venues wasn't difficult. "Everyone we talked to were so supportive," he says. "There were so many offers for space. That's the great thing about Plaza Midwood. All of these small businesses really get it. They get what we're trying to do. We kept it at a small number of venues, though, because we didn't want to over-extend ourselves during this first year."
Check out a map of the venues below, followed by a key:
A. The Rabbit Hole (1801 Commonwealth Ave.) is where BOOM lifts off, as part of Pecha Kucha Night Charlotte Vol. 15. The Pecha Kucha nights challenge presenters to share their creativity with 20 images (with 20 seconds per image) and 6 minutes, 40 seconds of speaking time. This event's speakers include Tom Hanchett, Tamela Rich, Jonell Logan, and more.
B. Snug Harbor (1228 Gordon St.) This Midwood fixture typically has live music every night of the week. See which acts its hosting for BOOM in the schedule below.
C. Open Door Studios and Yoga One (1318 Central Ave.)
D. Petra's (1919 Commonwealth Ave.)
E. Okra (1912 Commonwealth Ave.)
F. BOOM Intersection Stage (1920 Commonwealth Ave.) "That will be our outdoor venue, our hub space," Kesavan says.
PRICING
Individual shows are $10 (unless noted otherwise in the schedule), and after-parties are $5. All-day passes: Friday, $25; Saturday, $50; and Sunday, $20. Weekend passes are $75. Purchase tickets here.
SCHEDULE
Kesavan says to expect pop-up previews of shows to take place in different spots around the neighborhood. And in some cases below, artists work within the same venue. "That's one of the thrilling things about this," Kesavan says. "No two shows are alike. We just kind of throw these performers together. In that regard, we don't even have to try. You're putting creative people in any room together, where things just happen."
Friday, April 8
3:30 p.m.-4:30 p.m.: Meditation with John W. Love Jr. at Okra Yoga (Free with a ticket to any BOOM event.)
5 p.m.-8 p.m.: Sculptor Andrea Vail at the BOOM Intersection Stage (Audience can participate. Free admission.)
6 p.m.: Sarah Emery and dancers at Open Door Studios
6 p.m.: Sinergismo at Petra's
6 p.m.: XOXO at Snug Harbor
6:30 p.m.-7:15 pm: DRUMSTRONG Drum Circle at BOOM Intersection Stage (Free admission.)
7:30 p.m: Questionable Acts at Open Door Studios
7:30 p.m: OnQ at Petra's
7:30 p.m: Dasan Ahanu at Snug Harbor
8:15 p.m.-8:45 pm: Triptych Collective at BOOM Intersection Stage (Free admission.)
9 p.m.: Alban Elved at Open Door Studios
9 p.m.: TAPROOT at Petra's
10 p.m.: After Party with Charlotte Storytellers at Petra's
Saturday, April 9
All Day: Sculptor Todd Stewart at BOOM Intersection
All Day: Sculptor Andrea Vail at BOOM Intersection
10 a.m.-10:45 a.m.: Meditation with John W. Love, Jr at Okra Yoga (Free with a ticket to any BOOM event.)
10:45 a.m.-11:45 a.m.: Creative Mornings: BOOM Intersection Stage (Free admission.)
12 p.m.: OnQ at Petra's
1 p.m.-2 p.m. Musician Sendy Mendez at BOOM Intersection Stage (Free admission.)
1:30 p.m.: Cynthia Ling Lee at Open Door
1:30 p.m.: Bluz and Carlos Robson at Petra's
1:30 p.m.: XOXO at Snug Harbor
2 p.m.-5 p.m.: Piedmont Culinary Guild Tasting Tent at BOOM Intersection Stage
2:15 p.m.-2:45 p.m.: Loose Leaves Showcase at BOOM Intersection Stage (Free admission.)
3 p.m.: Questionable Acts at Open Door Studios
3 p.m.: Sinergismo at Petra's
3 p.m.: Dasan Ahanu at Snug Harbor
4 p.m.-8:00 pm: Tosco Music Party at BOOM Intersection Stage (Free admission.)
4:30 p.m.: Sarah Emery and dancers at Open Door Studios
6 p.m.: Alban Elved at Open Door Studios
6 p.m.: TAPROOT at Petra's
7:30 p.m.: Cynthia Ling Lee at Open Door
7:30 p.m.: Bluz and Carlos Robson at Petra's
7:30 p.m.: Dasan Ahanu at Snug Harbor
8:15 p.m.-8:45 p.m.: Baran Dance: BOOM Intersection Stage (Free admission.)
9 p.m.: Questionable Act at Open Door Studios
9 p.m.: Sinergismo at Petra's
9 p.m.: XOXO at Snug Harbor
10 p.m.: After Party with DJ Preach Jacobs at Snug Harbor
Sunday, April 10
2 p.m.-3 p.m.: Bless These Sounds Under the City at BOOM Intersection Stage (Free admission.)
3 p.m.: Bluz and Carlos Robson at Petra's
3 p.m.-3:45 p.m.: Poet Kurma Murrain at BOOM Intersection Stage (Free admission.)
4:30 p.m.: Cynthia Ling Lee at Open Door
4:30 p.m.: TAPROOT at Petra's
5 p.m.-5:45 pm: Hip Hop University at BOOM Intersection Stage (Free admission.)
6 p.m.: Alban Elved at Open Door Studios
6 p.m.: OnQ at Petra's
7:30 p.m.: Sarah Emery and dancers at Open Door Studios