Festival in the Park, Mecktoberfest, Pumpkin Fest and More, Sept. 22 to Sept. 25
Say it with us: Fest-i-vals.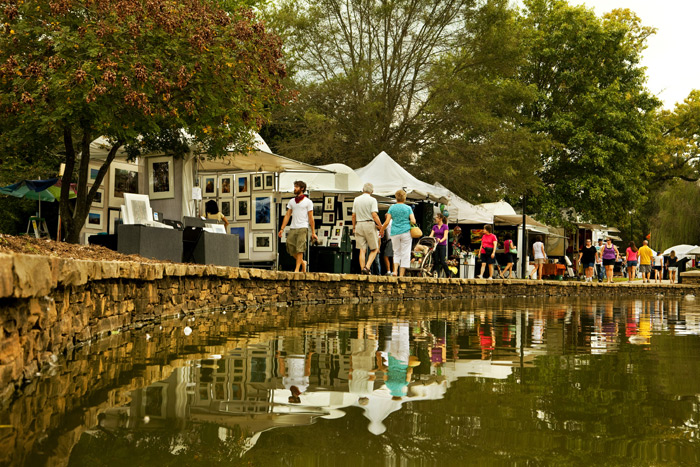 With fall in full force, this weekend brings Festival in the Park, Pumpkin Fest, Mecktoberfest, Lake Norman Beer Festival and more. Is that enough festivals for you, Charlotte? See y'all out there!
Friday, Sept. 23
Festival in the Park
More than 150 artists and vendors fill Freedom Park for this annual three-day festival, which starts today at 4 p.m. In addition to the many crafts for sale, there are several live acts, including magicians, clowns and a "cirque" stage. The festival at 1409 East Blvd does not have an admission fee and runs until 9:30 p.m. today, from 10 a.m. until 9:30 p.m. Saturday and from 11 a.m. until 6 p.m. Sunday.
Mecktoberfest
With fall comes changing leaves, pumpkin spice and cooler air. Our favorite addition with the changing of seasons, though, might be the influx of beer fests. This annual festival is a perfect example. The eighth-annual Mecktoberfest is a three-day free festival, beginning today and running until Sunday (each day from 11 a.m. until 11 p.m.). This beer fest highlights German beer, food and culture and will also feature live German music. The Olde Mecklenburg Brewery is at 4150 Yancey Road.
'90s Night
The I Love The '90s tour makes its way to the Spectrum Center tonight, featuring the musical stylings of Vanilla Ice, Salt N Pepa, Coolio and more. Bubble is hosting a '90s after party, and you're invited. Be sure to wear your best '90s attire, and if you make it before 10:30, you won't pay any cover fee. Bubble is at 210 E. Trade St.
Saturday, Sept. 24
Pumpkin Fest
Fall is officially upon us, which means it's finally acceptable to drink pumpkin beers (though, that hasn't stopped many of us for weeks). Along with the release of its Gourd Have Mercy brew, Sycamore Brewing hosts live music and five food trucks from noon until 10 p.m. today. Sycamore Brewing is at 2161 Hawkins St.
Whitewater Uncorked
When a race meets a wine tasting, you get Whitewater Uncorked. The day begins at 9 a.m. with the SUP Stream Catawba River Race, 9:30 a.m. with the Wild Vine half marathon or at 11 a.m. with a 5K race. Of course, you could skip all that and arrive at 1 p.m. when the wine sampling and live music starts. Either way, the wine stops pouring at 6 p.m., but the live music goes past 9 p.m. A $10 sample card buys you four two-ounce samples. Buy one here in advance or plan to buy one at the door. The U.S. National Whitewater Center is at 5000 Whitewater Center Parkway.
Lake Norman Beerfest
With unlimited beer samples, live music and barbecue, this festival has a lot to offer. General admission begins at 5 p.m., and tickets cost about $40. The festival is at Galway Hooker, 17044 Kenton Drive in Cornelius. Buy your ticket here.
Get Rowdy for Reading Fundraiser
This fundraiser to benefit childhood literacy features live music, food trucks, a tug-of-war tournament, silent auction, face painting, craft beer (obviously) and more. There is no admission fee to this event from noon until 7 p.m. at NoDa Brewing, 2921 N. Tryon St.
International Festival
The University of North Carolina at Charlotte hosts the 41st version of its annual International Festival today to celebrate Charlotte's diversity. More than 50 countries will be represented today, featuring arts, food and more from each culture. Live music from many of the nations will also be on site. There is no admission fee to this festival from 10 a.m. until 6 p.m. at 9201 University City Blvd.
Sunday, Sept. 25
Panthers vs. Vikings
Sundays during football season means no one else in Charlotte is foolish enough to try and compete with the Panthers. Carolina takes on the Minnesota Vikings today at 1 p.m. We recommend the following bars as great options if you don't have tickets to today's games.
South End Station (Slate Billiards, All American Pub, Oak Room and Hot Taco)
This string of bars provides for both a slew of variety and a huge grouping of Panthers fans every Sunday during football season. While each of these spots hosts its own specials, All American Pub offers $12.50 Budweiser buckets and $2 mimosas and Hot Taco offers $3 Corona Light drafts. There's no admission to these day parties at 200 E. Bland St.
Whiskey Warehouse
This Plaza Midwood spot with a beautiful rooftop was made for Sunday "fundays." Specials today include $2 mimosas or $12 mimosa carafes (go with the latter). Whiskey Warehouse, which opens at 11 a.m., is at 1221 The Plaza. There is no admission fee.
Verify dates, times, prices, and other info at the web addresses listed for each event.
Be sure to bookmark www.charlottemagazine.com/Blogs/Dusk-Till-Dawn to stay plugged into Charlotte's nightlife and social scene. Click here to sign up to receive the weekly Dusk Till Dawn e-newsletter.
Want your event featured in Dusk Till Dawn? Follow me on Twitter @Jared_misner and let me know about your event, or send me an email at dusktilldawnblog@gmail.com.