Fighting the Food Addiction with Dr. Oscar S. Brann
Gastroenterology Mecklenburg Medical Group-Museum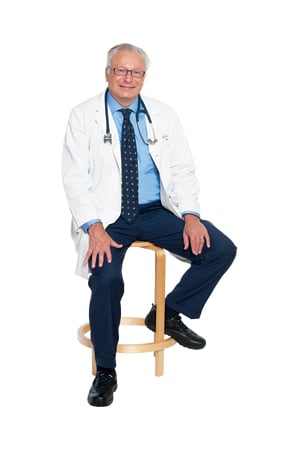 Dr. Oscar S. Brann once told an obese patient facing a liver transplant that it wasn't too late for her to see her grandchildren grow up—if she started eating less. "We still have an opportunity," he likes to say.
"The new addiction is food," he says. "Food has become a drug."Brann practices medicine amid a growing national crisis. A gastroenterologist and hepatologist with a focus on liver disease, he dispenses care, counsel, and compassion to patients dealing with the impact of being overweight or obese.
After practicing medicine for twenty years in the U.S. Navy, Brann moved to Charlotte with his family eight years ago. He estimates that 60 percent of his patients are overweight or obese. But he's far from the only doctor dealing with the obesity epidemic in Mecklenburg County. The 2011 State of the County Health Report revealed that in 2010, 64 percent of Mecklenburg County adults were overweight or obese, and the Centers for Disease Control and Prevention forecasts that 42 percent of U.S. adults will be obese by 2030. Heart disease, cancer, liver transplants—and more—are the end results.
Brann, an avid runner, says genetics can play a role. But over the past twenty-five to thirty years, he says, the fattening of the nation has more to do with growing meal portions plus a lack of exercise. He likes to share this saying from an Iranian patient: "Eat a good breakfast, share your lunch with a friend, and give your dinner to your enemy." —K. G.