Finally, a book for the groom!
Be the Man: The Man Registry Guide for Grooms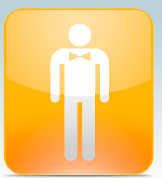 Gentlemen, start your engines! Your planning engine that is…
With so many books and magazines out there to help a bride plan the perfect wedding, grooms often get neglected during this special time. I know that when my friends get engaged I always ask the bride about the details and to-do list. I want to know what her plans are. But what I never ask is: what about the groom?
There is a new book out that answers that very question! Be The Man was written by Chris Easter, co-founder of The Man Registry, to help grooms through the very tedious months of wedding planning. With practical advice and real stories from real grooms, this book will help any man know exactly what he needs to know to be a part of the planning process.
What are some great ideas that your groom had for your wedding?