Find Where The Hunger Games Filmed in Charlotte
Where to spot Charlotte in The Hunger Games, plus the top 20 grossing movies filmed in the Charlotte area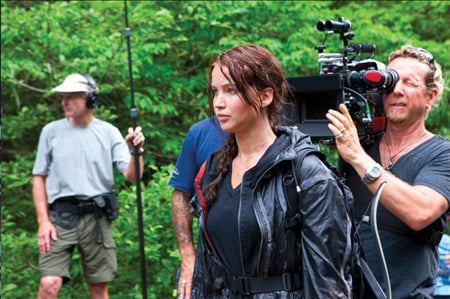 The Hunger Games, based on the first book from Suzanne Collins's trilogy of science fiction novels set in a postapocalyptic world, opens in theaters March 23. Fans of the books—and they are legion—are eager to see how it translates to the big screen, placing a lot of pressure on actors Jennifer Lawrence (playing lead character Katniss Everdeen), Josh Hutcherson, Elizabeth Banks, Woody Harrelson, Liam Hemsworth, Donald Sutherland, and Lenny Kravitz.
Lionsgate has been secretive about all aspects of the film, but it has cranked up its promotional machine. There was an exclusive preview during the MTV Video Music Awards in August; the official trailer debuted on Good Morning America in November; a commercial aired during the Super Bowl. The Hunger Games, reportedly, was shot entirely in North Carolina, including Asheville, Charlotte, Concord, and Shelby, but the sets were almost impenetrable, due to tight security and heavy secrecy.
But there are two primary local locations where scenes were shot, which you can try to spot in the movie. Keep up with all of the fan mania at these two official sites: thehungergamesmovie.com and facebook.com/thehungergamesmovie.
Knight Theater in Uptown
This uptown theater was used as the setting of the tribute interviews. In the book, tributes are residents of the districts of Panem between the ages of twelve and eighteen. Those chosen as tributes are forced to participate in the annual Hunger Games, where they'll eventually fight to the death, until only one remains.
Old Philip Morris USA Plant in Concord
Most of the filming in the area took place at this 2,000-acre site, which is rumored to have been used for Capitol scenes. In the book, Capitol, the largest city in Panem, is where the wealthy and powerful people reside. The Hunger Games, brutal as they may be, are for their entertainment.
---
Movie Moolah
The New York Times reported in January that when filming of The Hunger Games began in May 2011, there were 9.6 million copies of the books from the trilogy in circulation in the United States. Eight months later, that number had skyrocketed to 23.5 million books, thanks largely to the tremendous buzz leading up to the film's release. Industry analysts predict The Hunger Games could gross as much as $200 million at box offices across the country—or the equivalent of fifteen Juwanna Mann movies (and it could rake in half a billion dollars worldwide). Here's a rundown of the top-twenty grossing movies filmed in Charlotte.
Talladega Nights: The Ballad of Ricky Bobby, Aug. 2006
Estimated Budget: $73M
Actual Budget: $148.2M
The Color Purple, Dec. 1985
Estimated Budget: $15M
Actual Budget: $98.5M
Days of Thunder, June 1990
Estimated Budget: $60M
Actual Budget: $82.7M
Shallow Hal, Nov. 2001
Estimated Budget: $40M
Actual Budget: $70.8M
The Original Kings of Comedy, Aug. 2000
Estimated Budget: $3M
Actual Budget: $38.2M
Richie Rich, Dec. 1994
Estimated Budget: $40M
Acutal Budget: $38.1M
Nell, Dec. 1994
Estimated Budget: N/A
Actual Budget: $33.6M
Eddie, May 1996
Estimated Budget: $30M
Acutal Budget: $31.4M
Leatherheads, April 2008
Estimated Budget: $58M
Actual Budget: $31.2M
The Rage: Carrie 2, March 1999
Estimated Budget: $21M
Actual Budget: $17.8M
Source: Internet Movie Database