Finding Inspiration, Nationally and Locally
Take a look at this video from one of the largest flower shows in the country and then check out some resources closer to home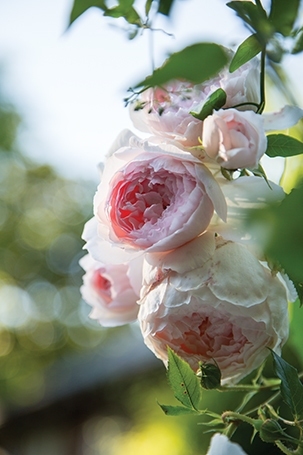 At Charlotte at Home, we find inspiration in all different places. This past weekend, with sunny skies and early spring bulbs popping from the ground, we were surrounded with the excitement of the coming spring. A drive to the grocery store or a neighborhood stroll provided inspiration in local yards.
On Sunday, the television show "CBS Sunday Morning" highlighted the Philadelphia Flower Show that took place last week. The show began in 1829 and is the oldest flower show in the world. It's considered the Olympics of horticulture, and designers who earn a prize at the show are propelled onto the national horticulture stage.
These displays aren't created by home gardeners, and they aren't intended to recreate in your backyard, but they can provide ideas of color schemes and plant varieties. This year, the participants were required to draw inspiration from an art museum. The silver trophy for landscape went to Mark Cook Landscape & Contracting, a Pennsylvania landscaper who drew his inspiration from Judith and Holofernes, a portrait by Kehinde Wiley at the N.C. Museum of Art. Check out the video here; it's sure to jog your creativity.
On the local, and more practical, side, below are a couple of upcoming opportunities to learn more about gardening first-hand.
The Mecklenburg County Cooperative Extension offers the next installation in its Sustainable Living Series on Wednesday. It's called Small Gardens for Small Spaces – Container Gardening 101. Master gardeners will instruct participants on what vegetables and herbs do best in containers. Instruction includes necessary materials, styles of containers, proper potting mixes, fertilization, and watering requirements. The free workshop takes place from noon to 1:30 p.m. at the Mecklenburg County Cooperative Extension Training Facility at 1418 Armory Drive, Charlotte, 28204. Click here to register.
This Saturday, Daniel Stowe Botanical Garden in Belmont offers a horticulture highlight walk. Led by the professional horticulture staff, the walk includes discussion about what's in bloom this time of year and gardening tips for the season. The 400-acre garden offers both formal and natural areas to pique all interests. The walk takes place from 1 p.m. to 2 p.m. and is free with garden admission. The garden is located about 30 minutes west of Charlotte at 6500 South New Hope Road, Belmont, 28012.