Firefighters of Station 15 Wait for the Big One
Firefighters rarely get to do what they really want to do-fight fires. For most of us, this is not a bad thing. But for the men at Charlotte's Station 15, the busiest firehouse in the city, it presents The Paradox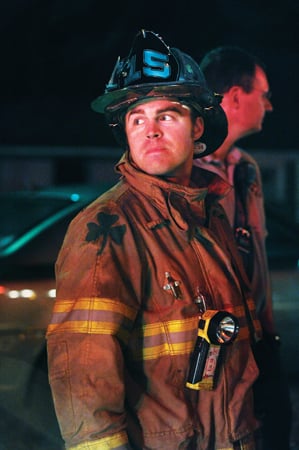 This could be The Big One.
A little after 8 p.m. on a Thursday, Trey Martin is up in the cab of a fire truck, listening to the radio. "Caller advised heavy smoke," it squawks.
"Nice!" he says. He punches up a map on a monitor. Every Charlotte fire truck carries a GPS device. A red rectangle represents each engine. The rectangles flicker, inching closer to the fire. Martin watches them race.
The voice returns. The sprinklers are working. Fire's out.
"Tsk," Martin says. He turns off the monitor.
Martin is thirty-five. He's been with the Charlotte Fire Department since he was twenty-one. He's wearing a gold chain and a self-named million-dollar mustache. He's bored now. There was no chance that Engine 15, the Shamrock Express, would have gone on that call. The truck blew a gasket a half hour ago. It's in the city service shop on Louise Avenue, waiting on a mechanic. The crew is there, too, manning a replacement truck.
The driver, Engineer Wally Love, passes time by smoking a cigarette. He, like Martin, has been with the department for fourteen years. He grew up on Shamrock Drive. Relief Captain Tom Montgomery, slim, quiet, and bespectacled, is in charge tonight. He's five years from retirement. Thirty-one-year-old Josh Johnston, who has his daughters' names tattooed on his wrists, pecks at his smartphone.
A mechanic fits a new gasket on the wheel, and Engine 15 is headed back to the station. Near The Plaza and Parkwood Avenue, Johnston smells something. A sweet potato cooking, he says. Moments later, heat, steam, and the sugary odor of coolant flood the cab. A busted radiator hose. Back to the shop.
Most of the time, the crew waits, but they are always ready to go at a moment's notice. This is Wally Love and Josh Johnston.
Fire Station 15 is a boxy beige brick building tucked behind a cinder block car wash at Eastway and Shamrock. It's been there since 1965, when Stan Brookshire was mayor and the neighborhood was new. It was born among the small brick ranches that popped up after World War II and really began to bloom in the late 1950s. But Charlotte kept pushing outward, and the money moved out with it. Today, Station 15 resides in one of Charlotte's poorer neighborhoods, sprinkled with mom-and-pop restaurants, Laundromats, train tracks, and strip malls. The station itself sits on Frontenac Avenue, a dead-end street with an apartment building on it that creates an unusual amount of foot traffic.
Inside is a rumpled rec room, with a green fire department shield on one side of the TV and a shamrock on the other. Green Christmas lights wrap around an old hydrant on an end table. Four plush recliners form an amphitheater of upholstery facing the big-screen TV. Behind them, there's a long table for dinner, and behind that, a kitchen.
This is the busiest station in Charlotte. Some stations only get a call or two a day. This one averages thirteen.
Firefighters want calls. They want to do their job. They can't predict when calls will come. They can guess. The final Friday of the month is always busy. It's supposed to rain. That helps. Cold weather might lead to some fires. Tonight, the temperature is dropping fast. The final Friday is approaching. Something could happen.
Or, nothing could happen, and it often does. Fires don't just happen of course, they're the product of some kind of combustion, a frayed wire, ashes dropping from a cigarette, sizzling grease, a flick of a match. Something causes a fire.
It's 10 p.m., and right now, something is causing a fire. The men inside Station 15 don't know it. Yet. Right now, they're bickering about the baseball game they're not watching on TV.
"How do you not watch the World Series?" says Love, the engineer who grew up down the street. "It's un-American."
"Simple," says Martin with the million-dollar mustache. "I turn the channel."
Love won't let it go. Martin gives up. He flicks the TV over to game six.
At 10:01, the alarm goes off.
Watch a short film about Fire Station 15 from the Charlotte Video Project
First comes a blaring one-note tone. Then, a computerized woman's voice gives the address over the loudspeaker.
In thirty-two seconds, all four men are on the truck. Seat belts click. Love kicks on the flashing lights. He mashes a button that turns every traffic signal red at Eastway and Shamrock. That saves time. The engine lumbers out of the station and turns right. The diesel strains and the whole truck shudders and vibrates over bumpy streets. The horn and siren rattle the eardrums. There's no talking over the noise. Only yelling.
Love steps on it. No speed bumps. Good. Engineers hate speed bumps. They add time. Cars dart out of the way. The ones that don't add time. In the back of the cab, Johnston pulls on his tan turnout jacket. Martin snaps on a pair of purple exam gloves. That saves time.
The address is a mile and a half away, past Garinger High School and down in a neighborhood behind The Plaza. It takes Love two minutes and fifty seconds to cover the distance.
The police are already there at the end of the cul-de-sac. Neighbors are out. They're staring from doorways and standing in front yards, wearing T-shirts and pajama pants and talking on cellphones. The red lights dance across the trees.
Blackened cotton shirts and blue jeans sit smoldering in a pile on the concrete sidewalk near the front door of a yellow duplex. Johnston gives them a shot from the fire extinguisher. Then he sets up a blower to push clean air into the house. The smoke alarm is still beeping. Inside, part of a sofa cushion is scorched.
Martin and Johnston look at each other. One of them forlornly wonders aloud, "What if the sofa would've caught?"
Fires destroy. They burn. They kill. But firefighters want to fight fires. They train to fight big fires. They want to use that training. But using that training puts them in danger.
This is The Paradox.
A woman in a black T-shirt sits with her legs hanging out of a squad car. Martin looks closely at a small burn on her hand. He glances at the handcuffs on her wrists.
Captain Montgomery says the woman set her boyfriend's clothes on fire. Allegedly, he adds. Also, she is allegedly seven months pregnant. They don't know for sure. They never stick around long enough to know. That's for fire investigators to figure out. At 10:38, Engine 15 is headed back to the station, ready to take another call.
Lingering is bad. The longer firefighters linger, the more probable it is that they miss the next call. If something big happens while Engine 15 is tending to a pile of burnt clothes, some other guys will get to go. Firefighters are built for speed. The Charlotte Fire Department has a standard it's always straining to beat: one minute from alarm to the truck, then four minutes from the station to the scene. No matter what time it is, the guys from Engine 15 are five minutes away from something. It could be a fiery factory. It could be a pile of smoking underwear.
Back at Station 15, Montgomery is in the garage, up against a wall next to the truck, longingly listening to a kitchen fire spread into an attic across town on Cherrycrest Lane. This one, like nearly half of all fires in the United States, can be traced back to cooking.
"Still heavy fire," pants a panicked voice on the radio.
"Still heavy fire," Montgomery softly repeats.
At 11:33 p.m., Martin cracks open a carton of vanilla ice cream.
At midnight, the World Series is in extra innings.
At 12:30 a.m., Love stirs in his chair. "The Big One's gonna come," he says.
"That's why I'm holdin' off on the old shower," says Johnston, stretching out in his recliner.
Twenty-five years ago, during game six of the 1986 World Series, a 737 skidded off the runway at Charlotte-Douglas International Airport. That was a big one. Right now, Johnston will settle. "Anything burning, that's what you want," he says. "That's what you want." The Paradox.
At 12:39, St. Louis wins. Still nothing.
At 12:46, Johnston gives up and takes a shower. Love walks back to the dormitory on the other side of the garage. It's a room full of cubicles containing narrow beds and inspirational posters with single-word headlines. Courage. Strength. Pride. Love snaps a sheet. At 1 a.m., he turns off the light.
At 3:11, everyone is sound asleep.
At 3:12, the lights kick on, automatically. The tone sounds. The voice announces an address on Shamrock Drive. Something instinctive says, Get up. Go. Martin is the first one to the door. He passes Johnston, who's rubbing his eyes and throwing his legs over the side of the bed. Up into the truck. The doors slam. Sirens. Lights. Love pulls out. He could find this address in his sleep. Martin puts on his gloves with a blank stare. Montgomery gives instructions. Everyone else is silent. Johnston's eyes are closed as the truck rumbles back into an apartment complex. He sleeps through the speed bumps.
Five minutes ago, everybody was sound asleep. Now, at 3:16, Engine 15 is on scene. A normal person's heart would be thumping from a shock of adrenaline. A normal person would only see a groggy blur. A firefighter is cranky because suddenly he's awake and there's no fire. The guys help paramedics load up a teenager who came home from the hospital too early. He couldn't stand the pain from his ACL surgery.
Captain Matt Westbrook, left, and Brett Cochran cook a spaghetti lunch for the crew. Moments after this picture was taken, they responded to call, but they were called back after traveling six blocks. The crew also shops for itself.
At 3:33, Martin walks back into the dormitory, upset. "Aw, man," he says. It wasn't The Big One. The lights go out.
8 a.m. Shift change. Montgomery has already left. Johnston throws his sheets into his pickup truck. Everybody here drives a pickup truck. Love can't find a glass carafe for the coffee, so he brews it into a metal pot. Martin is drinking a Monster Energy Drink and smoking a Marlboro Light out back.
Brett Cochran, the blond, twenty-eight-year-old firefighter with long sideburns who just arrived, looks at the million-dollar mustache. "We're not all like that," he says.
"Yeah, some of us are fat and out of shape," Martin deadpans. He takes a drag.
The new guys, the B shift, are asking questions. Only one call overnight? Only two in twelve hours? Unbelievable. Bryant Laney, a veteran engineer with a thick mustache, thought there would be more action. He spent a year at another firehouse. "I realized how much better I am being at a busy station," he says.
In the kitchen, Steven Kauer throws some steaks in the sink to thaw. He's only been here since last summer. He's twenty-nine. His wife calls him skinny-fat.
Then, the tone. "Engine 15," says the woman's voice, and the B shift steps up into the truck. MEDIC needs help with an eighty-seven-year-old man who was mulching and tripped over the end of his concrete driveway. He's on the ground wincing when Engine 15 arrives.
"You allergic to anything?" Cochran asks.
"Just hard work," the old man says.
Back at the station, Cochran and Kauer are yard dogging, firefighter-speak for eating the other shift's leftovers. "Aw, get some of that," Cochran says through a mouthful of London broil. At 9:13, MEDIC needs help getting a forty-year-old obese woman down some stairs in a stretcher. The tone sounds. Cochran slams down his knife. Kauer smartly brings his broil in the truck.
Afterward, Captain Matt Westbrook, a graying, gentle-looking man with glasses, arrives at the station. He's in charge. First order of business: a trip to the BI-LO.
All four men have to travel together. They can't be apart. They carry their radios into the store. They've gotten a call on the way back from the supermarket before. They've had to fight a fire with a truck full of groceries.
They buy three twenty-four-packs of bottled water, a frozen loaf of garlic bread, three jars of pasta sauce, two pounds of spaghetti and a pound and a half of beef. They pay. The city doesn't feed firefighters.
Lunch is interrupted twice, once for a headache call. It's quickly canceled. A half hour later, just before they eat, just before the prayer, they're called to check out an unconscious ninety-one-year-old man. They've been to the house before. The smell of sickness is in the air.
B shift has responded to five calls before lunch. No Big Ones.
That's normal. Firefighters in Charlotte don't spend much time fighting fires. From July 2009 through July 2010, CFD responded to 93,139 incidents. Only one in every forty-five calls is for something that might be burning. Credit the strict fire codes, the sprinklers, and regulations that go so far as to ban specific sorts of shingles.
Today, more than half of all the calls that Engine 15 checks out are medical. That trend started in the mid-1970s. As baby boomers got older, all Charlotte firefighters were trained to be emergency medical technicians. Now, they're the first responders to water rescues, hazmat calls, and medical emergencies. Many people in Station 15's service area can't afford insurance. Their first line of defense isn't the doctor or nurse. It's the firefighter and the paramedic and the emergency room.
"We go to medical calls like Detroit goes to fires," says Westbrook. Detroit averages around 30,000 fire calls a year. Charlotte responds to roughly 2,000. Their populations are about the same.
After lunch, Engine 15 races toward a sparking stove at an apartment complex. It could lead to a fire. Kauer and Cochran throw on their turnout gear. The pants. The jacket. The helmet. Everything.
They're overdressed. Nothing is burning. "If they would have unplugged it, it would have stopped," sighs Cochran.
On the way back, the guys pass a burned-out house on Tipperary. The roof is gone. The walls are blackened. The siding is melted. "This neighborhood used to be good for fires," says Westbrook.
At 3 p.m., a break. The Shamrock Express firefighters get another engine company to cover their territory while they head up to Station 40 for a retirement party. The place on Harrisburg Road is only a year old. It still has that new-station smell.
Captain Van Sullivan is the guest of honor. He's put in his twenty-five years. There's a cake with a picture of him as a much younger man. Darker hair. Thinner face. Same mustache. When he started in 1986, he rode on the tailboards of fire trucks, clinging to a bar on the way to a call. Things are safer now, he says. They're more comfortable.
Every firefighter gives him a hearty, backslapping hug. Everybody here seems to know each other. One crew made the long drive up from Steele Creek. There's a collective "wow" when they walk in.
All of them talk in the garage at Station 40, a spacious three-bay cathedral to firefighting. It's a cruel trick; the newest, nicest stations are the least busy. Crusty ones like 15 see the most action. Even the computerized dispatch voice sounds nicer here. "At 15, it sounds like she's yelling at us," Cochran says.
Laney spots Tom Billig and his white mustache across the garage. They start talking. Others gather around. Laney followed Billig into his first fire in 1989. "I was scared shitless," Laney says. He couldn't see through the smoke. Billig got him to go even deeper into a burning house. The guy's a living legend, Laney says.
The guys get their fill of lemonade and barbecue. They take a look at Sullivan's retirement presents, a shiny brass ax and a custom-made fire extinguisher. Guys like that are irreplaceable, Cochran says. When you lose them, you lose twenty-five years' worth of knowledge.
The fire chief comes in as they're heading out.
At 4 p.m., Engine 15 stops at a foster home to confirm that the carbon monoxide detector is working correctly. A two-year-old girl throws herself at
Westbrook's legs as the door opens. Then Cochran picks her up. Laney takes her. He points at the big red truck outside. They both look.
Little kids have a thing for big red trucks. A girl waves from a street corner on Eastway. A boy on a bike motions for Engine 15 to blow its horn.
The adults are different. Some people scream. Some spit. Once, a man threw a colostomy bag at Westbrook. Another time, Cochran and Kauer responded to a man lying on the side of the road. When Cochran leaned over, the man punched him on the face. Then he popped Kauer. "The only time I got my ass kicked on a call," Kauer says.
The time between 5 and 7 p.m. is statistically the busiest for any fire department. For now, though, Laney has time to talk. He became an engineer because he likes to drive fast. Unlike most of his fellow firefighters, he has no other part-time job. He can't explain why he has a mustache.
He knows he can't go to bed early when he's working. His body is tired, but his mind races until 2 or 3 in the morning, thinking about the calls that might come in. Laney has a dark sense of humor. He tells a joke that compares maggots to rice. Jokes are a way to cope with the suffering he sees. He has to stay disconnected, somehow. "I don't look at them as humans," he says of the people he helps. "I see them as machinery that's broken down."
It's important to have a tight crew, he says. He learned never to give the nozzle to guys from other companies. They might not give it back. He addresses The Paradox: To use their training, to do the job they want to do, fires have to break out, homes have to be put in danger, and people's lives have to be at risk. Laney, like nearly every firefighter at Station 15, wants a fire to break out. He wants to do the job he's trained for. But he doesn't wish any harm on people. He just wants the opportunity to help. "Lord, if that house has a fire," he says, "let me and my crew respond to it."
Westbrook walks over. "Matty, I'm so bored," Laney tells him. Two minutes later, at 5:55, there's a call.
It's a car crash at Arnold and Eastway. Westbrook knows the injuries aren't serious. He can tell from the light damage to the Kia Sedona with the missing bumper. Two more medical calls follow. In between, all four men squeeze in a steak dinner with salad, baked potatoes, and asparagus.
Cochran and Kauer go off to study for an exam. Laney and Westbrook find a website that plays live scanner traffic from the Detroit Fire Department. Devil's Night, the night before Halloween, is this weekend. That whole city will go up in flames, Westbrook says, mournfully. "Damn, I wish we had a fire like Detroit," says Laney. "But in Detroit, they're probably listening to us saying, 'Damn, a general illness call. Wish we could go to that like Charlotte.'"
The time slips closer to the end: 7:58 … 7:59 … 8:00. In twenty-four hours, nobody at Fire Station 15 has seen a flicker of flame. They've responded to twelve calls. Only one was a fire.
Outside, the air is cold and crisp. A man walks down Frontenac Avenue. The rain begins to fall. The Shamrock Express sits, silent. The Big One is out there.