First annual Brewz Music & Arts Festival this weekend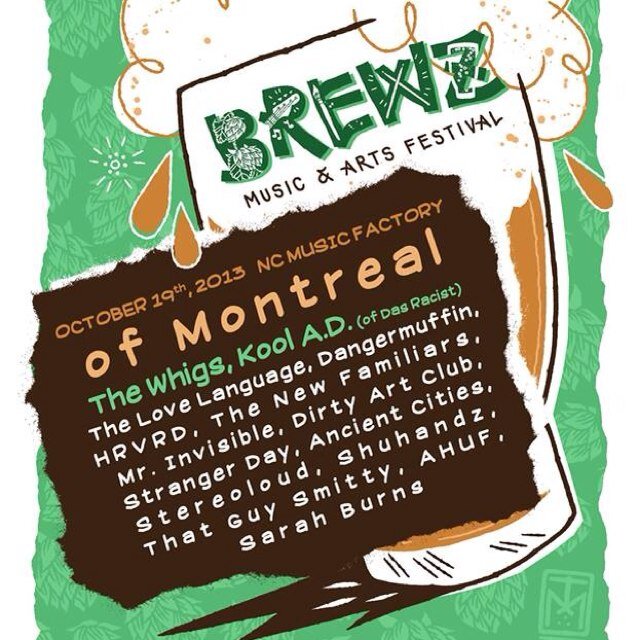 Cameron Lee had worked in the corporate world for a long time, but his passion was elsewhere. Lee had always been interested in music and arts and, as he got older, began coming up with ideas on how best to market the two.
After leaving his former career behind, Lee has enjoyed success working with local and national acts, but his biggest undertaking was organizing the inaugural Brewz Music & Arts Festival, which takes place this Saturday (Oct. 19) at the N.C. Music Factory (in the same area where Charlotte Oktoberfest was a few weeks ago).
The festival features local craft beer (the unlimited sampling session runs from noon-2 p.m., and beers will then be available for purchase the rest of the day) from Birdsong Brewing, Heist Brewery, NoDa Brewing, Olde Mecklenburg Brewery and Triple C Brewing. More than 15 musical acts will populate the main stage throughout the day, highlighted by indie favorite Of Montreal, The Whigs and Kool A.D. of Das Racist.
While the initial lineup is impressive (especially for a first-time festival), Lee says bringing in the local craft scene was the most important thing in curating the event.
"There's a huge correlation between music and art and Charlotte's breweries," he says. "You go into many of the breweries, and there's art for sale on the walls. And they also have local musicians playing a lot. That's what inspired this; going to places like Heist and NoDa and seeing people there, who come for not only the beer but for the music too."
Lee is no stranger to Charlotte's music scene. He produces the Roundabout on Plaza Midwood Community Radio (an online station) and is also involved in bringing acts to World of Beer. It was there that he began seeing how local beer and music relate.
"NoDa and Birdsong would donate kegs to us, and we'd charge $5 for cover, which would also get you a free beer," Lee says. "As I got to know the breweries better, I then started going to them and seeing how packed they would be when musicians came. I've been just blown away at how big the beer community has gotten to be here."
In creating the lineup for Brewz Music & Arts Festival, Lee ensured a number of local acts would help fill the bill. Some of the area bands include The New Familiars (whose singer, Josh Daniel, has performed at NoDa Brewery on a number of occasions as well as the inaugural Charlotte Brewers Festival); Ancient Cities (another Charlotte Brewers Festival performer); Dirty Art Club; and DJs That Guy Smitty, Sarah Burns and AHUF.
The festival will also feature a number of local artists and apparel vendors, a video game tent and several food trucks. Lee has even partnered with a couple of companies to bring in a few giant TVs so no one misses out on any college football game.
"We're trying to market this to everyone, and so far the response has been good," he says. "Some will be coming out for the music, and others for the beer. We just want to continue building unique lineups that will draw attention to Charlotte and the great music and breweries we have here."
Tickets are still on sale for a limited time at $25. You can see the full schedule of music here, and Lee notes that for those who may want to take a break after the craft beer tasting or between acts, there will be re-entry allowed. For more information on the festival, go to the official Brewz Music & Arts Festival Web site.