First Lady Michelle Obama Tells Charlotteans 'We'll Be Seeing a Lot of Each Other'
President Obama also scheduled to visit area five days after his wife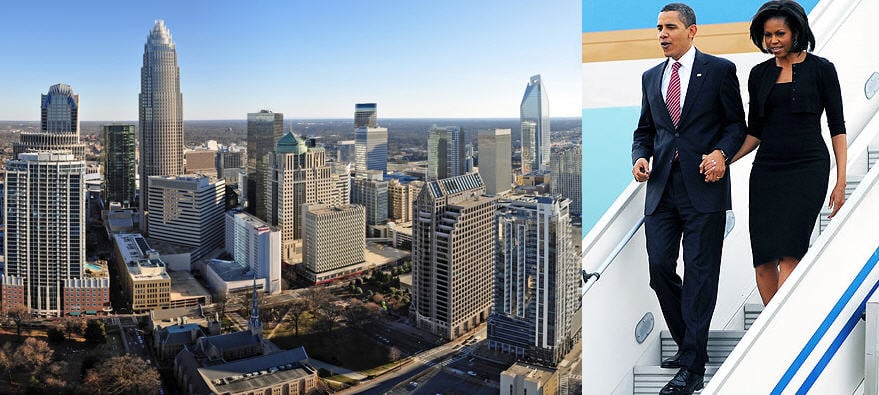 As you've likely read or heard—or experienced firsthand due to police motorcades blocking off roads—First Lady Michelle Obama made a couple of stops in Charlotte Friday. First she appeared at the CIAA Tournament at Time Warner Cable Arena to promote her Let's Move! campaign (click here to see photos). Then she made the trek south to greet guests at two Democratic National Convention fundraising events at Ballantyne Hotel, where James Taylor also performed.
If you weren't one of the faithful DNC donors who contributed either $12,500 and up per couple to attend the fancy, sit-down dinner event under the tent on the hotel grounds, or among the larger crowd who attended the standing-room-only buffet-style event inside the hotel for $250 per ticket, you can still get a glimpse into what the First Lady had to say. The White House has published a transcript of her remarks at the fundraiser inside Ballantyne Hotel.
Here are a few Charlotte and North Carolina-specific excerpts:
"I want to start by thanking Mayor Foxx for that very kind introduction. Thank you for sharing your story. It was wonderful to meet your mom and your grandma, too, and that history is very profound and it's something that we should all stay focused on. That's why Charlotte is so special. It's that community. It's that history."
"I also have to thank my basketball buddy today, Senator Kay Hagan—we were hanging out at the CIAA today. (Applause.) We didn't actually shoot hoops, but we cheered some little people on and it was a lot of fun. We also have Congressmen Mel Watt, and Larry Kissell, and G.K. Butterfield, who are here somewhere—maybe they didn't—there they are. (Applause.) Thank you, guys. Thank you so much. You all will be sick of me before September. We'll be seeing a lot of each other. (Laughter.)"
"And luckily all of you here in Charlotte have shown again and again that you know how to get people engaged. I know that you're already making long-term plans to use this convention as a way to build a stronger city, and that's a good thing. You're centering those plans on sustainability, on economic inclusion, and two issues dear to my heart: youth engagement and healthy families. You're leading civic efforts to strengthen your schools and provide affordable housing. You're a national leader in charitable giving and workplace donations."
"And of course, you all know a thing or two about welcoming folks to this city and this state, and that is what's going to be the most important thing. Because my family and I, we have experienced this firsthand. It isn't an accident that we're here in this state. I mean, over the past five years, we have spent a lot of time here in North Carolina—from the Atlantic coast to the research triangle to the smoky mountains and everywhere else in between. And I'll tell you, the President loves it here. Loves it here. (Applause.) And I do, too. In fact, we chose to spend a family vacation in Asheville in 2010 and he's still talking about that."
Click here to read the full transcript of the First Lady's remarks.
The White House also announced Friday that President Obama will visit the Charlotte area Wednesday, just five days after his wife was here. It seems that Mrs. Obama's assertion that "we'll be seeing a lot of each other" is already showing. The President is scheduled to give a speech about the economy while visiting the Daimler Trucks North America manufacturing plant in Mount Holly, which is only about 25 minutes from uptown Charlotte.