First Lady Michelle Obama to Bring 'Let's Move!' to CIAA Tournament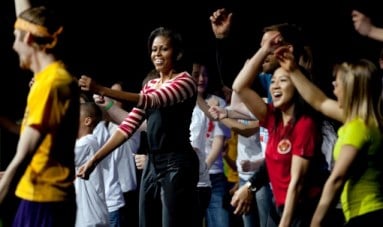 UPDATE: Click here to see photos from Mrs. Obama's appearance at the CIAA Tournament.
First Lady of the United States Michelle Obama will join North Carolina Senator Kay Hagan and area school children for a Let's Move! on-court event during the CIAA Tournament Friday, March 2, according to a press release sent out today (February 28) by the CIAA's communications office.
The CIAA Tournament is being played all week at Time Warner Cable Arena in uptown, pairing the men's and women's teams from the 12 historically black colleges and universities in the Central Intercollegiate Athletic Association. Friday's semifinals games are scheduled for 1 p.m., 3 p.m., 7 p.m., and 9 p.m.
Mrs. Obama is expected to appear before one of the afternoon games. The CIAA stresses that heightened security measures will be in effect in preparation for her arrival—similar to what you encounter at an airport. If you're planning to attend the 1 p.m. game, you're advised to begin arriving at 10:30 a.m.
The First Lady's Let's Move! initiative is focused on solving the problem of childhood obesity. Programs and events have brought together parents, businesses, educators, elected officials, members of the military, chefs, physicians, athletes, childcare providers, community and faith leaders, and kids themselves to make substantial commitments to improve the health of this country's children.
Let's Move! events have become popularized on television and in viral videos, often featuring the First Lady exercising with school children as well as appearances by celebrities like Beyoncé.
For more of our comprehensive coverage of the 2012 CIAA Tournament, including an events and parties list, stories, and photos, visit www.charlottemagazine.com/ciaa.