First Look at Bradshaw Social House
Bradshaw Social House brings gastropub fare to south Charlotte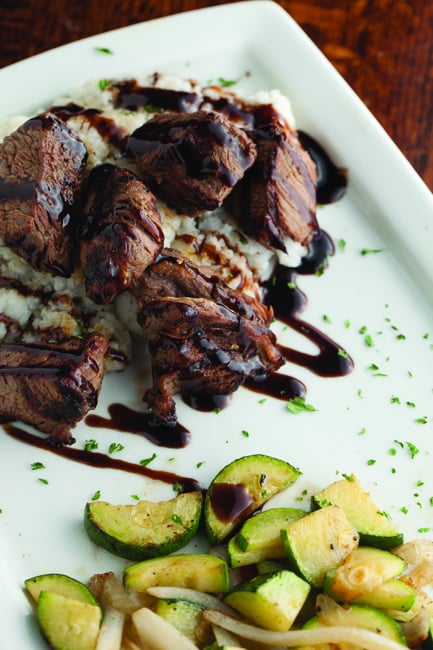 The gastropub concept officially reached south Charlotte with the opening of Bradshaw Social House in June. The trendy eatery has exposed ceilings, industrial metal accents, and seating both inside and out—a prime spot for meeting up after work, catching the game, or having a relaxed date night.
Bradshaw offers a locally sourced menu, with brews from the Charlotte area to wash it all down. Fried Chipotle Gouda ($8.50) offers a simple, interesting twist on the mozzarella stick approach, with notes of smoky spice. Many items are easily shared, such as platters of fried chicken (dark meat for $9, light meat for $10, or a combination for $15), nachos ($9), or buckets of peel-and-eat shrimp ($13 for a half-pound or $19 for a pound).
If you're craving a meal you can be selfish about, Bradshaw also offers several comfort food classics. Shrimp and grits ($13) are rich and fresh, with a Charleston shrimp sauce that melds perfectly with white cheddar grits. A fried Cobb salad ($9) is a (slightly) lighter take. In it, Bradshaw's fried chicken, which is also available as a sandwich, stays moist under a crisp coating and graces spring greens along with hard-boiled eggs and bacon.