First Look: Duckworth's biggest location yet brings a strong craft presence to Uptown Charlotte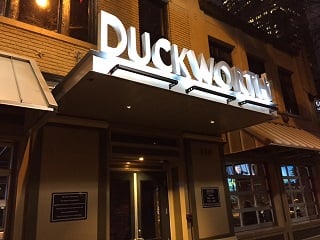 One of the things that drew Rob Duckworth to Charlotte when he moved here 16 years ago was the Queen City skyline.
So it's only fitting that his craft beer bar and restaurant finally finds a home among the giant Charlotte skyscrapers, bringing a huge shot in the arm to craft beer growth in uptown.
The fifth Duckworth's Grill and Taphouse, located at 330 N. Tryon St., is set to open this Monday, March 2. It's the largest Duckworth's yet, boasting around 150 taps – a number that will swell to more than 170 taps in a few months (more on this in a bit).
Duckworth's newest location is in a familiar spot – for more than a decade it housed Fox and Hound, and before that, Atlantic Beer & Ice. Originally built in 1912, Rob Duckworth said he really admired the building's originality.
"It's a second-generation space, which is attractive," he says. "You have the age of the building and cool architecture. It has a lot of charm and character and was big enough to do what we needed it to do.
"We had been looking at uptown spots for a couple of years, but really wanted to find the right spot. There are a lot of great things going on this city; we have a lot of new population coming in. Right now we have stores from Mooresville to Ballantyne, so this made sense."
Upon walking in to the uptown Duckworth's, to your immediate right is the bar, which features a double-decker multitude of taps (as is the case with the other taprooms, local and North Carolina beer are prominently featured). And there's enough TVs in the bar alone to make you feel like you're in a mini-Times Square (all in all, the uptown location has an impressive 180 televisions – enough for seemingly every potential large alumni group in Charlotte to come in and cheer on their college). As is the case with the other Duckworth's, long tables are lined through the bar.
The bar at Duckworth's uptown location, which features 150 taps.
On the other side of the middle floor are a number of tables, along with more televisions. Heading upstairs, you'll find additional seating (and of course, TVs), with an additional self-service line of taps (which have become popular at several craft beer bars, where you pour and are charged by the ounce.
Then you come to the third level of the new Duckworth's – downstairs. This is the crown jewel for the craft beer lover. Scheduled to open in May, it will be called The Cellar at Duckworth's, and is a 77-seat separate beer bar that will feature rare and limited-release beer on tap, along with a large walk-in cooler where you'll be able to buy hard-to-find and special release bottles.
The best way to describe it is think speakeasy – no TVs, low-light, rustic atmosphere. The Cellar will get a separate story in its own right upon opening, but it's safe to say this is a concept never seen before in Charlotte and poised to have an immediate impact in the craft community.
"I've been wanting to do something around an obscure beer bar for some time," Rob says of The Cellar, which also will have its own executive chef (the menu is still being worked out, but expect items such as small plates, cheeses and charcuterie). "Something that's more beer-centric where it's smaller and you can have the appropriate glassware, right temperature of different beers and things like that. These are just things we can't do at the regular Duckworth's because of the large volume and space. It's going to be a really unique atmosphere."
The Cellar at Duckworth's, which will feature rare beers, is scheduled to open in May
As is the case with the four other Duckworth's, the taproom will have draft specials – with the uptown location featuring most of their beers on tap for $3.50 on Mondays and Wednesdays (and yes, that deal will be honored on opening day).
With his fifth location set to open, Rob Duckworth says it's amazing to look back and see the journey from when the first Duckworth's opened more than a decade ago. That one, located in Mooresville, featured an ice cream bar as the main highlight. With demand low, however, the ice cream freezer was eventually converted to a beer cooler, 20 taps were added and the rest is local craft beer history.
"I'm glad ice cream didn't work out," Rob says with a laugh. "Although it caused me many sleepless nights. Putting the taps in and changing to a taphouse was the beginning and spark. It took off and kept growing, and now here we are. Ten years ago, though, I never would have thought it would have grown to this.
"I'll tell you what though – beer's a lot more fun than ice cream."