First Look: The Beer Growler opening this Thursday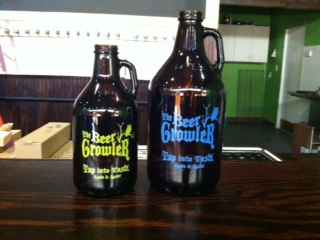 Since announcing their presence as Charlotte's first growler-fill store several months ago, the windows have been pasted with large brown packaging covers at The Beer Growler while interior construction has been taking place.
Those covers are almost ready to come down, but Jessica King and Brandee Winkler (who co-own The Beer Growler along with Kristen Knox) were kind enough to give me a sneak peek before what they're calling a "soft" grand opening Thursday.
The Beer Growler, located at 1427 South Blvd. (across from World of Beer) will officially open its doors at 5 p.m. on Thursday, with all taps devoted to beers from Charlotte and the state of North Carolina.
Immediately when you walk inside (it should be noted that the location has ample parking), you see a giant chalkboard where all the beers will be posted, above the growler shop's 45 taps. A massive counter bar allows for a display of the growlers offered, along with a place where people can sample beers before deciding on their growler fill purchase.
"We definitely encourage sampling; we want you to know what you want to buy from us," Winkler says.
As part of its grand opening festivities, The Beer Growler will offer 50 percent off purchase of 32 oz. and 64 oz. screw-top growlers (growler fill will be regular price, which will vary by beer). There will also be several other growlers offered, including stainless steel ones. (The Beer Growler will fill growlers from other breweries provided they meet the legal requirements.)
Starting out, every brewery in Charlotte will be represented on tap, along with N.C. breweries such as Beer Army, Mother Earth, Twin Leaf, Granite Falls, Raleigh Brewing and Wicked Weed, among others.
"We wanted to get beers that other people didn't have and you don't see around town that often," King says.
Also, the lone nonalcoholic tap will be dedicated to a kombucha ale from Lenny Boy Brewing Co. (which will also have a couple of its organic beers on tap as well), with eventually root beer and orange soda that comes from North Carolina added.
The Beer Growler's owners say there's a sense of "excitement and relief" now that the opening day is here.
"I can't wait to tap these kegs and for everyone to try what we have to offer," Winkler says. "And we want to be the people who can educate everyone when they come in and are looking for good beer."
Adds King, "It's been extremely welcoming, more than I ever expected. The craft beer community here is made up of great people, from bottle shops to breweries and restaurants. It's one big family, and we're really excited to be able to join."
During its opening weekend, The Beer Growler will open this Thursday from 5-9 pm and then Friday and Saturday at 11 a.m. and Sunday at noon. For full hours for The Beer Growler (which will be open seven days a week) and an entire beer list, check out the store's Web site.