Five Questions for Charlotte 49ers Coach Mark Price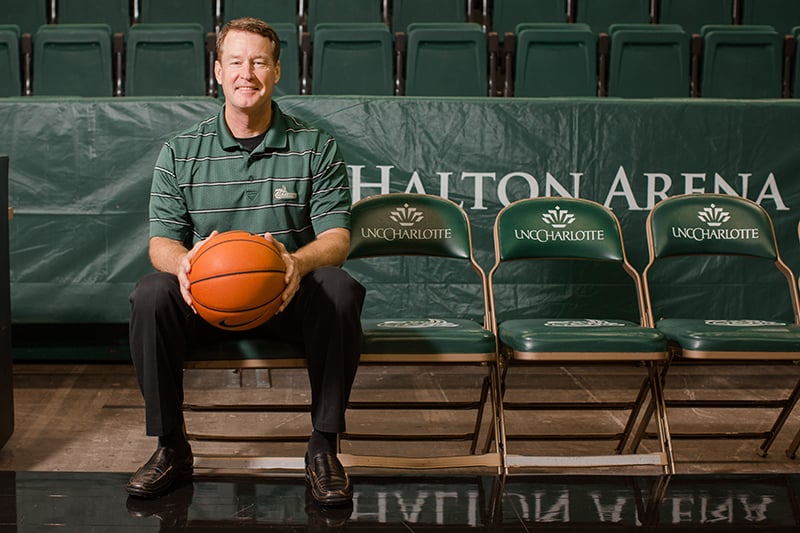 MAYBE YOU REMEMBER Mark Price from his days as a sweet-shooting all-star point guard for the Cleveland Cavaliers. He retired in 1998 and has spent the past eight years in assistant coaching positions for five NBA teams—including, most recently, the Charlotte Hornets. But this spring, he accepted a job as head coach at UNC Charlotte. Here, he talks about why he decided to stay in town and his hopes for the 49ers.
Charlotte magazine: Why was this the time to start head coaching?
Mark Price: I got a call to see if I was interested in the job, so started investigating, looking into it. I came over here, and as you see, it's a beautiful campus. We've got great facilities, and the city of Charlotte—I've really fallen in love with it since we've been here with the Hornets. I think all of those things combined—not having to move my family was a big one—just made it seem like it was the right place at the right time.
CM: You haven't spent more than two years in a city since your first assistant-coaching job in Denver in 2007. What about Charlotte made this situation right?
MP: I think the fact that my son's a freshman in high school [at Charlotte Christian]. An opportunity to get a five-year contract here with Charlotte was very appealing, to kind of feel settled and be in one place and try to build something here. My older son [Hudson], who is my third child, had to go to three different high schools in four years. That was kind of tough on him, although he did well despite it. But I didn't really want my younger son [Josh] to have to go through the same thing. So when this opportunity came up in the same city, it just seemed like an ideal opportunity.
CM: Hudson announced in September that he's transferring to Charlotte from TCU. Did you recruit him over the dinner table, and how do you feel about coaching him?
MP: He actually went back to TCU [for fall semester], and he was going to finish out there, but he gave us a call out of the blue and said he was ready to come home. I think being so far from home kind of caught up to him. He wanted to get closer to home and finish playing for Dad. And obviously his mom is thrilled to have him back. I think it's going to be great. We have a good working relationship. I've coached him at younger levels. Obviously, I'm sure we'll run into some things that you've got to deal with, but I'm just going to coach him like I coach any other player on my team.
CM: Why do you think you can make Charlotte successful?
MP: You get on this campus—it's unbelievable. There's 27,000 students here. Plus, the state of North Carolina has a lot of really good players coming out of the high school level every single year. It's going to be a challenge finding our niche. Obviously, we're in the middle of all the big ACC schools as well, and that brings a challenge in recruiting. But I think once we get something going and gain some momentum, hopefully we can be in the mix with some of these kids that maybe the bigger schools look at.
CM: When you retired as a player in 1998, you stepped away from the game to spend time with your wife and four kids. What brought you back to coach?
MP: It just slowly started pulling me back in. When you've been good at something and had success at it … I think you have a lot to share and a lot to give. And I do like teaching the game and helping see guys improve. And my dad [Denny Price] was a coach. It's kind of been in my blood, so to speak, all these years. I guess at some point, you've got that pull; it's kind of like, "OK, it's time to quit fighting it and go with it." It's what I was made to do … All my experiences as a player and as a coach—and even as a dad raising kids who have played at the college level— prepared me for this moment in time and this opportunity.
---
This article appears in the November 2015 issue of Charlotte Magazine
Did you like what you read here? Subscribe to Charlotte Magazine »
---