Five Questions With England in 1819
The "grandwave" act talks with us ahead of their show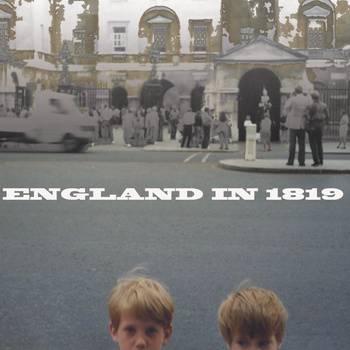 Our regular preview column will be arriving tomorrow, but before that, let's talk to a band coming through Crown Station Coffee House & Pub tonight.
England in 1819, comprised of siblings Andrew and Dan Callaway, is currently on a tour marking the release of its newest record, Fireball Electric Tomorrow. The act, hailing from Louisiana, took a few minutes to answer some questions about the name, the genre, and the reason they wrote the new LP in a North Carolina cabin.
First, explain the name. Is it intended to describe your aesthetic? Is it tongue-in-cheek, considering your name has "1819" in it and you guys have a Facebook page?
We took the name from the Percy Shelley (poem) titled "England in 1819." He wrote it in 1819, when things weren't going so well. We didn't really take to the content as much as just the title. We also like the far away place, far away time aesthetic of it. Our first album was very atmospheric/ambient, so it set the tone in a nice way.
What made you choose a cabin in North Carolina as your spot for writing this new record? Where exactly was it?
A series of coincidences. A friend of ours owns it and no one had been up there in a long time. We mentioned we were looking for a place to do some writing and it just worked out. We fixed it up in exchange for being able to stay up there. It was perfect really. It was outside of Mars Hill, north of Asheville.
What's your experience playing in Charlotte?
We've only played once before in Charlotte. It was at The Milestone. We walked around the city a little bit, and it seemed very nice. We had a great experience at The Milestone too so we're back for more.
What can people expect with your live show? And what kinds of decisions do you have to make translating what's recorded?
Expect to hear some chill synth textures with pretty much danceable electronic drums underneath. There's some bass, some French horn and some ethereal vocals in there too. Come ready to have a good time and you will.
Who came up with the "grandwave" moniker and what does it mean?
(Andrew) did. I was trying to incorporate the epic/crescendo aspect of our old sound, and combine that with the synthy electronic vibe of our new sound. It's kind of Sigur Ros meets Future Islands, Exploions in the Sky meets Washed Out, post-rock combined with chillwave–so, grandwave.
Check out the band's Bandcamp page here and latest video below. Tonight's show, with Carey Murdock, is free and begins at 5 p.m.