Fixing the Firebird
The Charlotte icon gets a tune-up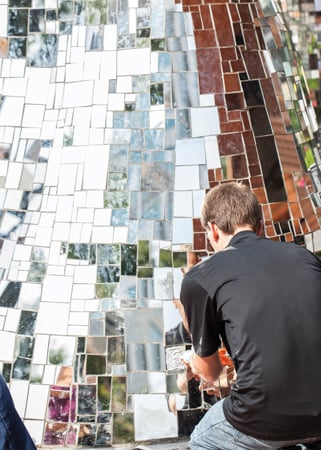 When the Bechtler Museum of Modern Art's most visible sculpture starts shedding mirrored tiles as if it were molting feathers, crowds gather at its base. Then again, they tend to do that anyway, says Collections Manager Shannon White. The big reflective bird on South Tryon Street has become "so iconic and so beloved by the city of Charlotte, we just have to allow full access to it," she says.
The public can get quite personal with Le Grand Oiseau de Feu sur l'Arche (The Large Bird of Fire on an Arch), as it's officially known, or the Firebird, as it's more commonly called … or the Disco Chicken, its more irreverent nickname. "Oh, we don't use that," says Pam Davis, the Bechtler's communications director, "but we consider it a term of endearment. Children kiss it; people hug it. They love to get their picture with it."
"Inside, we don't let people touch the art," White adds. "But this is something visitors can literally get close to, and there are upsides and downsides to that. There's a lot of wear and tear, and because it is so loved, we just want to keep it in its best state."
Fast Facts:
* The Firebird gets restored three to four times a year at an annual cost of $5,000 to $8,000. The process largely involves replacing cracked mosaic mirrors—about 7,500 of which adorn the sculpture.
* Local artist Clayton Venhuizen does the conservation work. He takes a hammer to the mirrors and breaks them further, which makes them easier to pry off. The most painstaking work comes when he cuts new mirrors and places them so they fit exactly as before.
* Most of the damage is around the base of the sculpture, where there are cracked tiles. The museum has a surveillance camera, but "we're not in the business of finding culprits and chasing them down," Davis says. "We do conservation on all our objects. This one just needs a little more than others."
Take a look at how the Bechtler Museum of Modern Art repairs one of Charlotte's most famous pieces of public art.