Flagship marks LP release at Neighborhood Theatre
Self-titled debut brings buzz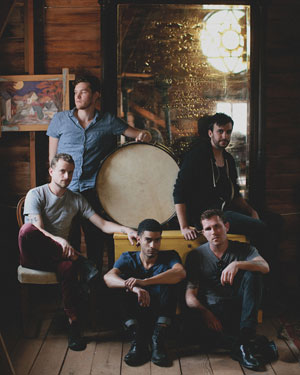 As mentioned in our weekend preview, Flagship's album release party is slated for the Neighborhood Theatre tonight. The album's buzz is bolstered by the A.V. Club's stream of the the debut, self-titled record and accompanying music videos. For the band's drummer, Michael Finster, there's more anticipation than nerves ahead of the release.
"I'm personally excited about getting out on the road," Finster says, taking part in a conversation with the Revue blog. "And I just want to see how people react to the album."
Flagship's first release was an EP titled Blackbush, which immediately garnered comparisons to the likes of U2, Springsteen and contemporaries in Grizzly Bear. But the vibe takes a life of its own, weaving between soft and aggressive dynamics, moody and triumphant. Finster maintains that the members' similar backgrounds guide the sound. "We all grew up and learned how to play music in church," he says. "It gives the music specific feels."
And considering the amount of hype, production quality, and its general presence in the indie rock scene, it's surprising to learn that the band hasn't been around for long. It was only a matter of months between production of the EP and the LP, with far more time spent on the latter.
"We recorded Blackbush in January or February of 2012," Finster says. "A lot of writing for this full-length took place in the summer."
But there's still been progression for Flagship, Finster says. Each release is considered "a snapshot of where we were when we made it," and the growth is undeniable, even within its live incarnation.
"I think all of us really come alive when we play live," he says.
The album's official release date is Oct. 8, but there's no need to wait to hear tunes from the record. Tickets for the release show are $10-$12, with an 8 p.m. start time. Supporting acts for the show are All The Bright Lights and Jeremy Current. Check out our calendar listing for more information, and a promotional video for the show below.