Float On at Monarch
New Dilworth consignment shop is actually much more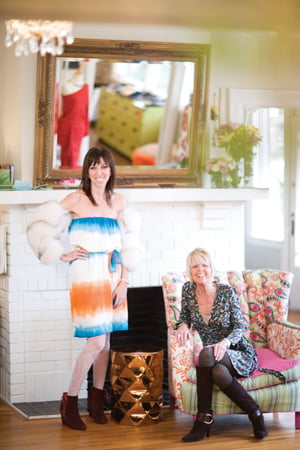 The clothes and shoes that stock the shelves at monarch are a label lover's dream: Lanvin flats, Prada peep toes, Milly tops, Theory sweaters, Lela Rose gowns, Gucci sunglasses—all in brilliant condition that belies their slashed price tags. We asked owners Cindy Siesel and Stephanie Dooley Sellers to dish some tips on consignment shopping and to identify a few of their must-have designer items (with prices that won't sting a bit).
What do you look for in a piece of consigned clothing?
Stephanie: We look to make sure it is in absolutely pristine
condition. There can be no pilling or missing buttons or stuck zippers. We ask that all garments being considered for consignment arrive freshly laundered or dry-cleaned so they can go out on the floor right away.
What percentage of each purchase do you keep and what percentage goes back to the consignor?
Cindy: We offer our consignors a 60-40 split on every item purchased in our store. It's a great way to make a little extra money, or you can accumulate a credit to use toward future shopping in our boutique.
How often do you accept consignments? Do the pieces being brought in have to be seasonally appropriate?
Cindy: We do try to keep things seasonal on the racks, but we accept pieces on an ongoing basis. Nothing stays in the store longer than sixty days.
Stephanie: If a consignor's item doesn't sell within that period, they can contact us and have us pull the item and return it to them, or we will happily donate it to the charity of their choosing.