Flying Spirit: A Review of Charlotte's Newest Budget Airline
A play-by-play of our editor's first ride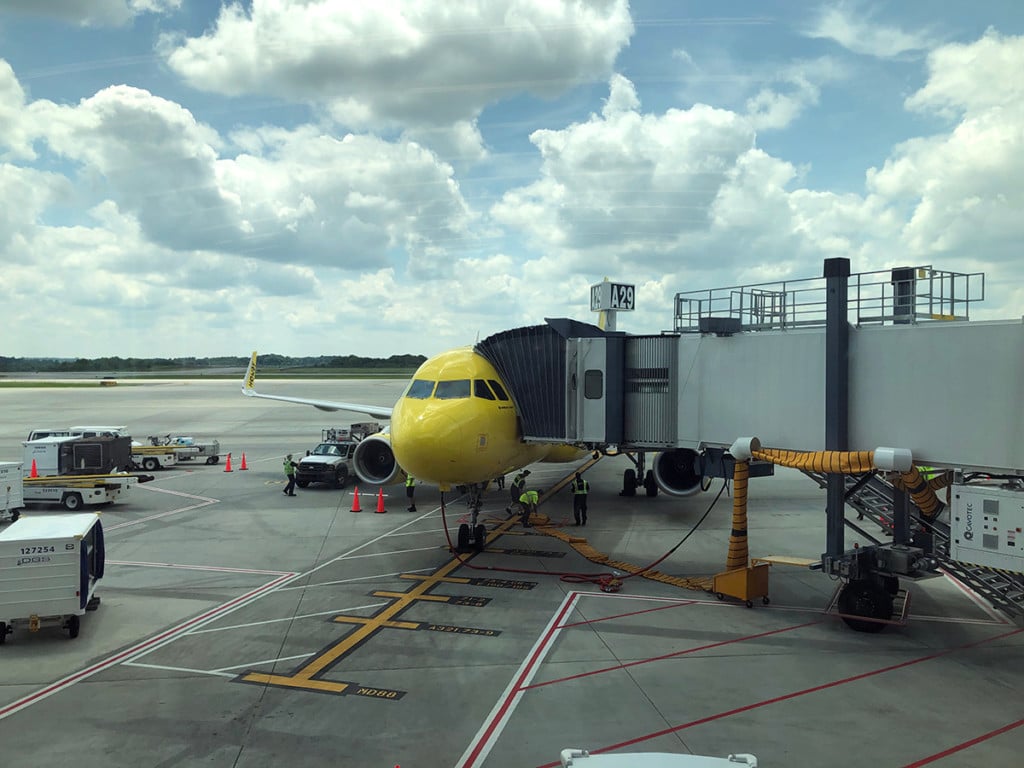 ANYONE WHO KNOWS ME knows I'm obsessed with finding cheap flights (Twitter bio checks out). In December 2017, I flew to Tel Aviv for $298 round-trip from BWI. This last November, I paid $600 for a round-trip ticket to Nairobi from Charlotte. When I was living in Italy, I once found a plane ticket to the Netherlands for just 20 euros.
Naturally, I accept these deals with the understanding that I'll have to sit on a thin-as-paper cushion, pay for food (sometimes water, too), and survive for hours in a middle seat. It's not for everyone.
Frontier Airlines has been a savior for visits home to Delaware (aka PHL, Philadelphia airport). But options are limited—there's usually only one flight a day and prices have seemingly gone up recently (from about $120 to upwards of $200 round-trip)—so I was ecstatic when a new budget option launched this past weekend. Welcome to Charlotte, Spirit Airlines.
Frequent flyers love to rag on Spirit for their fee-mongering ($11-$37 if you want to choose your seat; $47-$65 if you want to carry on anything larger than a bookbag; $3 for a bottle of water) and late arrivals. But a recent Los Angeles Times article titled "Spirit's new strategy: Be a less terrible airline" noted improvements with the airline. I've flown Spirit a couple years ago out of Atlanta, and I thought it was OK, but I wanted to give it another test. I booked a flight to Baltimore to visit friends on the inaugural weekend of Spirit airlines in Charlotte, and here's my review.
The Details:
CLT to BWI, Departing Saturday, June at 11:21 a.m.
$67.08 round-trip (and I didn't pay for any luggage, etc)
9:58 a.m. I fly at least once a month so I have a favorite security line (what's up, security point E) and favorite bar/restaurant (hey, NoDa Brewing, A terminal) so I was pretty excited to see my gate was A29, one gate over from where Frontier Airlines usually flies. When I arrive, NoDa's bar was a little rowdier than normal on a Saturday morning. Every bar stool was taken by Bloody Mary- and mimosa-drinking flyers. Were other people as excited as me to fly Spirit?
10:32 a.m. A group of six does a round of shots and suck on orange slices to ease the burn. I've sat at this bar a couple dozen other times, and I've never seen it erupt into such a party. I want in!
11:18 a.m. After standing in a pretty typical line, I boarded the plane along with a rowdy bunch of tie dye-clad people, an abnormal percentage of them with dreadlocks. My neighbor brought a can of Coco Loco with him on board from NoDa Brewing and cracked it once he sat down. My seat's cushion is actually thicker than I anticipated.
11:42 a.m. We're wheels up about 20 minutes late.
12:02 p.m. I'm estimating here, but I'd say it was around this time the cart of snacks and beverages for purchase came around. Nothing on this cart (and nothing consumable on Spirit) is free, but I expected this. I didn't order anything, but my two neighbors ordered a bloody Mary and a double whiskey and coke respectively. When one of them noticed the other was wearing a Phish hat, he offered to pay for both of their drinks. Now it made sense, I was on an airplane full of Phisheads following the rock band Phish around on tour. The band performed in Charlotte at PNC Music Pavilion the night before and would perform tonight and the next night in Baltimore. My neighbors spent the rest of the flight talking about Phish.
12:38 p.m. Wheels down, about three minutes early. Before we left our seats, my Phish-loving neighbors took a selfie together and exchanged social media information. I like to imagine they found each other at the concert that night and danced and took shots together.
The Verdict:
As far as budget air goes, this was one of the most fun flights I've ever been on. In my experience, Phish fans are some of the nicest and happiest flyers I've ever met. It certainly wasn't the quietest flight (which is no fault of Spirit, of course), but since it was only an hour trip, I couldn't have asked for a better experience. The flight back the next day was more of the same (I splurged for the $3 water bottle). The seat was a little thinner, but we arrived back 20 minutes early this time. Not every flight on Spirit—or any airline for that matter—will go this smoothly, but if I have to decide between paying $200 or $67.08 for a round-trip ticket from CLT to BWI, I'll choose Spirit every time.
Where Does Spirit Fly?
Spirit flies non-stop to Baltimore, Fort Lauderdale, Orlando, and Newark, New Jersey. Book on spirit.com.