Following His Own Beat: Christian Anzola's Style
Like his music, it's a mix of retro and modern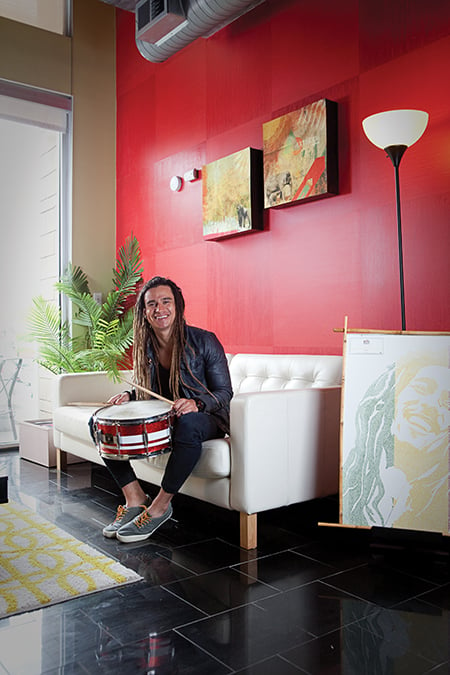 CHRISTIAN ANZOLA flips the page of a typography book, pointing to words buried in swirling lines. As he talks about shape and color, line and movement, his long dreadlocks sway with the motion of his hands.
The art director and designer has worked on plenty of logos and marketing projects since graduating from UNC Charlotte in 2011, but the vintage drum kit under the stairs in his home points to an even greater passion: music. As singer and drummer for Bakalao Stars, he's a creative force both artistically and musically in the Latino community.
You may recognize him from ¡NUEVOlution!, an exhibition at Levine Museum of the New South. The museum interviewed him about the emerging influence of Latino musicians and showcased one of his songs. Born in Colombia, Anzola came to Charlotte with his family when he was nine years old. He joined a vibrant community—Dan Ramirez, his uncle, was the first Latino ever elected here, becoming county commissioner in 2002.
Music runs in his family. Anzola has been in the same band with his brother since his teens, energizing fans with a mix of reggae, Latin rock, ska, and Colombian folk music. The band has fun with audiences, sometimes wearing allwhite for one show and then black for another. Costumes from the 1980s occasionally appear onstage. Anzola glances at a nearby poster of Bob Marley, dreads framing the face of the legendary Jamaican singer. His approach, he says, is similar. "Always try to be happy and positive."
---
WHEELS // In good weather, Anzola takes to the streets on an orange Schwinn bicycle, pedaling around center city (he lives uptown) or to the band's recording studio in NoDa. The bike has no gears, so riding uphill is a workout.
---
TYPOGRAPHY // A student of typography, Anzola collects books on the subject. He fi nds other artists' experimentation inspiring, especially the eclectic style of Oregon's Blaine Fontana.
---
SPORTS // Soccer is wildly popular in Colombia, and Anzola has watched the national team since childhood. This jersey is a reissue of the team's older style. "I really like the look—the primary colors," he says. That's not the only team he follows—a Panthers flag hangs from the balcony of his condo near Johnson & Wales University, and he's a season ticket-holder.
---
BAKALAO STARS // For the cover of his band's 2014 release, Afro Dijiak, Anzola mixed retro images and lettering over circles in shades of blue.
---
COLOR // Anzola's home is awash in color— red walls in the living room sport a checkerboard design—and so is his closet. He dresses up or down, in monochrome or not, depending on his mood. Here, blue suede shoes are paired with an Aztec-print shirt.