FOOD: Inside Pineville's International Corridor
Enterprising immigrants have quietly turned the old textile town into one of the area's best options for world cuisine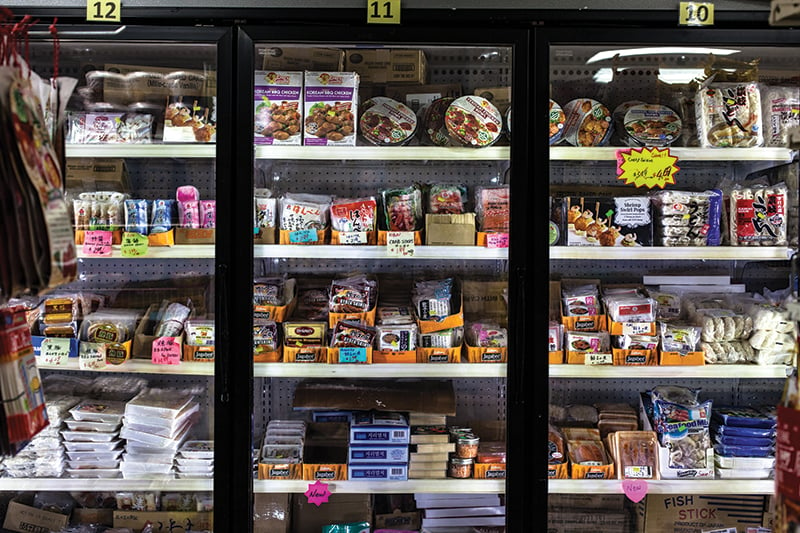 HEAD DOWN South Boulevard. As you pass over Interstate 485, crossing from Charlotte city limits into the old textile town of Pineville, the road becomes North Polk Street. A first glance would lead you to believe nothing but the road name has changed—that it's the same drab stretch of gas stations, auto parts stores, pawn shops, and fast food joints you've crept past since South End. Look closer. See the Indian market at the far end of the shopping center's crumbling parking lot; the offer of pierogies painted in white on the glass of the cozy deli across from the shoe outlet and the boat repair shop; all the pieces of the world that have collected and taken root here.
It's a mile from I-485 to N.C. Highway 51, Main Street. No fewer than eight nationalities are represented along that mile. They include Chinese and Mexican restaurants, not unusual in a growing city. But then you encounter Machu Picchu, a Peruvian restaurant that serves authentic ceviche, the raw seafood dish in citrus juice. You run into an old-fashioned doughnut shop that's straight out of small-town America, except it's run by a pair of Korean immigrants, Soncha and Soon Lee.
You discover a trio of markets, two Indian and one Japanese, where you can buy takeout meals and delicacies you may never have encountered, like roasted chana (a snack made from dried and seasoned chickpeas) in 14-ounce jars and bags of "glutinous rice ball with sesame filling." You stumble upon the incongruous, blink-and-you-miss-it strip mall shared by three businesses: a Pakistani/Indian buffet restaurant owned by a former cab driver; a Polish market and deli that sells foodstuffs, many of them pickled, from all over eastern Europe; and an adult lingerie and "accessories" store with a sign in the window: "We offer help to lost & confused husbands!"
Charlotte has an older, slightly more celebrated corridor packed with international restaurants—the roughly four-mile stretch of Central Avenue between Plaza Midwood and Albemarle Road in east Charlotte, once dominated by the now-demolished Eastland Mall. But Polk Street in Pineville, a dozen miles from Trade and Tryon and within spitting distance of the South Carolina line, takes some seeking out. Businesses here generally don't advertise. That costs money. Start-up business owners, especially recent immigrants, gravitate toward high traffic and low rent—which makes Pineville, the Mecklenburg County town with the lowest median household income and corresponding property values, a prime location.
The corridor's obscurity sweetens the triumph of having found it. "Charlotte is a city where it's real easy to live in your bubble," says local historian Tom Hanchett. "It's easy to be a prisoner of your zip code. It takes a little courage. But the reward is huge."
***
WE GO EXPLORING in Hanchett's Prius on a drizzly morning in June. Hanchett, recently named historian-in-residence at the Charlotte-Mecklenburg Library's Robinson-Spangler Carolina Room, moved to Charlotte nearly 40 years ago and has developed a passion for ferreting out the city's more obscure corners. Polk Street married that passion to his taste for exotic soft drinks. As early as the 1990s, he says, he began to sense something unusual was taking root here, and he began to visit places.
But he didn't want to be too obtrusive about it, "not like I'm going to the zoo or something." So he'd walk into a place like Triveni Supermarket, which sells Indian and South Asian food, or Hatoya, the expansive Japanese market that's operated on Polk Street since 1992, and semi-casually peruse the shelves on his way to pick a soda he'd never seen before. "The cooler is usually in the back, so you have to walk alllll the way through the store, slowly, looking at stuff," he tells me. "You listen to people talking, and then you come back and talk to the person behind the cash register for a little bit, and you begin to figure out that, often, they're the owner.
"They're people who are wired as ambassadors. Because these places—the grocery stores, the restaurants—are embassies. This is where people from your country find their fellow countrypeople."
At Hatoya, we meet the proprietor, Qing Xu, a native of the Chinese city of Dalian who lived in Japan for eight years. Xu speaks very little English, and he initially isn't sure what to make of two middle-aged white men and an African-American photographer showing up in his nearly empty store (it's a Friday morning, after all). But he warms up enough to explain that he immigrated to the United States in 2009 and bought the business three years ago. The foods he sells are primarily Japanese, he says—here's where you find the glutinous rice balls, along with matcha brushes, DVDs, bottles of plum wine, and "shrimp swirl pops"—but also "a little Chinese, a little Korean, Philippine, Thai."
***
ACROSS THE PARKING LOT at India Grocers, we sample laddu (a simple pastry) and samosa (fried dough stuffed with sweet or savory fillings and usually served with chutney). "Mmm. That's good," Hanchett remarks. We're back in the Prius, a shelter from the rain, and dipping into a white paper bag. "It's sweet but has substance."
These establishments don't necessarily observe a strict line between market and eatery. At Zygma, the Polish deli and market owned by Zygmunt and Marta Żelazko—from Nowy Sącz, a southern city near the Slovakian border—you can order a kielbasa with sauerkraut for a takeout lunch (I do) and stock up on everything from cured pork loin to German Ritter Sport brand chocolate bars to cans of "fried sprats in tomato juice" from Latvia. (Sprats are small, oily, herring-like fish common in the Baltic Sea, and I don't.)
But some places have devoted themselves to serving sit-down meals, such as Zafran Kebab Palace, which serves Indian and Pakistani dishes—chicken tikka masala, mutton korma, Hyderabad-style vegetable biryani rice—on the other side of a wall from Zygma's Polish sausage-stuffed meat counter. I begin to ask owner Ishtiaq Khan about his path to Pineville, but he interrupts.
"Eat the food," he says. "After this, tell me how is the food."
Once we've polished off cumin- and tarragon-rich plates of lamb, chickpeas, and naan bread from the lunch buffet, Khan explains that he worked for a pharmaceutical company in High Point before he moved to the Charlotte area with his wife and began working as a cab driver. This didn't bring in enough money. So he arranged last year to buy the Pineville Zafran restaurant from his friend and fellow Pakistani immigrant Riaz Khan (no relation), who still owns the eatery's Harrisburg location.
"It's very good," says Ishtiaq Khan, who also speaks minimal English. "Better than cab." He turns to bid farewell to a departing customer. "Thank you! Thank you so much!"
One more Pineville restaurant is, culinarily and geographically, an outlier, just beyond the mile between 485 and 51. If you continue south and cross Little Sugar Creek, Polk becomes Lancaster Highway, and you notice against a backdrop of woods what looks like a timber-framed Bavarian lodge you might encounter near an Alpine ski resort. Thomas and Gitta Maier had it built 20 years ago to house their German restaurant, Waldhorn, which shares a name with the far cozier eatery Gitta's mother owned near Stuttgart, Germany.
Thomas Maier was born in the United States to German parents and returned to Germany after attending The Culinary Institute of America in New York state. He met Gitta there and, she tells me with a laugh, "dragged" her back to America in 1995. He didn't want to live in New York again, and Florida was dead during the off-season. So they decided on a midway point, North Carolina; the Charlotte area for its growth potential and surprisingly large German and German-descended community; and Pineville for its affordability and accessibility to highways and nearby Carolina Place mall. "We didn't know anybody here," she says. "It was just me and my husband." They opened Waldhorn in June 1999 and every year have hosted a monthlong Oktoberfest celebration on weekends with beer, traditional German music, and plenty of wurst and schnitzel.
The emergence of the international corridor up the street hasn't affected their business much, Gitta tells me; if people have a craving for sauerbraten, Peruvian picante de mariscos doesn't pose much of a threat. In fact, she and Thomas have come to enjoy the variety of dining options so close to them. When the Maiers, a couple with deep roots in the state of Baden-Württemberg, eat out, they usually go for Mexican.